Next campus master plan public open house Oct. 27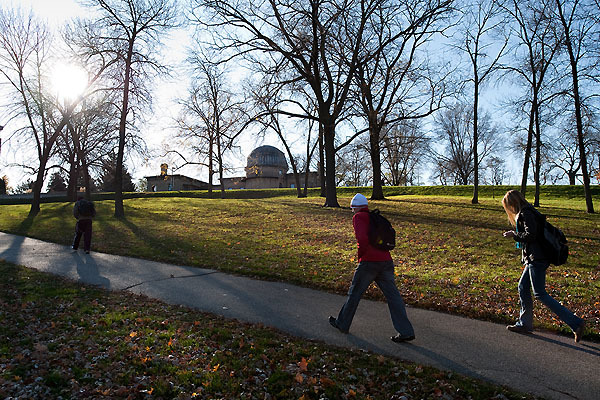 Observatory Hill, seen in autumn 2009, is one of the focal areas for the 2015 Campus Master Plan. The plan will be less about buildings than past plans and more about landscape architecture and outdoor spaces.
Photo: Jeff Miller
The public will once again be able to offer input and find out the latest information about the University of Wisconsin–Madison's 2015 Campus Master Plan at an open house from 7 to 9 p.m. on Tuesday, Oct. 27, in room 1325 of the Health Sciences Learning Center, 750 Highland Ave.
Campus planning staff will present draft alternatives for the master plan with layouts focusing on six areas: West Campus/Lot 60 area, Linden Drive/Willow Creek, Observatory Hill, Central Campus Superblock from Henry Mall to North Charter Street, the South Campus from North Randall Avenue to North Park Street, University Avenue, and North Charter Street. The presentation will be approximately 45 minutes with questions and comments to follow.
Campus master plans are required under Wisconsin state statutes through the State Building Commission and by UW System Board of Regents policies. UW–Madison is required under the City of Madison zoning code to have an approved campus master plan.
The master plan process is nearly 40 percent complete. Information received at this open house will help guide the consultant team in development of the draft preliminary Master Plan, scheduled for public release in February 2016, and will be reviewed by the City of Madison as part of its zoning approval process.
The last master plan was unveiled in November 2005 and laid out ways to make the campus more livable, workable and sustainable by examining existing and proposed buildings, outdoor spaces, transportation and utilities. The updated plan will focus less on building projects and more on landscape architecture and making outdoor spaces more usable.
To view the most current master plan information, including past presentations, meeting notes and newsletters, visit the campus master plan website.