New social network aims to keep Wisconsin seniors in their homes longer
Wisconsin's elderly population is expected to double by 2040, and a significant challenge facing communities — and families — across the state is how to keep seniors in their own homes longer.
To help, researchers at the University of Wisconsin–Madison have launched a free website for seniors living anywhere in Wisconsin that offers practical information and tools for independent, active living as they age, as well as emotional support to combat loneliness.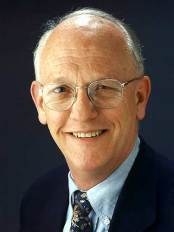 David Gustafson
Called Elder Tree, the site is based on work led by David Gustafson, an emeritus research professor of industrial and systems engineering who directs the Center for Health Enhancement Systems Studies (CHESS). CHESS is dedicated to developing information and communication technologies that improve the quality of life of people struggling with chronic health conditions, including cancer, asthma and addiction.
The CHESS team toured Wisconsin to interview older adults, family members, caregivers, aging and health care professionals and community groups. They found that older people are most likely to leave their homes for five reasons: falls, driving safety, medication management, lack of caregiver support, and feeling isolated or lonely.
Elder Tree was designed with many of those challenges in mind. The site connects seniors with each other, with family and friends, and with community resources. It serves as a one stop shop for information about local resources and events and offers tools for users to track their personal health and wellness.
Privacy is especially important for seniors who may be unfamiliar — or uncomfortable — with using a computer, says Scott Gatzke, the CHESS director of dissemination. "Users can sign up online, but before gaining access to Elder Tree, a local community administrator or CHESS staff person calls the individual to welcome them. This adds a human touch that our participants appreciate."
CHESS is currently running a study on Elder Tree users in Richland, Sauk, Juneau, Waukesha and Milwaukee counties to find out which parts of Elder Tree help seniors the most. At the same time, the project team is working to spread the word and expand use of the website throughout Wisconsin.
"This study holds great potential for helping older adults continue to live long and productive lives in their own homes," says Gustafson. "It's also an exciting opportunity for state and local governments to work together with the university to achieve this goal."
For some users, the impact is already apparent. "I don't feel so alone," says Nancy, a 67-year-old from Sauk County who goes by "Fisher" on Elder Tree. "I can talk with people who have gone through some of the same things that I have. They're my shoulder to cry on, and I'm theirs. It's just like having my next-door neighbor come over."
(Watch Nancy and other other Elder Tree users talk about their experiences with the site in the video below.)
The project is funded through a grant from the federal Agency for Healthcare Research and Quality. CHESS is collaborating with the Wisconsin Institute for Healthy Aging and campus experts from the UW–Madison Department of Industrial and Systems Engineering and the Mass Communication Research Center in the School of Journalism and Mass Communication. Geriatricians, specialists from Wisconsin's state Bureau of Aging and Disability Resources, and community advocates from around the state are also participating.
For more information, call 1-800-361-5481 or visit eldertreewisconsin.com.
— Maureen Fitzgerald