New chancellor, new students at 2013 Chancellor's Convocation
For University of Wisconsin–Madison Chancellor Rebecca Blank, the fall semester will bring many campus "firsts."
She shares this with the incoming class of first-year and transfer students, whom she'll officially welcome at the 2013 Chancellor's Convocation, held on Friday, Aug. 30 at 10:30 a.m. in the Kohl Center.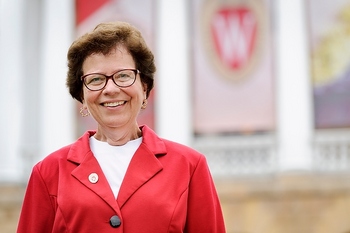 Rebecca Blank
Photo: Jeff Miller
The ceremony, with its mix of friendliness and academic formality, is Chancellor Blank's first major public event. Designed to welcome students to their Wisconsin Experience, it serves as a bookend to the academic year, complementing commencement activities.
The event will open with music from coed a cappella group Redefined, as well as a welcome from Aaron Bird Bear, academic adviser in the School of Education. Bird Bear, who will serve as the event's host, will speak about the history of the UW–Madison landscape, including Native Americans who created effigy mounds among the hills where they lived.
Both Bird Bear and Blank will speak about stories: the stories of how places are shaped by the people who inhabit them, and the ways in which we are shaped by the places where we live. Faculty member William Cronon, known for his studies of how people interact with geography, will also speak.
Traditionally, a student rounds out the slate of speakers. Students considered for this honor responded to the questions "What is 'your world'? How has your world shaped your story? How might your experiences at UW–Madison connect you and your world to others, locally and globally?" Incoming first-year student Jessica Franco-Morales of Green Bay will discuss the complexities of her world and her ideals, exhorting the audience to travel together as they seek out a brighter future.
After engaging in the tradition of singing "Varsity," students will exit following faculty members. At that time, they will receive a complimentary copy of the novel "A Tale for the Time Being" by Ruth Ozeki, this year's selection for Go Big Read, the university's common reading program. The book describes the relationship built between two people on opposite sides of the world who will never meet. It's an apt way to round out a program filled with global connections.