National Weather Service director to speak at UW-Madison
Louis Uccellini, head of the National Weather Service and a University of Wisconsin–Madison alumnus, will bring the service's plan to build a "Weather-Ready Nation" to the UW–Madison campus Thursday evening.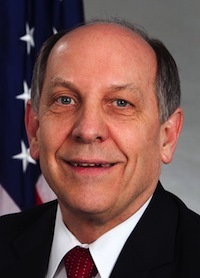 Louis Uccellini
"The NWS recognizes that issuing excellent forecasts and warnings may not always be enough to save lives," Uccellini said after taking over as weather service director in February. "The Weather-Ready Nation initiative is first and foremost to save lives and protect livelihoods by providing useful, relevant, actionable information for critical decision support services."
The university community and public are invited to join Uccellini for a discussion of the NWS's efforts in a town hall event from 5 to 7 p.m. in the DeLuca Forum at the Wisconsin Institutes for Discovery, 330 N. Orchard St.
While his agency's weather forecasting powers — with the help of researchers at UW–Madison's Department of Atmospheric and Oceanic Sciences, Space Science and Engineering Center and Cooperative Institute for Meteorological Satellite Studies — have never been sharper, extreme weather still regularly robs Americans of their lives and causes extensive damage.
The way his meteorologists relate rising danger to citizens in the path of storms could save some of those lives and homes and property.
"The way we communicate a forecast, the watches and warnings, really need to be looked at," Uccelini, who also serves as National Oceanic and Atmospheric Administration assistant administrator for weather services, told SSEC's "Through the Atmosphere" this summer. "We still have situations in which the message we give is not equal to the message received. There's a lot of work that needs to go on if we want to take this to the point where people will actually take the action you expect." 
To that end, the National Weather Service has refined its strategic plan to help first responders and emergency managers around the country deliver messages about oncoming weather that has specific and meaningful impact among the communities that lie in its path.
Uccellini, an expert in winter storms, has plenty of experience with nasty weather.
Since completing his doctorate at UW–Madison in 1977 (after earning both his bachelor's and master's degrees there), Uccellini has published extensive research on cyclones, snowstorms in the Northeast, severe weather outbreaks, gravity waves, jet streaks and the use of satellite data in analysis.
For 13 years prior to his appointment to the service's top spot, Uccellini led the agency's National Centers for Environmental Prediction, nine groups covering the range of weather prediction for the United States. Before that, he was the service's chief meteorologist.
There is no cost to attend the town hall event, and event parking is available in several campus lots near the Wisconsin Institutes for Discovery.