Nancy Nicholas Hall designated LEED Gold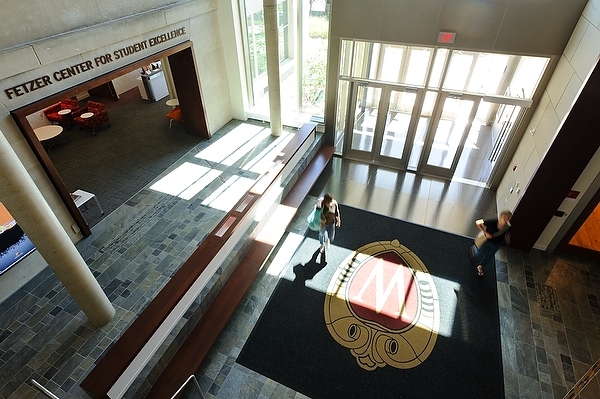 Abundant natural light and recycled flooring materials are two features that helped achieve LEED Gold status for Nancy Nicholas Hall.
Photos: Bryce Richter
Nancy Nicholas Hall, the new home of the School of Human Ecology, has received a LEED Gold designation — one of the highest levels established by the U.S. Green Building Council and verified by the Green Building Certification Institute. LEED is the nation's preeminent program for design, construction and operation of high performance green buildings.
"We're thrilled to receive this distinction," says Dean Soyeon Shim. "Those of us who are in Nancy Nicholas Hall every day greatly appreciate its light-filled spaces and native landscaping. We also appreciate the work of our architectural team, Dorschner Associates of Madison and Sasaki Associates of Boston; general contractor J. P. Cullen & Sons; and all of our faculty, staff, and students involved in program planning.
"We also owe a huge debt of gratitude to lead donor and alumnae Nancy Johnson Nicholas, and to Robin Douthitt, the former human ecology dean who created the vision and support to complete this $52.6 million jewel of a building," Shim says.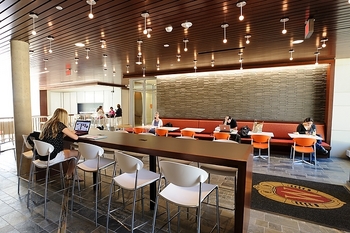 Energy-saving measures such as high-efficiency lighting fixtures are used throughout the building.
Early in the planning, the programming committee whose membership included faculty, the preschool, board of visitors and curators, agreed on key design principles and objectives.
"We wanted to construct a healthy and energy responsible environment and we created strategies to achieve the highest practical LEED certification," says Linda Zwicker, human ecology assistant dean for external relations. "This designation was critical to achieving the vision to create an environment that supports and enhances education, research, creative scholarship and outreach."
The hall achieved LEED certification for design innovations, energy and water efficiency, materials use, landscaping and site features. These measures reduce greenhouse gas emissions and contribute to a healthier environment for faculty, staff, students, and the larger community. For example:
Drought-tolerant native landscaping conserves water and uses native drought-resistant grass.
Alternative transportation includes 10 bus stops within 1/4 mile and 230 bicycle stalls with two shower/changing facilities to promote bicycle commuting.
Porous pavement to allow water to infiltrate into the ground instead of flowing straight to the storm sewer system.
Energy efficient measures such as high-efficiency lighting fixtures, and occupancy sensors reduce operating costs.
Construction recycling to divert a large amount of construction waste from the landfill (95 percent of construction waste and materials were reused or recycled).
The carpet, ceiling tiles, rubber flooring and other materials with recycled content reduce pressure on landfills and lessen demand for natural resources.
An energy meter monitors building electricity and water usage.
For a more complete list of Nancy Nicholas Hall's green features, visit this UW–Madison Facilities Planning & Management web page.