Military Kids University offers fun – and understanding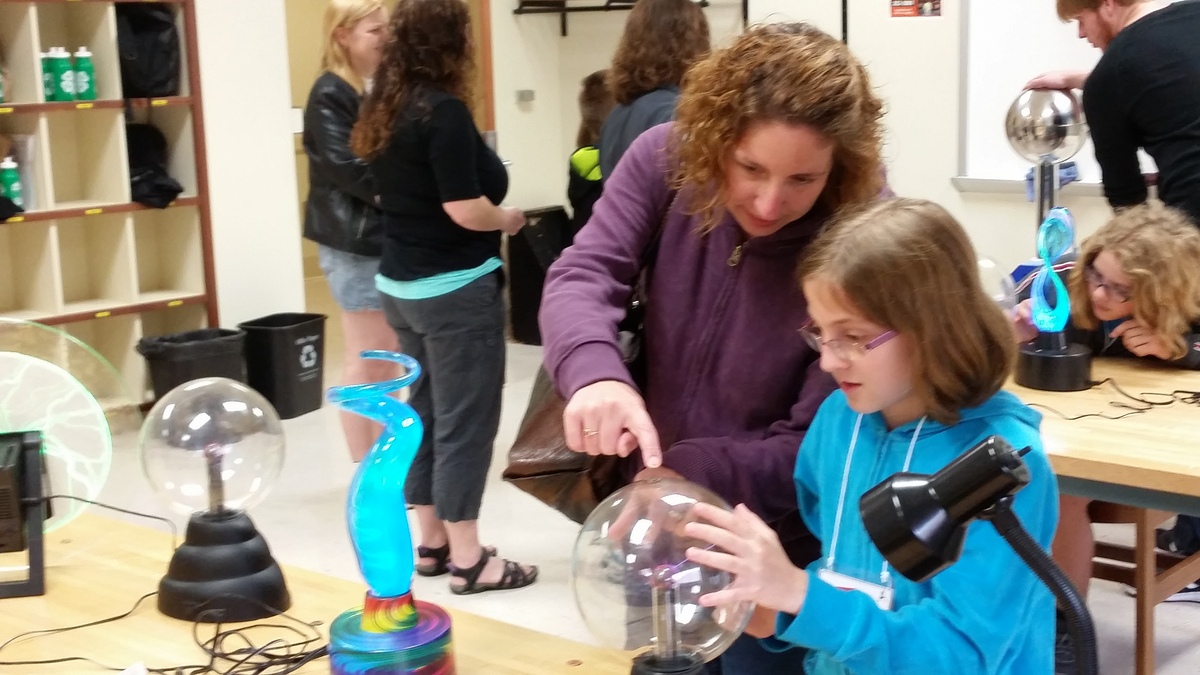 Heather Kelly and her daughter, 9-year-old Baylee, appreciate the hands-on, interactive activities demonstrated at the Military Kids University.
Photos: Sandra Kallio
It isn't easy when 9-year-old Baylee Kelly's dad is gone for long periods of time.
"I miss him," Baylee says. "I feel sad."
When your dad is in the service, you get used to it.
Kind of.
"It's still hard," Baylee says.
But one thing that's made it easier is talking to other kids who understand at the third annual Military Kids University held June 12-14 at the University of Wisconsin–Madison. The family camp is co-sponsored by the University of Wisconsin-Extension 4-H Youth Development and the UW–Madison Biotechnology Center.
Families experience campus life and take part in hands-on science and arts activities taught by UW–Madison faculty.
Leah Newmann, 8, of Whitewater, surprises other campers with the energy generated during a static electricity demonstration.
"The purpose of this camp is to allow children to spend quality time with their parent while exploring a university setting," says Military Kids University co-director Laura Suprenand. "The camp also serves as a way for both the children and the parents to connect with others who are working through challenges that military families often experience."
Baylee and her mom came last summer from Bloomer, Wisconsin. The two had such a good time they decided to come back.
It's not just great for the kids. It's also helpful for the parents who are used to doing double duty.
"It was nice to be in a group and talk," says Heather Kelly, Baylee's mom. "You get ideas of ways to make things go smoother from people who have gone through the same things."
Keeping busy and talking about how they feel has helped, Kelly says. Military Kids University gives plenty of ideas for new activities. Last year, Baylee's favorite activity was making soap.
"It was nice to be in a group and talk. You get ideas of ways to make things go smoother from people who have gone through the same things."
Heather Kelly
"My daughter loves anything to do with creativity and science," Kelly says. "She couldn't wait to come back this year."
Baylee's dad is in the Wisconsin National Guard. His longest deployment was when she was just 4. Matthew Kelly was in Iraq for 10 very long months — what seems like an eternity when you're so little. To help make her feel more connected, he sent DVDs of him reading a book each month.
"The first time, I asked him questions," Baylee says. "I felt really disappointed when he didn't answer me. I thought he was ignoring me."
But just as she learned to understand that dad wasn't really there, she's also learned to understand why he's gone and is proud of not only him but of her mom, who handles things back at home while he's gone.
"My mom is awesome," Baylee says. "She understands me a lot and doesn't normally get too mad."
Wisconsin 4-H Military Kids programs support the nearly 15,000 Wisconsin youth in military families. To learn more about Wisconsin 4-H Military Kids and the opportunities available to Wisconsin youth, visit http://fyi.uwex.edu/wiomk/.