Mentors help inventors make the leap to entrepreneur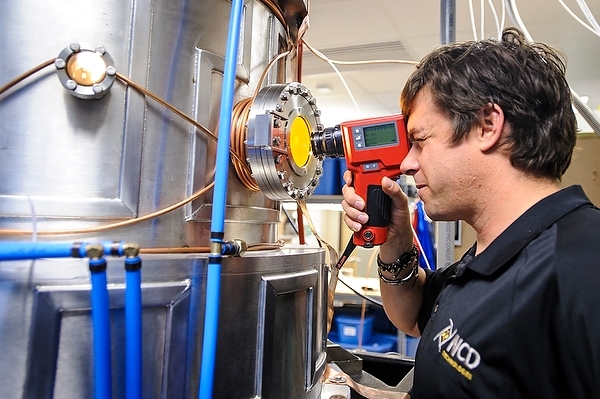 Patrick Heaney, founder of NCD Technologies, uses a pyrometer to check temperatures inside of the vacuum chamber in the company's lab at UW's Research Park on Madison's west side. The company is part of the UW MERLIN Mentors program.
Photos: Bryce Richter
It's a story that could become a company's founding narrative. The two Steves built their first Apple computer in the garage. Bill Gates dropped out of Harvard to start a software company. And 4-year-old Patrick Heaney broke a plastic sword while play-fighting — and recognized that materials can always stand improvement.
Eventually, that could become the founding narrative of NCD Technologies LLC, a Madison startup that is developing a super-hard diamond coating for industrial cutting tools.
The technique was invented in the UW–Madison lab of mechanical engineering Associate Professor Frank Pfefferkorn, where Heaney received his Ph.D. in 2009. But when NCD finally makes a profit, some of the credit will be due to a high-tech, high-touch UW mentoring program called MERLIN Mentors.
Despite the name, MERLIN (Madison Entrepreneur Resource, Learning and Innovation Network) specializes in advice rather than magic. "We want to get skills in entrepreneurship to people interested in creating companies," says Terry Sivesind, MERLIN's director.
Heaney holds a tray of diamond-coated cutting tools manufactured by NCD Technologies.
A serial entrepreneur who spent seven years helping make Promega a world-leading source of biological reagents, Sivesind knows that many would-be entrepreneurs have a technical background and far less expertise in skills that quickly become equally important — hiring, intellectual property, contracts, identifying markets — and of course, finding money to fund the startup process.
MERLIN is supported by the Wisconsin Alumni Research Foundation, University Research Park, the Wisconsin School of Business, and the Office of Corporate Relations at UW–Madison. Since it began five years ago this month, it has assisted 160 mentees and been involved in the creation or growth of 72 companies.
Biomedical startups used to dominate the list, but they have been supplanted by information technology — especially software and apps. But old-line Wisconsin industries are also eligible: MERLIN is now working with Page Buchanan at microbrewery House of Brews on Madison's east side.
Entrepreneurs needing mentorship first present themselves and their ideas to a small screening group. Most then repeat the process to a larger meeting of potential mentors who can form a team around any interesting person or project.
Lab technician Andy Herian prepares cutting tools for the diamond-coating process.
Mentors are selected based on business and technical experience, Sivesind says. "We want people who have been there, who have seen how much energy, focus and perseverance is needed to get a business on its feet."
Many budding entrepreneurs "want to talk only about their business idea," Sivesind adds, "and we get fired up about that, but MERLIN focuses on the person, not the business."
Sivesind has been involved with the growth of companies like PanVera, Mirus, Metabiologics, Renovar and Cellectar. "We look for individual skills, motivation, enthusiasm, some expertise in the area. We need to think they have a chance to be successful, maybe not in their first business but down the road."
Great ideas, Sivesind says, are more common than great entrepreneurs. "Starting a business takes a lot of work. If a person comes in with an idea that's top-notch, but they seem under-motivated, we are less interested than in an individual who is highly motivated about a business idea that is not so great."
Heaney says his experience at NCD Technologies shows the range of MERLIN's expertise. "My focus was the initial, pre-revenue area, the best way to pitch my idea to investors so they would be interested. MERLIN helped with the initial structure of the business, to the point where I asked one team member to resign from MERLIN. We brought him on as president to help guide the company."
Many budding entrepreneurs want to talk only about their business idea, Sivesind says, but MERLIN focuses on the person, not the business.
MERLIN's mentors are prohibited from having financial ties to the budding business, so they must resign as mentors before discussing any other type of involvement.
The typical relationship lasts six to 12 months, Sivesind says. "By then, the business may be developed enough so its problems are more mainstream. It's time for a board of directors and outside investors, and that's a good time for us to back out."
Mentoring is a smart way to build the local economy, Sivesind says. "We can't import people, but we can take the expertise we have here and share it, broaden it."
Sivesind says he expected that many early-stage entrepreneurs would want expert advice, "but we have been pleasantly surprised at the number and quality of people who are coming out of the woodwork and getting involved as mentors."