Memorial for Garissa attack victims Thursday afternoon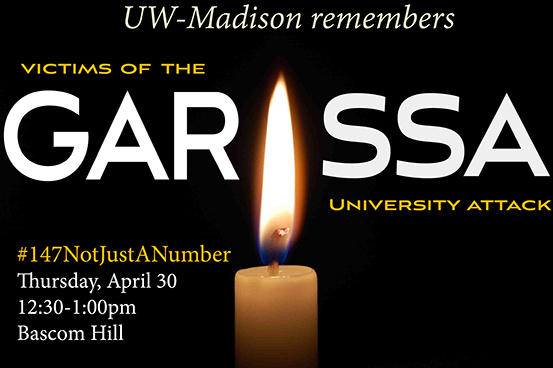 An interfaith memorial on Bascom Hill at 12:30 p.m. Thursday will pay tribute to the 147 students killed at Garissa University College in Kenya on April 2.
Ibrahim Saeed, president of the Islamic Center of Madison, and Pastor David Mngodo will offer prayers and blessings, followed by song and a moment of silence. The event is organized by UW–Madison graduate students.
The Garissa attack was the most deadly yet by the militant Islamist group al-Shabab. Heavily armed militants attacked the campus in northeastern Kenya, shooting students and others. Witnesses said attackers targeted Christian students.
The victims are being honored across the world in events using the hashtag #147NotJustANumber.