Makerspace is part clubhouse, part business incubator and all workshop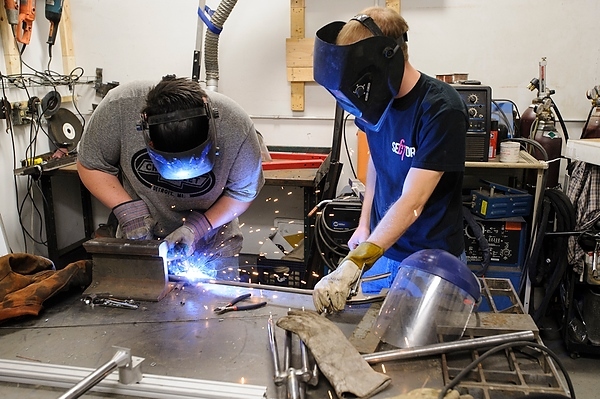 Chris Meyer, right, directs Monona Grove High School student Caleb Brockman, who is working on a school project using an arc welder in the metal shop at Sector67, a nonprofit hacker and maker space in Madison.
Photos: Jeff Miller
At Sector67, a "makerspace" on Madison's East Side, you never know what will walk through the orange door. Today, a UW–Madison student wants to mold foam and plastic into a custom-fit back for a backpack.
"How thick?" asks the makerspace's director, Chris Meyer.
The student curls up his thumb near his forefinger.
Instinctively bringing his own "maker" attitude to bear, Meyer lasers in on the practicalities. "Do you want to mold the plastic and foam together?"
Chris Meyer
It's just another unpredictable afternoon at Sector67, the brainchild of Meyer, a UW–Madison graduate and employee who started the nonprofit community workshop three years ago. The plan and some of the money came from the Burrill Business Plan Competition, one of several competitions that Meyer won while getting bachelor's and master's degrees in mechanical engineering.
But "plan" is not exactly what springs to mind as you enter the cluttered facility. Chaos comes to mind. Potential comes to mind. The work of an obsessive collector comes to mind.
At makerspaces, also called hackerspaces, do-it-yourselfers can access advanced equipment. Libraries may have rows of computers, but Sector67 also has a batch of 3-D printers, eight welders, and a squadron of machine tools, injection molders, oscilloscopes — even an industrial sewing machine. Those tools, combined with boxes and crates filled with parts, and assorted jacks and hoists, mean that Sector67 pretty well has it covered — whatever "it" might turn out to be.
The workshop has more than 50 members who pay $100 a month; other users rent desk space to develop early-stage business ideas.
Claus Moberg, CEO of Snowshoe Stamp, displays a sample while using a 3-D printer.
In a world awash with apps, smartphones and software, it's refreshing to see people engaged in the "hands-on" work-play that identifies a hackerspace. Some of the members are interested in curiosity-driven fun, like two brothers — not yet in their teens — who are struggling to make a controller to shut off a TV with an infrared signal.
Sector67 can be critical for business startups. Two years ago, UW–Madison students Claus Moberg and Jami Morton were developing a business to deliver coupons on-the-spot to shoppers in a supermarket. Their system required a plastic gadget to positively identify someone to a touch-screen device. "The technology on the market did not meet our needs, and we had an idea of how to solve it," Moberg says. "But that would require building a piece of hardware. I'd been a bike mechanic, but had never built anything to interact with a smartphone."
Having already met Chris Meyer on campus, they chewed the idea over at lunch. "Literally six hours later," Moberg says, "he'd trained me to use a CNC mill," a computer-controlled machine that removes metal. "We found a scrap of aluminum on the floor and built our first functional prototype. I took it to a board meeting that night, where we decided to refocus the company" on those identification devices.
From right, Meyer brainstorms alternative manufacturing ideas as Sheradyn Mikul and Claus Moberg of Snowshoe Stamp.
That company, now called Snowshoe Stamp, continues to rely on Sector67. Indeed, the day we talk, an employee was at the workshop crafting a device that Moberg would not identify. Moberg, who is developing the company from his new base in San Francisco, says, "It's pretty easy for me to say Snowshoe Stamp would not exist without Sector67."
Meyer, a 50-50 blend of engineer and dreamer, grew up in the country near Janesville. He chose engineering because he liked working on cars — "anything with wheels and an engine" — and he worked on electric cars and diesel engines in college.
In his part-time job working for UW–Madison's Department of Agronomy at the Wisconsin Institutes for Discovery, Meyer coordinates both the Wisconsin Energy and Sustainability Challenge and the Agricultural Innovation Prize, a nationwide contest with a $100,000 grand prize.
"Ultimately some ideas end in failure; you are there to share that. Some succeed. A lot end up in between."
Chris Meyer
When he got his master's in 2010 he says, "makerspaces, or hackerspaces, were starting to flourish, as a kind of reaction for a generation weaned on video games, computers and now mobile devices. Doing little things with electronics, networks, smart devices, sensors or phones is really cheap right now."
Kids young and old are welcome at Sector67, but Meyer says, "My primary intent when going through the terror of putting this place together was to get the younger generation interested and able to interact with all this tech, to see what real life work, real life engineering, are like."
Since he's usually answering questions and fixing equipment, Meyer says, "a lot of my kicks come from seeing that folks are engaged, interested, excited. It's the bystander effect, seeing people taking something and running with it.
"Ultimately some ideas end in failure; you are there to share that. Some succeed. A lot end up in between, in a stage of mediocrity that's still gratifying: 'I didn't get what I wanted, but it did not explode!'"