Madison Reads Leopold set for Saturday at UW Arboretum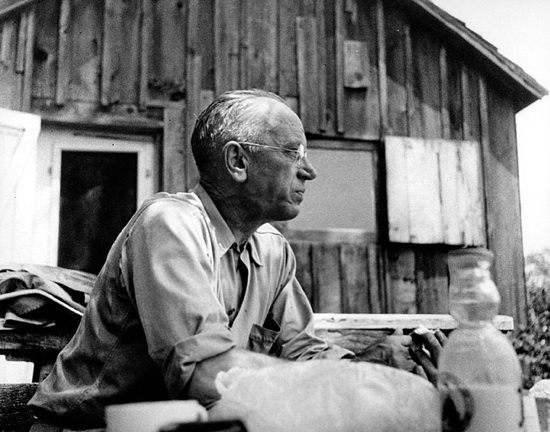 Aldo Leopold at his Sauk County shack in about 1940. Leopold, the first research director at the Arboretum, published "A Sand County Almanac" in 1948. 
Photo: UW Digital Archives
The UW Arboretum's ninth annual Madison Reads Leopold event anchors the celebration of Aldo Leopold Weekend in the Madison area with a mix of citizen and celebrity readers giving voice to Leopold's "A Sand County Almanac."
The event will kick off at 9:30 a.m. in the Arboretum's Visitor Center, 1207 Seminole Highway, with a reading of "January Thaw." The concluding essay — "The Outlook" — is scheduled to be heard at 3:30 p.m.
Throughout the day, an eclectic mix of readers will take on selected essays detailing Leopold's phenological observations — the periodic events in the cyclical lives of animals and plants — as well as his conservation philosophy. Listeners can drop in and out to hear their favorite essays or stay the entire six hours. A full schedule of readers and essays is available online.
Leopold, the first research director at the Arboretum, published "A Sand County Almanac" in 1948. The book prompted generations of people to take better notice and care of the natural environment, and Leopold's words are as timely, eloquent, and inspiring today as they were when he penned them.
The first weekend in March was chosen as Leopold Weekend because "4th March, 1948" is the date Leopold appended to his foreword to the Almanac. It would be the last piece of writing he would contribute to the work; six weeks later he would be dead of an apparent heart attack suffered while fighting a brushfire on a neighbor's property in Baraboo.
Madison Reads Leopold is free and open to the public. Light refreshments will be available in the visitor center lobby. Brown-bagging is permitted but food must remain in the visitor center. Leopold archive materials and artifacts from UW–Madison's extensive collection will be on view, and conservation-related organizations are invited to bring literature for display.
For general information about Madison Reads Leopold, please see www.uwarboretum.org/events or call 608-263-7888. To inquire about a particular reader or selection, contact Kathy Miner, the local coordinator, at 608-233-2425, or kdminer@wisc.edu.
The Arboretum will offer a special Leopold-themed public tour, Walking in Leopold's Footsteps, on Sunday, March 2, at 1 p.m. In addition, the Wisconsin Institutes for Discovery will hold an "Aldo Leopold Day" on the UW–Madison campus on Saturday.