Longtime botany greenhouse director Mo Fayyaz to retire
When the Iranian government offered Mo Fayyaz a full scholarship to study horticulture abroad, a simple oversight meant the University of Wisconsin–Madison was not his top choice.
"I didn't even know there was a state called Wisconsin," laughs Fayyaz, who is retiring in August after 33 years as the distinguished director of the botany department greenhouse and botanical gardens.
"I even knew Kentucky!"
Fortunately for the university and Fayyaz's future students and colleagues, UW–Madison was the first school to admit him. After earning his master's degree in horticulture, Fayyaz went on to graduate with a Ph.D. in botany. A friend introduced him to his now-wife, a nurse from Wausau, Wisconsin.
While paying off his scholarship by teaching at the University of Tehran, Fayyaz lived through the Iranian Revolution and Iran-Iraq war. He was nearly bombed by Iraqi forces while traveling between university campuses. When Fayyaz returned to the safety of his wife's home state, and to Madison, university hiring freezes and temporary work provided new challenges for his young family.
When a position for director of the greenhouse opened up, Fayyaz saw an opportunity to stay as busy as he enjoyed being.
"This job is just like juggling five, six balls at the same time," says Fayyaz. "You cannot look to the side and let one go."
Fayyaz juggles the demands of growing plant material for classes and research, managing the botanical garden, and reaching outside of the university to share his love of the plant world as widely as possible.
"The botany department is my second family"

Mo Fayyaz
Among Fayyaz's many stories of his adventures at the university is the time he masterminded an ambitious raising of the greenhouse roof — it had to be bent into place to fit after extensions were added — to accommodate larger plants. Fayyaz and his greenhouse staff grow a dizzying array of plants used by 14 lecture and laboratory courses as well as botanical research labs. The greenhouse climates range from humid, tropical jungles nurturing orchids to arid deserts brimming with cactuses.
In 2001, Fayyaz coaxed a notorious 'corpse flower', Amorphophallus titanum, to bloom. He had rescued the plant from the compost during greenhouse renovations and had to brush off skepticism that it was worth pampering a mercurial plant that only rarely blooms. As the flower opened, Fayyaz welcomed 30,000 visitors to the greenhouse night and day to get a whiff of its pungent stench. His idea to livestream the blooming from a webcam set records for website hits and crashed university servers.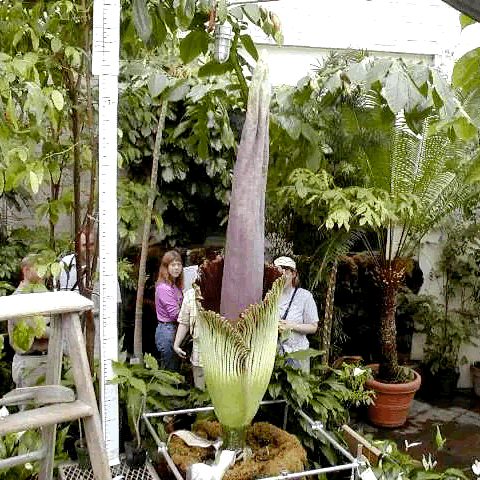 Fayyaz distributed the seeds he collected to other greenhouses to grow, display and study. The offspring of the UW–Madison corpse flower have now bloomed around the world.
Donation money from visitors to the rare bloom was pooled with other grants to undertake a massive renovation of the botany department garden at Mills Street and University Avenue. UW–Madison landscape architecture students submitted designs and Fayyaz stretched the funds by paying student workers and overseeing the work himself. The garden organizes plants by their family relationships and features several unique specimens, such as a direct descendent of Isaac Newton's apple tree, said to have inspired the physicist's theory of gravity.
University members, area residents and schoolchildren visit the garden for informal and organized tours — or to simply smell the flowers.
"The part I love about this job is you become jack-of-all-trades," says Fayyaz. "I love diversity."
Fayyaz always extended his mission outside of the university walls. He co-founded the Association of Education and Research Greenhouse Curators, which connects greenhouse staff at universities and colleges to share knowledge and experience. Working with artists, he has designed engrossing, educational posters about plants and fungi, using the proceeds to advance the greenhouse mission.
Fayyaz received the 2017 Chancellor's Award for Excellence in Service to the University for his contributions to the botany department and the university.
"Mo's love of the botany department is so apparent that he has proven to be a fantastic ambassador across campus and beyond," says David Baum, chair of the botany department. "So, while we will shortly hire somebody into Mo's position, we certainly will not be replacing him — he is one of a kind!"
Although Fayyaz prides himself on the renovations he has overseen for the garden and greenhouse, and the outreach he has championed with partners such as Edgewood College and Madison College, he is most proud of his record of safety. His efforts over the decades to move from chemical pest control to a program of integrated pest management, which uses natural methods like releasing beneficial insects, has helped protect the health of his greenhouse staff.
Fayyaz has many offers from different horticultural and botanical societies to consult in retirement. He also plans to spend time volunteering for Habitat for Humanity. But his first task? Cleaning out the basement at home.
"The botany department is my second family," says Fayyaz, who, despite disliking the climate, has found a home in a chilly state he once didn't know existed.
"I hate cold — these people kept me warm."