Live-streamed ceremony from Lincoln Center recognizes Richard Davis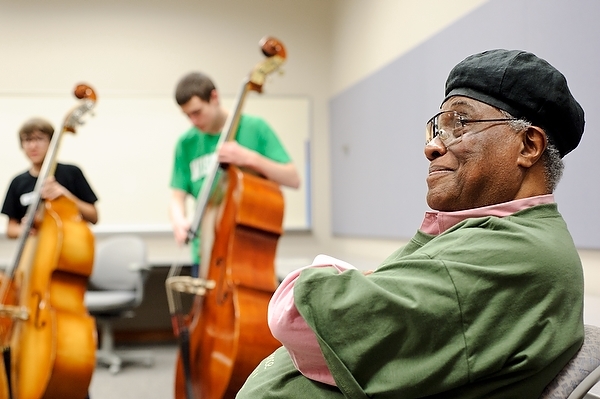 Richard Davis, professor of music at the University of Wisconsin–Madison, watches as students perform during a classroom session during the annual Bass Conference hosted by the Richard David Foundation at the Pyle Center at UW–Madison on April 23, 2011.
Photo: Bryce Richter
In June 2013, the National Endowment for the Arts named Richard Davis, professor of bass, jazz history, and combo improvisation at the University of Wisconsin–Madison, one of four 2014 NEA Jazz Masters, considered one of the highest honors in jazz.
On Monday, Jan. 13, the NEA will stream the Jazz Masters awards ceremony and concert live from Lincoln Center in New York City. To watch the awards ceremony and concert online, sign up for the webcast at this link.
Trumpet player Wynton Marsalis co-hosts the event, filled with performances and tributes by top jazz musicians. In addition to Davis, honorees include pianist Keith Jarrett, educator Jamey Aebersold and saxophone player Anthony Braxton.
Visitors to the NEA's Richard Davis page can enjoy a video interview and audio podcasts (parts one and two — transcripts available), along with additional audio clips. For more on the honor, read UW–Madison's previous story.
Each year since 1982, the Arts Endowment has conferred the NEA Jazz Masters Award to living legends who have made major contributions to jazz. Only living musicians or jazz advocates may be nominated for the NEA Jazz Masters honor. For the 2014 NEA Jazz Masters, the panel considered 144 nominations.
Recognizing his lifetime achievements and exceptional contributions to the advancement of jazz, Davis receives a one-time award of $25,000. For more on the ceremony and concert, click here.