Lifesaving station issues lake safety reminder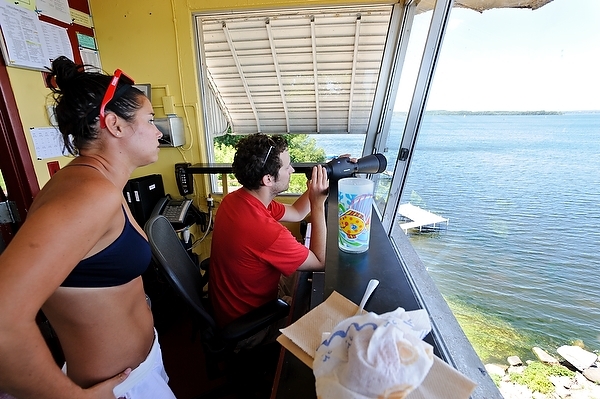 Crew members of the UW–Madison Lifesaving Station keep watch over Lake Mendota from the lookout tower in June 2012. Swimmers are advised to use only designated swim areas of the lake staffed by a lifeguard.
Photo: Bryce Richter
With the tragic drowning of a student in Lake Mendota last week, the UW Lifesaving Station is reminding people of the lake's potential dangers and encouraging all of those enjoying the water to use caution.
Richard de la Cruz, 20, a transfer student from Wauwatosa, died the afternoon of Aug. 21 after swimming with friends in an apparent accidental drowning.
While Lake Mendota can be inviting, there are dangers people of all swimming levels should be aware of.
"On hot summer days when the lake beckons, we recommend that students please use a designated swim area to go swimming, such as the new swim pier at the Memorial Union," says Sean Geib, assistant supervisor at the lifesaving station. "It's always safer to swim under the watchful eye of a lifeguard than to venture out on your own."
Most times there are two guards on the pier with rescue equipment, observation towers and phones to call for assistance when needed.
In other areas, there are no lifeguards to help a struggling swimmer, although signs are posted as a reminder. Water quality also isn't monitored, making it a dangerous combination.
Sometimes people overestimate their swimming abilities, Geib says. That can be especially troublesome when swimming with friends who may be stronger swimmers.
"When coupled with pressure from friends to swim, this can lead to unfortunate drownings," Geib says. "Most people aren't able to accurately assess their own swimming ability."
The lifesaving station was established in 1909 to provide a lake rescue service to UW–Madison students while they enjoy Lake Mendota. On Lake Mendota, it provides patrols and maintains watch along university shorelines that include the Lake Safety boathouse to the north side of Picnic Point.
"It's always safer to swim under the watchful eye of a lifeguard than to venture out on your own."
Sean Geib
In 2012, the crew had 565 rescue boat runs, 175 rescues and 72 assists. Boat runs occur when lifesaving station team members are sent out to investigate a situation such as sail boat drifting or whose sails are down.
Rescues are potential life-threatening situations involving swimmers, boats, canoes, windsurfers, etc., in which the individual is not able to return to shore without assistance.
Assists involve help from the Lake Safety staff to provide minor aid or repairs to a watercraft. In addition, the UW Lifesaving Station staff will provide mutual aid with other rescue and law enforcement agencies, such as the UW Police Department, Dane County Sheriff's Lake Patrol, and City of Madison Fire Department SCUBA 1.
The lifesaving station maintains a seasonal lake watch on Lake Mendota from April through October. Student lifeguards staff the union swim pier from Memorial Day through Labor Day. Lifeguard hours at the swim pier are from 11 a.m. to sunset seven days a week. More than 20,000 people visit the pier each year.
Sometimes people overestimate their swimming abilities, Geib says. That can be especially troublesome when swimming with friends who may be stronger swimmers.
Off-season, November through March, the Lake Safety Station is officially closed but the boats are maintained for rescue or dispatch until the lake freezes or the water levels become too low for boat launch. A regular watch is not maintained during the winter but staff keep a periodic watch on lake activities.
Geib also encourages people to wear life jackets.
"Almost every drowning can be avoided by simply wearing a life jacket," Geib says.
Although alcohol doesn't appear to have been a factor in this recent drowning, it is a major risk when on the water. Add alcohol with late night or early morning swimming and even the best swimmers are at immense risk, Geib says.
Lake Mendota can look clear, but many parts are full of weeds just below the surface. While a potential danger, panicking can be even worse.
"If you encounter weeds during a swim, don't panic," Geib says. "In fact, simply relaxing and not panicking when faced with a frightening situation on the lake can make the difference between life or death."
Many drownings occur when an attempt is made to save someone who is drowning. By taking precautions for yourself, you can help eliminate the risk to potential rescuers.
Geib wants everyone to be able to enjoy the lake safely.
"Taking a few safety steps can help reduce the risks," Geib says.
Tips for staying safe in the water
Swimming in a natural body of water is different from swimming in a pool. More skills and energy are required for natural water environments because of variable and changing conditions and water quality can be very poor. Look for local signage about warnings or prohibited activities.
Never swim alone or after using alcohol.
Never swim at night. Rescues in the dark are nearly impossible.
Whenever you are near or in a natural water environment, look out for:
Unexpected changes in air or water temperature. The UW Lifesaving Station monitors current lake conditions such as wind speed and direction, and air and water temperature. They also provide a local weather forecast.
Hazards below the water which you cannot see such as rocks, weeds or dangerous debris.
Aquatic life, such as vegetation that could entangle feet or make swimming difficult.
Sudden lake bottom drop-offs that can rapidly change water depth.
Other people's activities in the same waters, such as boats, canoes, rowers, sailboards, etc. that may not be aware of swimmers in a non-designated area.
Know who to call in the event of an emergency. Call 911 for the fastest and best response.