Letters & Science launches initiative to prepare liberal arts students for careers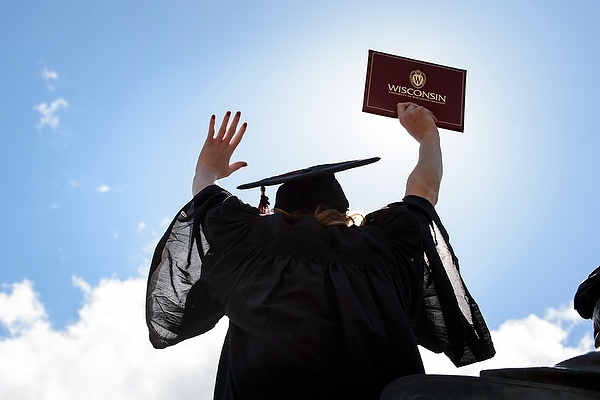 UW-Madison liberal arts graduates will get a boost in leveraging their degrees into successful careers through the new Letters & Science Career Initiative.
Photo: Jeff Miller
The University of Wisconsin–Madison's College of Letters & Science has launched a new, coordinated approach to preparing students for careers.
The Letters & Science Career Initiative (LSCI), funded by seed investments from L&S alumni, will help UW–Madison's liberal arts students use their diverse skill sets to contribute to today's rapidly changing economy — in Wisconsin and beyond. L&S Dean John Karl Scholz sees the LSCI as a way to tap into the college's robust alumni network for career insight, while also ensuring that L&S students use their time at UW–Madison as productively as possible.
John Karl Scholz
"To land rewarding jobs and launch successful careers, students must think and act strategically, much earlier in their college careers than ever before," says Scholz, who leads UW–Madison's largest academic unit. "Our goal is to help every L&S student — not just the extra-motivated or well-connected few — chart his or her path to success."
As part of the initiative, L&S has created an optional second-year career development course that will debut next spring. The interdisciplinary, one-credit course, Inter-L&S 210, will connect liberal arts degrees to academic and career preparation, goal-setting, critical thinking and reflection, and practical job skills. While the course will initially enroll 420 students, the aim is to eventually reach thousands of second-year and transfer students.
L&S Career Initiative Director Rebekah Pryor Paré has identified alumni who will participate in the second-year course, while departments and programs across the college are also developing LinkedIn groups to facilitate professional relationships between alumni and students.
L&S plans to increase the number of academic and career advisors across its departments and programs, with recruitment beginning next year.
The college has also partnered with the UW Survey Center to collect and analyze career trends of alumni. L&S will use the data to assess placement rates for its graduates, understand how satisfied alumni are with their lives and careers, and provide concrete information to students about the types of jobs alumni have pursued with liberal arts degrees.
"We want to build a launching pad for our students that will take them higher, sooner," says Scholz. "We aspire to set a new standard for career preparation among the nation's great public research universities."