Ilona Kombrink, celebrated professor of voice, dies at 80
Every story about Ilona Kombrink had a sort of mythic quality. Her career as a University of Wisconsin–Madison voice professor was literally the stuff of legends, whispered down the halls of the Humanities Building in her wake.
Scott MacPherson, for example, uses a decades-old memory to illustrate a vagary of German diction. MacPherson, now director of choral activities at Kent State University, was a student and colleague at the School of Music during the 1980s and 1990s.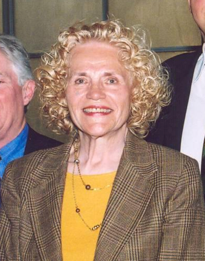 Ilona Kombrink in 2005
"I remember hearing Ilona Kombrink in a recital once," said MacPherson, during a choir rehearsal. "I have no idea what she performed, but I remember the very last word she sang. It was …"
He paused, gathering himself to a t'ai chi-like state of calm.
"'… nichts.'"
The sound moved as if in zero gravity, stretched over several seconds. MacPherson launched his body forward, stretching his arm into space as if preparing the way for a whisper.
"Ilona was her 'singer self' all the time; she lived her life as a singer," says Kathy Otterson, a friend and former student who now teaches at Edgewood College. "We can all do a pretty good imitation of her speaking voice, because she had that persona. But she didn't want you to be her. She wanted you to be yourself."
Kombrink, 80, died on Friday, Aug. 9 at her home in Stoughton, Wis. She had struggled with the effects of Alzheimer's disease, as well as other health issues, for several years.
A public memorial concert and celebration of Kombrink's life will take place on Sunday, Oct. 20, at 3 p.m. in the Grand Hall at Capitol Lakes Retirement Community, 333 W. Main St. Performers and speakers — more than a dozen — will include multiple former students and School of Music colleagues. A reception will follow in the Capitol Lakes Encore Room.
Born in St. Louis, Mo. on Nov. 9, 1932, Kombrink gave her first public recital at age 17. After appearances with the St. Louis Symphony and St. Louis Municipal Opera Company, she received a full scholarship to the Curtis Institute of Music in Philadelphia — then, as now, one of the most selective schools in the country.
"Even just sitting next to her onstage, she had that kind of vitality you could feel emanating from her as she got ready to sing. People in the audience could sense that almost primeval connection to something far larger than she was."
Mimmi Fulmer
Graduating in 1955, she received a Fulbright Scholarship to Germany, studying in Munich at the Hochschule für Musik. Her studies paid off, as she won the Metropolitan Opera Auditions of the Air — the radio precursor to today's National Council Auditions — in 1958.
After a distinguished operatic and concert career throughout the United States and Canada, Kombrink arrived at UW–Madison in 1967. She taught and performed in Madison until her retirement in 2003, continuing to serve on juries and panels for several years. Among her many awards, she received the Chancellor's Award for Distinguished Teaching in 1974.
Kombrink's glamorous stage presence was part and parcel of her career. Even in her later years, when performing on the Mills Hall stage for an audience of middle schoolers at Summer Music Clinic, she radiated a slow, powerful sense of control over her instrument. She commanded not just the sounds from her mouth but the sinuous connection of her lips, eyes, face, body and soul. Audiences could sense her complete communion with the music.
"She was such an extraordinary singer and performer," says Mimmi Fulmer, professor and chair of the voice area and a colleague since 1984. "Even just sitting next to her onstage, she had that kind of vitality you could feel emanating from her as she got ready to sing. People in the audience could sense that almost primeval connection to something far larger than she was."
Listen
Ilona Kombrink, soprano, performs "Liber scriptus — Dies irae" from Verdi's Requiem with the UW Choral Union and Symphony Orchestra, conducted by Robert Fountain. Recorded live on May 4, 1984.
Life as a performer can be difficult more often than not. Kombrink brought a wealth of experience to her students' lives: the rigors of constant travel, the anguish of choosing one's instrument over something else of value. She had to; the lessons of life were as important to her teaching as her lessons in diction or operatic style.
Regardless of students' backgrounds or majors, she never skimped on her standards. Her teaching schedule could include students pursuing international operatic careers and clients at the UW Voice Clinic, gaining confidence in using their voice after a stroke.
"Almost everyone said, 'She was hard on me; it was hard sometimes, it was great sometimes; I cried, I laughed, but it was worth it,'" says Otterson. "She had that uncanny knack to see a diamond in the rough: really see a young singer as they might be, even in the very raw form. Not everybody can do that. She was able to help that person find their voice."
Over the years, Kombrink's own voice remained strong and flexible, a testament to the vigorous activities she enjoyed – hiking, horseback riding – to keep her body and breathing in alignment. The dramatic power of her voice could fill a hall in Verdi's Requiem; her style and finesse brought delicacy to a Bach cantata.
Kombrink used her 1996 faculty review to write "Of Things To Come." With her typical blend of gravity and flourish, she wrote:
"It has taken me all of my life to learn how to sing, to play this instrument of the human entity. I have come to the conclusion that my life's greatest frustration will occur when I am beginning my final exhalation. I will be on the brink of expiring; knowing me, I will be putting that last inhalation and exhalation under close scrutiny, prolonging the process as long as I can to determine the revelations being made known to me. Quite simply, I will not be able to share that enlightenment/information with anyone on this side of the veil.
"Until then, I want to breathe and live, knowing each day is a discovery."