Heather Daniels selected as secretary of the academic staff
With a long history of both committee work and administrative coordination, Heather Daniels will draw on a wealth of experience as she becomes the University of Wisconsin–Madison's secretary of the academic staff.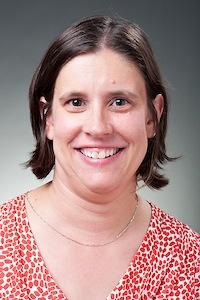 Heather Daniels
Daniels, currently senior administrative program specialist in the Research Division of the Graduate School, will begin her new position on Aug. 1. She succeeds Donna Silver, who retired Jan. 3. Since that time, Jo Ann Carr has served on an interim basis.
"Heather has a strong grasp on the complexities of academic governance that make UW–Madison such a unique place," says Provost Paul DeLuca. "Our academic staff members serve in remarkably varied roles across campus. The depth of Heather's experience will help her immeasurably as she begins her new role."
The secretary of the academic staff serves as a resource for the more than 8,000 academic staff members at UW–Madison, acting as a liaison between the Academic Staff Executive Committee (ASEC) and university administration, and assisting on any other matters related to shared governance.
When the eight-member search committee convened in April, chair Brenda Spychalla laid out the requirements for a successful candidate.
"We need someone who can collaborate, facilitate, adapt to change and embrace it," said Spychalla, assistant director of Media, Education Resources and Information Technology (MERIT) at the School of Education.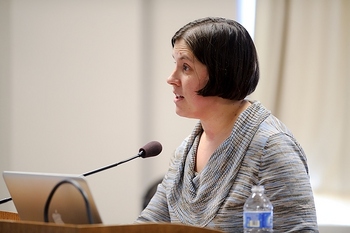 Daniels speaking at a UW System Board of Regents meeting in 2011.
Photo: Jeff Miller
Daniels has had a head start on understanding these processes from the inside out. Through a seven-year stint as secretary of the Madison Academic Staff Association (MASA), time as an Academic Staff Assembly representative and, finally, a three-year term as elected chair of ASEC, she has soaked up the history and nuance of campus organization.
To some, committee work might seem a thankless task. But not to Daniels.
"In my early days here on campus, I was touched by people who were involved early on and had carried the governance torch," she says. "Hearing stories about how things were in the days before academic staff governance, how not-involved we were in decisions and search committees, made me realize how important it is."
In 2007, Daniels received the Chancellor's Award for Excellence in Service to the University. The award noted her skill as a "master administrator" in her management of the neuroscience training program, coordinating more than 50 graduate students and 80 faculty members from six schools and colleges and 22 departments. But it also cited her wide-ranging campus efforts to encourage women in science and address issues of equity and diversity.
"The issues are very interesting, and they're always changing. In the end, it's really about service to people."
Heather Daniels
Daniels enjoys any chance to help colleagues shape campus policy. She'll have ample opportunity, with many hot-button issues on the horizon.
"We'll be working on reinvigorating academic staff governance engagement, in addition to monitoring how the HR Design project moves into areas of importance to academic staff," says Daniels. "The new diversity plan is of importance, as well as keeping our eyes on what's happening with the budget, how cuts are being distributed and might affect academic staff, what's going on with MOOCs and [Educational Innovation], and the Administrative Excellence project. There are a lot of opportunities for governance."
Daniels is excited by her new perspective, and energized by the chance to make a difference for her peers.
"It's important to do new things. Otherwise, I get bored," says Daniels, with a laugh. "The issues are very interesting, and they're always changing. In the end, it's really about service to people."