Go Big Read selects 'Evicted' for 2016-17
It's the story of eight Milwaukee families faced with losing their homes. It's also a powerful analysis of a little-known epidemic affecting people across the country living in poverty.
"Evicted: Poverty and Profit in the American City," the best-selling book by alumnus Matthew Desmond, is the 2016-17 selection for Go Big Read, UW–Madison's common-reading program.
"This book provides us an opportunity to talk about a little-understood facet of poverty and the profound implications it has for American families, particularly in communities of color," Chancellor Rebecca Blank says. "I'm proud that an alum has brought this issue to the forefront and I look forward to conversations in our community about this important subject."
Desmond received his doctorate from UW–Madison in 2010. He is an associate professor of sociology and social studies at Harvard University and an affiliate of the Institute for Research on Poverty at the UW. In 2015, he received a MacArthur "genius" grant.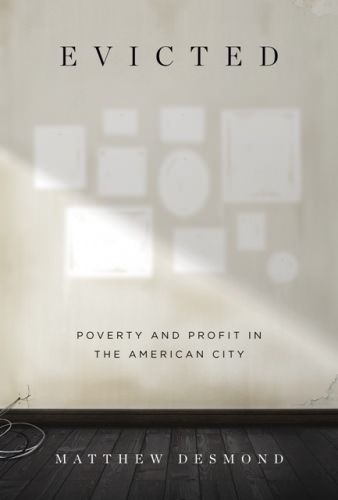 In his book, he writes that in the early 20th century, evictions in the U.S. were somewhat rare and popularly contested. Now they have become a frequent occurrence for low-income families, especially those headed by black women.
Milwaukee, a city of roughly 105,000 renter households, sees roughly 16,000 adults and children evicted in an average year, Desmond's research shows. This is equivalent to 16 eviction cases a day.
"Providing stable housing and lowering evictions is a human capital investment analogous to education or job training — one that has the potential to decrease poverty and homelessness and stabilize families, schools and neighborhoods," Desmond says.
"'Evicted' is astonishing — a masterpiece of writing and research that fills a tremendous gap in our understanding of poverty," says previous Go Big Read author Rebecca Skloot. "Beautiful, harrowing, and deeply human, 'Evicted' is a must read for anyone who cares about social justice in this country."
Go Big Read has a history of choosing timely topics that are part of the national discussion. This past year's Go Big Read book, "Just Mercy" by Bryan Stevenson, highlights racial inequality and the need to reform America's justice system. That success offers a bridge to a campus dialogue on Desmond's central question: "Do we believe that the right to a decent home is part of what it means to be American?"
Initially, "immigration and community" had been chosen as the theme for the 2016-17 academic year, but "Evicted," with its new insights on strengthening communities and its relevance within and beyond Wisconsin, made it a timely selection, Blank says.
Planning is underway for how students, faculty and staff will use the book in classrooms and for special events. Desmond plans to visit campus and give a talk. Copies of the book will be given to first-year students at the Chancellor's Convocation for New Students, and to students using the book in their classes. UW–Madison instructors interested in using the book can request a review copy.
The Go Big Read program is an initiative of the Office of the Chancellor.