Giant Pumpkin Regatta set for Oct. 10 at Memorial Union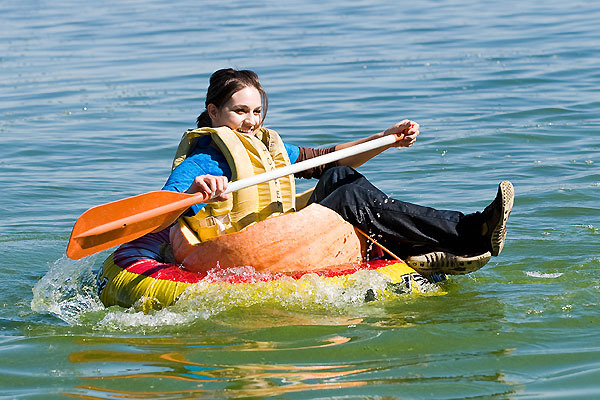 A student paddling back to shore after the 2008 Great Pumpkin Regatta. This year's event, organized by two horticulture professors and the Hoofer Sailing Club, will take place Oct. 10 on Lake Mendota at the Memorial Union Terrace.
Photo: Bryce Richter
Madisonians have a fun, alternative way to enjoy the fall harvest: attending the university's Giant Pumpkin Regatta. The event, which features students paddling hollowed-out pumpkins grown by fellow students, is set to take place at 11 a.m. on Saturday, Oct. 10, at the Memorial Union Terrace, 800 Langdon St.
Parking is available in the Helen C. White Hall parking ramp, and the festivities will be held at the pier in front of the Wisconsin Hoofers' outdoor programs office, located on the water level below the Memorial Union Theater.
The event is organized by UW–Madison horticulture professors Irwin Goldman and Jim Nienhuis, with help from the UW's Hoofer Sailing Club. Racers, called "pumpkin pilots," are recruited from Goldman and Nienhuis' class on world vegetable crops. They will paddle hollowed-out, three-foot-wide Atlantic Giant pumpkins — rendered buoyant by tractor-tire inner tubes — through a course set up by sailing club members.
The massive pumpkins were tended by a number of UW students over the growing season, including Chris D'Angelo and Lynn Maher, graduate students in Goldman's lab who are in the university's Plant Breeding and Plant Genetics program.
The inaugural Giant Pumpkin Regatta was held in 2005, with the idea to make it an annual event. Mother Nature, however, doesn't always cooperate.
"We've done it a number of times since 2005, but we have had to skip some years due to poor pumpkins," says Goldman.
Fortunately, 2015 yielded a good crop.