Full color 3-D printing takes top prize in Collegiate Inventors Competition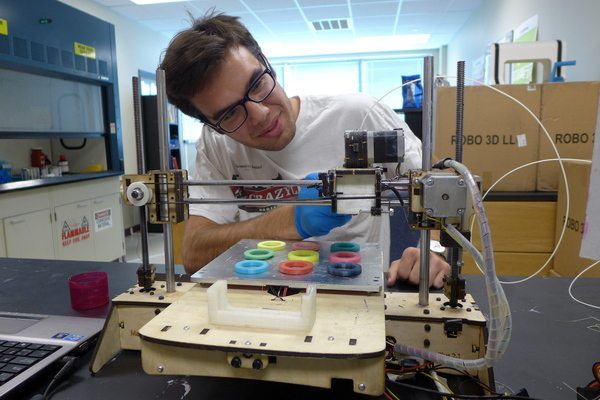 Chase Haider adjusts a commercial 3-D printer as he develops an add-on device that allows the printer to produce objects in full color. Haider, Cédric Kovacs-Johnson and Taylor Fahey won first prize in the Collegiate Inventors Competition for the innovation.
Photo: David Tenenbaum
Innovative 3-D printing technology came out on top as Spectrom — developed by a University of Wisconsin–Madison team that includes Cedric Kovacs-Johnson, Charles Haider and Taylor Fahey — won first place in the undergraduate category of the Collegiate Inventors Competition.
Spectrom is an add-on to current 3-D printer architecture that offers on-demand, full color 3-D printing and a high level of customizability to its users.
Taylor Fahey, Charles Haider, Cedric Kovacs-Johnson (left to right) receive their award.
"The first place prize was an amazing affirmation of the technology we've poured our hearts into over the last few months," Kovacs-Johnson says. "The inventors serving as judges created some of the most profound advancements in technology in the last century. Explaining our idea to them, having our project validated by them, was one of the most memorable experiences I believe I'll ever have."
The annual competition honors student innovators from top universities around the country, with Spectrom facing off against students from Harvard, Johns Hopkins, Columbia, Clemson and UNC-Chapel Hill. Winners were announced Nov. 17 at the United States Patent and Trademark Office in Alexandria, Virginia.
A $12,500 prize accompanied the first place win, and the money is split between the Spectrom team and their advisor Tim Osswald's lab in the department of mechanical engineering.
Before the product is officially released on the market, the Spectrom team will work with potential users to better understand their needs and desired functionality. Spectrom also wants to create a software interface that simplifies color customization and allows users to virtually paint on objects to be printed.
"The first place prize was an amazing affirmation of the technology we've poured our hearts into over the last few months."
Cedric Kovacs-Johnson
"So much of our effort has been dedicated to the invention hardware and ensuring our theories could be realized," Kovacs-Johnson says. "Now it's time to create that fluid and intuitive usability."
Kovacs-Johnson and Haider are 2014 UW–Madison chemical engineering graduates and Fahey was a computer science major. Their business idea was one of two student projects to receive an Igniter grant from the university's Discovery to Product (D2P) office.
Spectrom is now the fourth winning team to come from UW–Madison since 2000, joining the ranks of innovators in fields ranging from engineering to chemistry to biomedicine.
One of the previous winners is Eric Ronning, a member of the second UW–Madison team represented at the 2014 competition.
Though Ronning's team didn't place in the top three this year, he remains one of only a handful of students to compete in the finals more than once. He first attended the competition in 2012 and won second place in the undergraduate category for ReHand, a 3-D printed prosthetic hand.
More details on the competition and projects
—Courtni Kopietz