From Madison to the White House, PEOPLE students celebrate beating the odds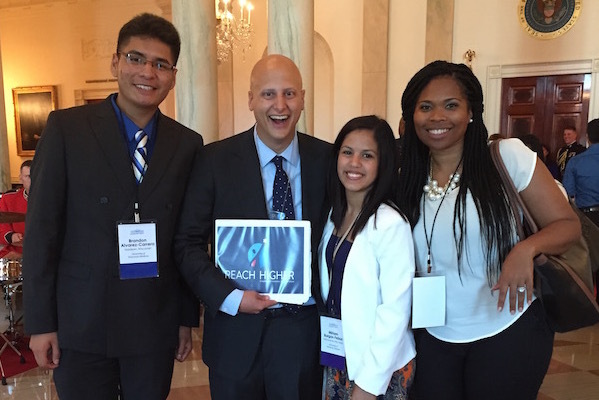 PEOPLE scholars and incoming first-year students Brandon Alvarez-Carrera (far left) and Miriam Burgos-Febus (second from right) join Eric Waldo, executive director of First Lady Michelle Obama's Reach Higher Initiative, and Gail Ford, PEOPLE assistant director at UW–Madison, at the Beating the Odds Summit, held at the White House.
Photo courtesy of Gail Ford
Growing up, Brandon Alvarez-Carrera learned English on his own and had to work hard to catch up with his peers in Madison schools. This fall, he will enter the University of Wisconsin–Madison with college credits, a full scholarship and direct entry to the university's program in engineering physics.
Alvarez-Carrera and Miriam Burgos-Febus, both participants in UW–Madison's PEOPLE Program, traveled to the White House on Thursday, July 23 to take part in First Lady Michelle Obama's inaugural Beating the Odds Summit. The event, featuring a surprise appearance by the president, is part of the First Lady's Reach Higher Initiative, highlighting efforts to make college more accessible to students from underrepresented communities.
"When Michelle Obama said, 'No one is born smart. You work hard to be smart,' I kind of live by that," says Alvarez-Carrera, a soft-spoken graduate of Madison East High School.
The day included a panel moderated by E! News host Terrence Jenkins, featuring Michelle Obama, U.S. Secretary of Education Arne Duncan, musical artist Wale, and Manuel Contreras, a rising senior at Brown University and co-founder of 1vyG. Other workshops included "Unmasking your Fears," "Finding Your Passion, Finding Your Future," "Career Fluency Marketplace" and "So You Want to Intern with FLOTUS."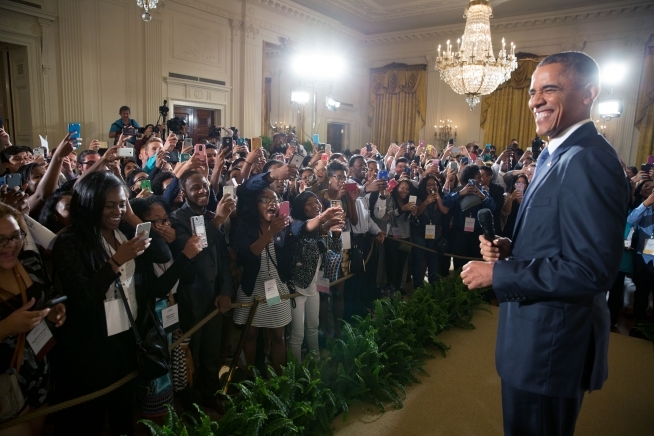 President Barack Obama makes a surprise visit to the Beating the Odds Summit, part of the First Lady's Reach Higher Initiative, in the East Room of the White House. Official White House photo by Pete Souza.
Alvarez-Carrera and Burgos-Febus say they appreciated the opportunity to network with other students who have overcome similar challenges.
"It was really interesting to hear stories of where each student came from — and having an open mind," says the ebullient Burgos-Febus, a graduate of Milwaukee's Ronald Reagan College Prep High School. "Everybody was really understanding of different backgrounds."
At the summit, Alvarez-Carrera listened intently to the panel discussion featuring Contreras, whose experiences as a first-generation student in a Mexican-American family mirrored his own.
"I related a lot to what he had to say," said Alvarez-Carrera. "You're kind of the game changer of the family, hoping to work hard to better your family and change the course of your family's history."
"When Michelle Obama said, 'No one is born smart. You work hard to be smart,' I kind of live by that."
Brandon Alvarez-Carrera
The 130 students at the summit, selected by more than 70 nonprofits across the country, represented a mix of urban, rural, foster, homeless, special needs and underrepresented youth who overcame substantial obstacles to persist through high school. All have been accepted into college.
Gail Ford, PEOPLE's assistant director for precollege programs, accompanied the students on what she called "the best day ever."
"It was very powerful for me, as someone who works in college access, to network with other colleagues across the country who are helping students in higher education," she says. "It affirms the work that we do when it's respected and honored in the highest offices in the land."
Participation in PEOPLE, a program that aims to increase the number of low-income students and students of color on campus, has paved the way for both students' transition to UW–Madison this fall. They have spent the past seven weeks on campus taking classes as part of the Summer Collegiate Experience, earning credits toward graduation and building connections with fellow scholars and academic mentors.
"I can take Madison by storm. You have to be ready for me. That's all I can say."
Miriam Burgos-Febus
Burgos-Febus joined PEOPLE the summer following her freshman year of high school.
"Miriam always stood out as very ambitious and a really hard worker when we saw her each summer," says Ford. "Her family is from Puerto Rico; they don't speak English, and she does most of the translation for her family. She has a lot of weight on her shoulders, but even with that, she's really driven."
Over the past few years, Burgos-Febus has thrown herself into every opportunity the program has offered. Most recently, she took part in an internship researching ecotoxicology in frogs with graduate student Cherry Tsai Brown in the School of Medicine and Public Health's Molecular and Environmental Toxicology Center. Through the connections she made with Tsai Brown and other researchers, she learned about the many science majors and research opportunities available in the College of Agricultural and Life Sciences, where she plans to begin her studies this fall.
"I love my PEOPLE people," says Burgos-Febus. "The program has allowed me to know this campus front, back, north, east, west, south … I can take Madison by storm. You have to be ready for me. That's all I can say."