Food safety subject of Go Big Read book
Dr. Harvey Washington Wiley may not be a household name today. But a century ago, he was dubbed the father of the pure food and drug act. And it's thanks in large part to him and a little known group of research volunteers that the food we eat is safe.
Deborah Blum's "The Poison Squad: One Chemist's Single-Minded Crusade for Food Safety at the Turn of the Twentieth Century," pays tribute to Wiley's work and his legacy. The book is the 2019-20 Go Big Read selection.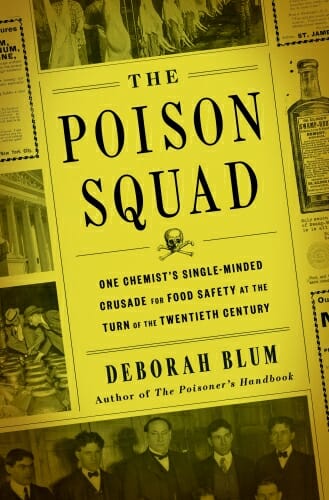 Wiley, a chemistry professor from Purdue University, was named chief chemist of the agriculture department in 1883, and the agency began methodically investigating food and drink fraud, even conducting shocking human tests on groups of young men who came to be known as, "The Poison Squad."
"It may not always serve us to cast a rosy glow over the past or even over its heroes," Blum writes. "But we should take care not to forget those early lessons on protecting our country and ourselves … There's a remarkable and revealing story— one that illuminates where we stand today — behind the simple fact that what we now call the "pure food and drug law" was once known, coast to coast, as 'Dr. Wiley's Law.'"
Blum earned her master's degree in environmental journalism in 1982 from UW–Madison. In 1992, she won the Pulitzer Prize for a series on primate research, which she turned into a book, "The Monkey Wars."
She returned to UW–Madison as a professor in the School of Journalism and Mass Communication from 1997 to 2015. Since 2015, she has been director of Knight Science Journalism at MIT.
Her other books include "The Poisoner's Handbook," "Ghost Hunters," "Love at Goon Park," and "Sex on the Brain." She has written for publications including The New York Times, Wired, Time, Discover, Mother Jones, The Guardian and The Boston Globe. Blum is a past president of the National Association of Science Writers, a fellow of the American Association for the Advancement of Science, and a lifetime associate of the National Academy of Sciences.
Smithsonian Magazine named "The Poison Squad" one of the top 10 science books of 2018.
Science magazine called it, "Riveting. Blum isn't just telling one scientist's story but a broader one about the relationship between science and society . . . . [A] timely tale about how scientists and citizens can work together on meaningful consumer protections."
The Wall Street Journal praised the book, saying it's "A detailed, highly readable history of food and drink regulation in the United States. . . . ["The Poison Squad"] shows the push and pull of competing economic, political and social interests. The journey our country has taken in establishing food, drink and drug regulation is an important one to understand because it is still going on."
Blum's book is a reminder to question some of our conventional thoughts about food.
"We tend these days to cast a romantic glow over the foods of our forefathers," Blum writes. "In such rosy light, we may imagine grandparents or great-grandparents thriving happily and solely on farm-fresh produce and pasture-raised livestock … In this we would be wrong."
Go Big Read events connected to the book will include a visit from the author and a panel discussion about the state of food science and regulation, which will include a wide range of industry, association and faculty perspectives.
"The book gives us an opportunity to talk about the progress that has been made in food safety and shows how appropriate government regulation can be important for human health," says Chancellor Rebecca M. Blank. "While we always look for books with a connection to Wisconsin, it gives me great pride to host an author who is not only an alum but who has devoted so many years teaching UW–Madison students about the importance of science journalism."
Planning is underway for how students, faculty and staff will use the book in classrooms and for special events. Copies of the book will be given to first-year students at the Chancellor's Convocation for New Students, and to students using the book in their classes. UW–Madison instructors or event planners interested in using the book can immediately request a review copy.
The Go Big Read program is an initiative of the Office of the Chancellor. The program engages members of the campus community and beyond in a shared, academically focused reading experience.