First UW–Madison pilot MOOC launches Thursday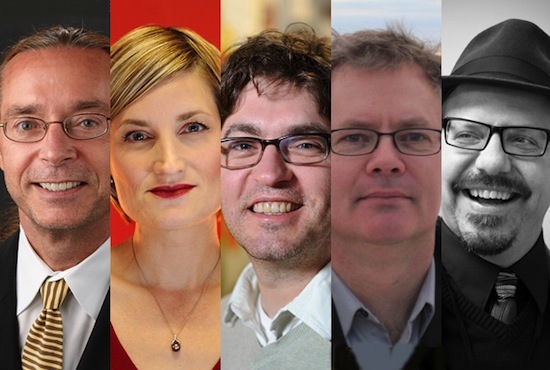 UW-Madison's Randall Wright, Constance Steinkuehler, Kurt Squire, Kris Olds and John Hawks (left to right) will offer four pilot courses as part of a new delivery system in higher education known as Massive Open Online Courses (MOOCs).
The classroom at the University of Wisconsin–Madison is about to get a whole lot bigger. Nearly 80,000 people from all over the globe have signed up for one of the four pilot Massive Open Online Courses (MOOCs), with the first beginning Oct. 3.
A MOOC is an online course aimed at large-scale participation. MOOCs are a recent development in the area of distance education and build on earlier concepts for innovative course delivery. Courses use multimedia presentations, including video, and encourage learning through online interaction among students.
"We are excited to offer students from around the world the opportunity to learn from some of our very best instructors," says Provost Paul M. DeLuca Jr. "MOOCs can complement the tradition of educational excellence people expect from UW–Madison."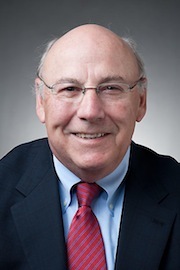 Paul DeLuca
The classes are free and open to anyone, including current UW–Madison students, although they are not offered for credit. There is no limit to the number of participants. In February, UW–Madison announced a partnership with Coursera, a provider of MOOCs. MOOCs serve as an example of Educational Innovation, former Interim Chancellor David Ward's initiative to customize the learning experience and find new ways of educating students.
While content differs, MOOCs provide access to instructors from universities all over the world by connecting learners through technology. Students watch videos, take quizzes, read materials and participate in online discussions with fellow learners from around the globe. MOOCs also allow students to learn at their own pace.
"Video Games and Learning" is taught by Constance Steinkuehler, associate professor of digital media with the School of Education's Department of Curriculum and Instruction, and Kurt Squire, professor in the Department of Curriculum and Instruction. Both are co-directors of the Games+Learning+Society Center within the Wisconsin Institute for Discovery.
The course, made possible by a gift from Susan Shannon Engeleiter and Data Recognition Corporation, a Minnesota-based company with an office in Madison, begins Oct. 3 and will last six weeks. More than 30,000 have signed up for this first pilot MOOC. The class will discuss research on the kinds of thinking and learning that goes into video games and gaming culture, benefits and drawbacks of digital gameplay, tensions between youth culture and traditional education and new developments intended to bridge that growing divide.
"This is more than a student learning opportunity. This is also an opportunity for us as a university. These four pilot MOOCs will help us learn additional options we can provide for our students and how to build upon what we already do."
Paul DeLuca
"We think of MOOCS as a resource in line with the Wisconsin Idea," Steinkuehler says. "This is something that complements and supplements existing coursework and material. Our goal for the course is to raise general awareness of the productive marriage between game mechanics and learning."
"Markets with Frictions," taught by Randall Wright, The Ray Zemon Professor of Liquid Assets in the Wisconsin School of Business, and professor in the Economics Department, begins Oct. 30 and lasts six weeks. The course aims to sharpen economic reasoning by applying the methods to interesting phenomena. Students will work on improving the way they think analytically about the economy and address interesting issues that come up in the world of business. This course development was made possible by gifts to the School of Business Innovation Fund.
"Human Evolution: Past and Future," taught by John Hawks, professor in the Department of Anthropology, begins Jan. 21 and lasts 10 weeks. The course provides an introduction to the science of human origins, the fossil and archaeological record, and genetic ancestry of living and ancient human populations. It emphasizes the ways evolution touches our lives, including health and diet, and explores how our deep history may shape the future of our species.
"Globalizing Higher Education and Research for the 'Knowledge Economy,'" taught by Kris Olds, professor in the Department of Geography, and Susan L. Robertson, professor at the University of Bristol, United Kingdom, starts in spring 2014 and lasts eight weeks. It is designed to examine an array of issues related to the globalization of higher education and research. The main objective of the course is to enable students to better understand how and why universities are engaged in the globalization process, as well as what the key implications of this development process are.
The subject matter of the four pilot MOOCs runs the gamut and has attracted thousands of students to sign up for each.
Worldwide, while some MOOC students only participate in a lesson or two, others stay throughout the entire online course. Some participants are current college students. Others sign up simply because the subject matter interests them.
Following evaluation of this first pilot effort, the university may offer additional MOOCs in the future.
"This is more than a student learning opportunity," DeLuca says. "This is also an opportunity for us as a university. These four pilot MOOCs will help us learn additional options we can provide for our students and how to build upon what we already do."