'Driftless' reading echoes Wisconsin's past, present, future
The geography and culture of Wisconsin's Driftless area were celebrated Saturday night through the words of writers known and unknown, and in the ideal location: a theater named for a writer who dedicated his life to encouraging homegrown artistic and literary talent.
Mary Lloyd Jones read from the autobiography of her relative, Frank Lloyd Wright, a native of Richland Center. Considered America's most prolific and creative architect, Wright lived and worked along the Wisconsin River south of Spring Green.
James Ridge, an actor at nearby American Players Theater, read from "The Land Remembers," Ben Logan's 1975 memoir about life on a farm near Gays Mills. Logan's book, like "The Driftless Reader," is available from the University of Wisconsin Press.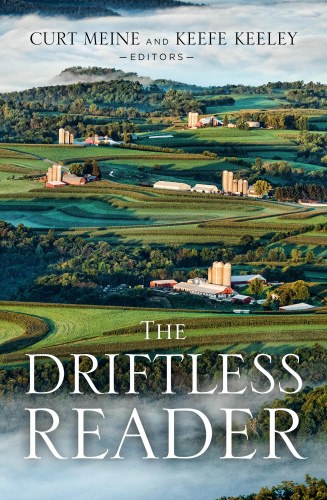 Since publishing its first book 80 years ago, the Press has expanded beyond academic titles to publish many works on its home state as well as popular books for a national and international audience.
The Reader was the brainchild of Curt Meine, an adjunct associate professor in forest and wildlife ecology at UW–Madison. The biographer of Aldo Leopold, Meine writes about the intersection of culture, history and environment. "It took two-and-a-half years," Meine said in Spring Green. "It took a lot of digging and organizing to create a portrait of the Driftless region, with the voices, the deep history, the native history, the European history. It was a great challenge, and also a privilege, a pleasure."
Keefe Keeley, a Ph.D. student at the Nelson Institute, edited the many historic and modern images for the Reader.
Focusing on the only part of Wisconsin that was not bulldozed by glaciers makes sense, says Press communications director Sheila Leary. "Because of that unique topography, the Driftless has a unique culture, and that's inspired a lot of art and literature by natives and travelers alike." For example, the excerpt of "Old Man Fishing," an August Derleth poem read with eloquence by Eddy Nix, wrapped up a lifetime of rumination, then closed, "One old man fishing under the sun/hearing the wind and the sound time makes …"
"As trade publishers started backing away from their lower-volume books in the 1980s, university presses started picking up regional titles and many smaller trade books," explains UW Press director Dennis Lloyd.
"Our role in the Wisconsin Idea is to celebrate and document what happens in the state, and to contribute to worldwide scholarship through books and journals," says Lloyd, who notes that the Press has developed other niches. "We have a handful of language-learning texts that people might not expect. One of our best-sellers is the Bosnian/Croatian/Serbian textbook." UW Press also publishes the award-winning LGBTQ memoir series "Living Out," and series on global human rights, dance, African studies, teaching methods for historians, and several other areas.
"It's true that there is a lot of conversation how much or little people are reading," says Lloyd. "Book sales are down, but people are sharing content and reading more than ever before, partly due to social media, Facebook. Even as a few publishers generate a lot of revenue from e-books, many houses say it's only 20 percent. On the books side, most of our customers continue to want print books, though electronic formats are the most popular for journals."
All of the Press's 12 journals are published in both print and electronic form. Since the early 2000s, the Press has offered most new books, and many backlist titles, both in print and in up to three digital formats.
The last word belongs to Robert Gard, a vigorous proponent of the Wisconsin Idea. After reading from his selection in the Reader, his daughter Maryo summarized a man with many interests, and who founded what has become the Wisconsin Arts Board.
"He had this vision that people in Wisconsin had things to say, and they had vision for a way of saying it," she said.