Darwin Day celebration focuses on islands, isolation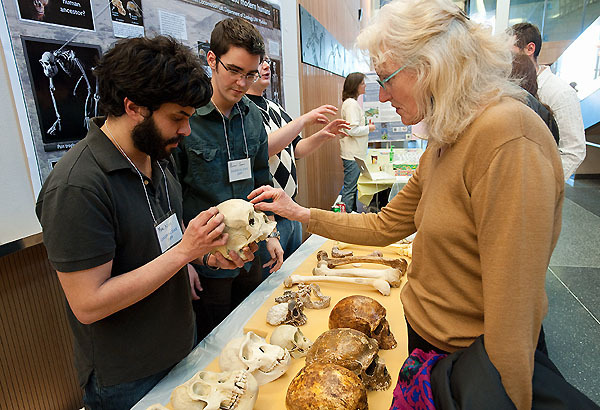 Anthropology graduate students (left) point out the distinguishing characteristics of a group of skulls during "Darwin Day 2009." This year's Darwin Day celebration will focus on islands and evolution. 
Photo: Bryce Richter
What do Madagascar and Jurassic Park have in common? Both are island-based evolutionary "experiments" that will be highlighted in this year's Darwin Day celebrations, sponsored by the J.F. Crow Institute for the Study of Evolution at UW–Madison and its partners.
"Darwin Day 2015: Islands and Isolation" will run all day Thursday, Feb. 12, and focus on the unique opportunity that islands provide to witness evolution and the diversity of life.
Madagascar is like an "evolutionary laboratory," says keynote speaker Anne Yoder, a professor of biology and evolutionary anthropology at Duke University. Yoder traces her fascination with Madagascar primates to a university class visit to the Duke Lemur Center. "I saw all this diversity of primates, and I was told that they were all found on this one island of Madagascar, and I said, 'How does that happen?'"
Yoder, who now directs the Duke Lemur Center, says about 90 percent of the animals on Madagascar, including its lemurs, are found nowhere else. With less than half a percent of Earth's landmass, the island contains 20 percent of Earth's primate species. Yoder and her colleagues are trying to understand the roots of this pattern. At 5:45 p.m. in the Discovery Building's DeLuca Forum, she will share more about "Madagascar's lemurs as a unique evolutionary experiment."
Related: A birthday message for Charles Darwin
Immediately afterward, at 7 p.m., a cinematic evolutionary experiment will screen at Marquee Theatre in Union South. Steven Spielberg's classic 1993 sci-fi film, "Jurassic Park," depicts a team of scientists visiting a remote island populated by genetically engineered living dinosaurs. "The scheduled release of 'Jurassic Park 4' in June makes this a great time to revisit the original and think about the quality of its science, and the ethical issues it raises," says Andrew Hasley, a Ph.D. student in genetics who is helping to organize the event.
Following the movie, viewers will be encouraged to discuss these issues at The Sett in Union South.
The day kicks off with an Evolution Education Forum at 10 a.m. in the Genetics-Biotechnology Center Building, where teachers and administrators from middle schools, high schools and UW–Madison will discuss key issues in evolution education. The forum will discuss current evolution-education practices in high school and middle school, and how UW–Madison can help meet the needs of evolution educators across Wisconsin.
At noon, also in the Genetics-Biotechnology Center Building, Jonathan Pauli of UW–Madison's Department of Forest and Wildlife Ecology will share his insight on mammal population responses to human disturbances, and how they should influence conservation strategies.
At 2:30 p.m., the Discovery Building's Town Center will host kid-friendly Tree of Life activities. K-12 students and their families can visit hands-on exploration stations related to different aspects of evolution. Participants can enter a raffle if they visit every station and collect stamps for every branch of their Tree of Life scorecard.
For more information on Darwin Day 2015, the J.F. Crow Institute for the Study of Evolution, and a complete list of sponsors, visit the institute's website.