Dancing and marching wrap Camp Randall in 'Circle of Life'
For the first time ever, UW–Madison dance students performed original choreography alongside the UW Marching Band during halftime of the Badger football game against Ohio State Saturday, Oct. 15.
The opportunity came by way of a phone call from band Director Michael Leckrone to Associate Professor Chris Walker of the Dance Department, a mere 13 days prior to the game. Leckrone asked Walker if he was interested in presenting choreography at Camp Randall during the halftime show, from "The Lion King." The two had worked together nearly a decade earlier, when Walker brought his African Dance class to participate in the Varsity Band Concert.
Walker brought this opportunity to the Dance faculty that Friday for approval and, immediately afterward, began developing 90 seconds of choreography set to a sequence of "The Circle of Life."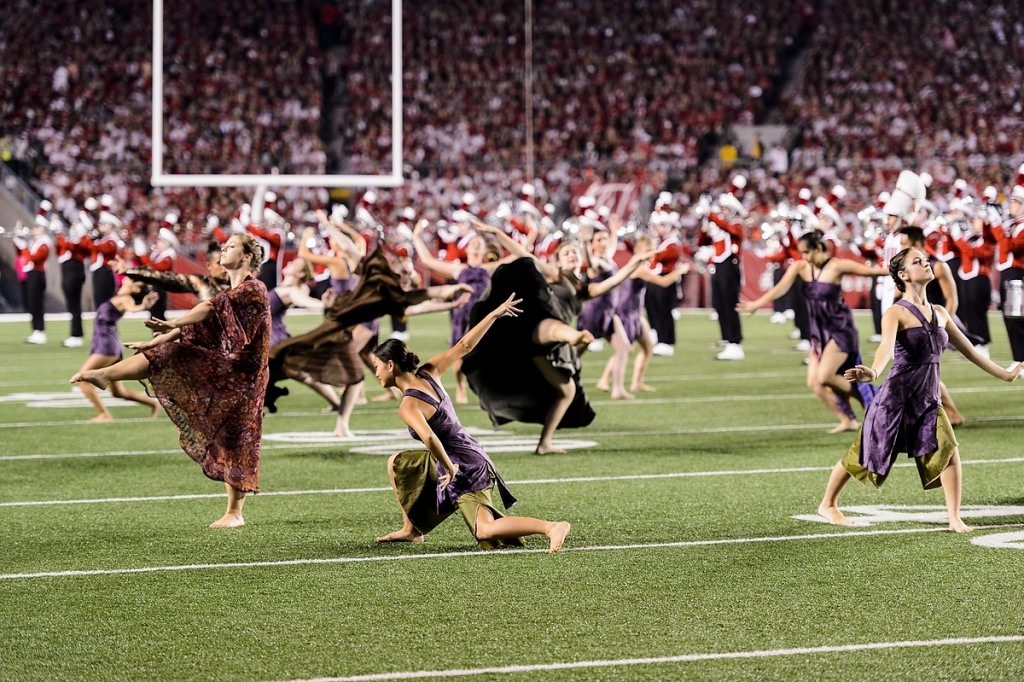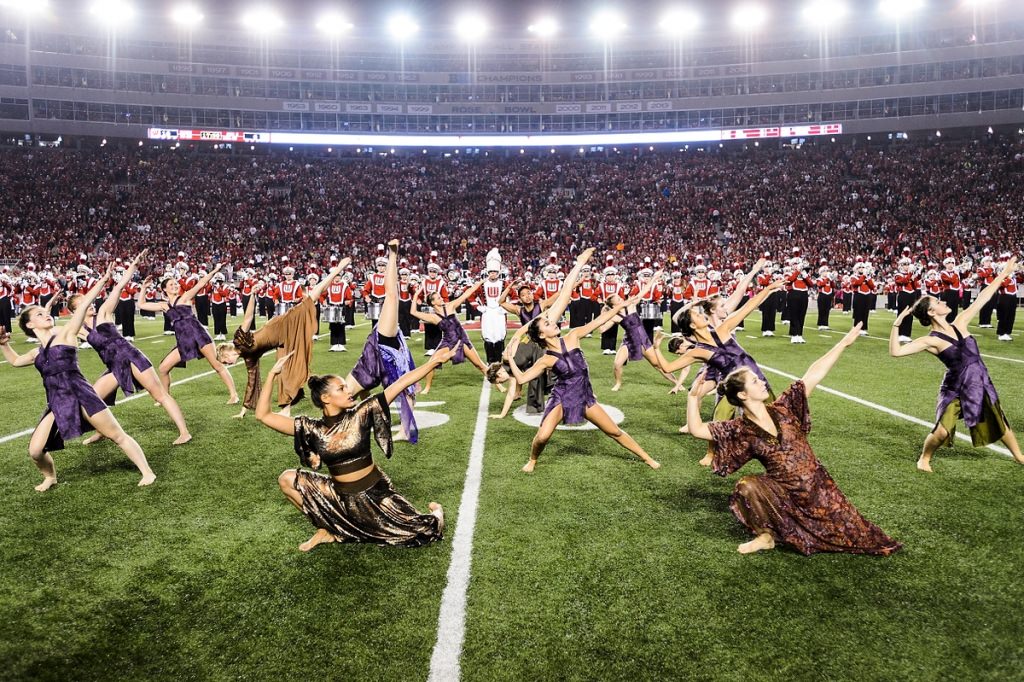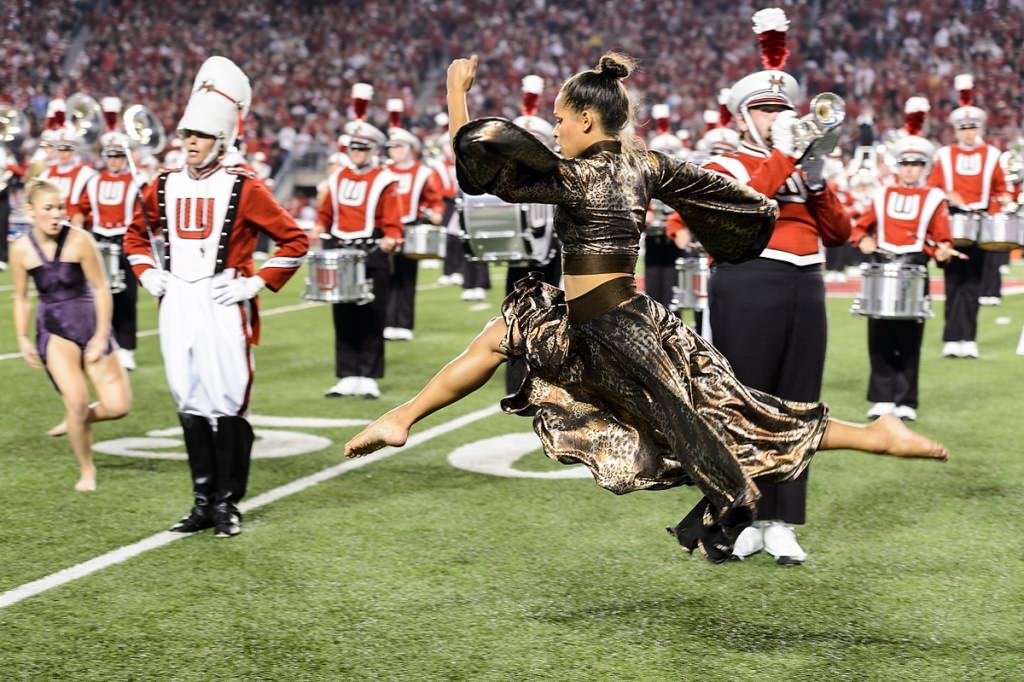 "The 90 seconds," Walker says, "celebrates 90 years of Dance at UW–Madison." This year marks the department's 90th year as the nation's first dance degree program in higher education.
Walker sought out Faculty Associate Karen McShane-Hellenbrand, who teaches in the Dance Department, to help make it happen. McShane-Hellenbrand selected costumes from previous faculty concert works, provided feedback during rehearsals and marshaled the dancers into Camp Randall.
Eighteen students in the work, who ranged from freshmen to seniors, rehearsed daily over the next week, including two rehearsals with the Marching Band. The uplifting message of togetherness and support underlying "The Circle of Life" inspired the choreography, and was also reflected in rehearsals. Walker said there was a true sense of community between the dancers and "an immediate shared admiration between the dancers and the marching band."
Senior Monica Holland, who will graduate this spring with a BS in dance and a certificate in entrepreneurship, says, "Working with the band was amazing." Not only are they kind and grateful, she says, but "their talent as musicians and performers is incredible." 
Walker, who had never attended a Badger football game until that Saturday, was impressed with the experience. "It came through the whole stadium, this shared expression of movement and music," he says. He notes how the band plays from the beginning of the game through to the end and beyond, saying, "The band is at the center … it's the heartbeat of the UW campus."
This energy infected the dancers as well. During the piece, Walker gave the dancers an opportunity to create their own movement improvisation that told their story.  
"We were given two bars towards the beginning to improv," says Holland. "For me it was mostly about doing big expansive movement." She says she fed off the energy from the band, which made her want to "perform big."
Of the experience, Holland says it was particularly memorable because it tied together her love for dance and her family's love and passion for Badger football. Both of Holland's parents attended UW–Madison; her grandfather, Louis Holland Sr., her father, Louis Holland Jr., and her uncle, Tyler Holland, have all played football for the Badgers. "Badger football is my family," she said.
"To be able to perform at halftime, as a senior, during the biggest game of our season with the famous UW Marching Band, in front of 81,541 people, is something I'll never forget."
Student dancers who performed in the halftime show include John Paul Alejandro (senior, BS dance), Charlotte Baptie (senior, BS dance), Maudie Brown (senior, BS dance), Niki Hofslien (senior, BS dance), Monica Holland (senior, BS dance), Julianna Hom (freshman, BS dance), Dianne Kotsonis (sophomore, BS dance), Heather Kozlowski (senior, BS mechanical engineering), Cassandra Last (freshman, BS dance), Aliya Mayers (sophomore, BS dance), Nicolette Meunier (senior, BS dance), Megan Schimke (freshman, BS dance), Bailey Seymour (freshman, BS dance), Jennifer Smith (sophomore, BS dance), Alice Svetic (freshman, BS dance), Kaitlin Verchimak (freshman, BS dance), Annee Welbel (sophomore, BS dance) and Diana Xiong (sophomore, BA general studies).