Contest seeks amazing science images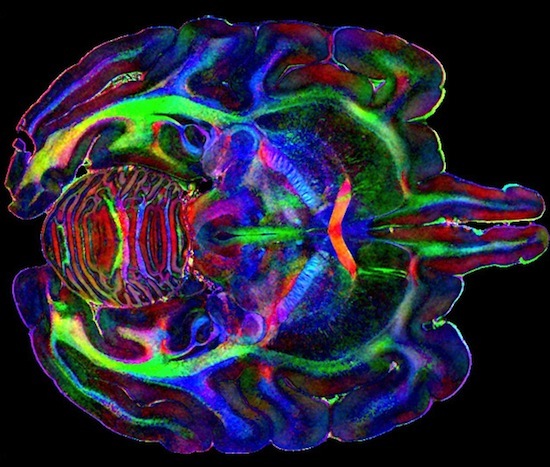 One of the 2013 contest's winners was this view of a monkey's brain, showing structure and neural pathways covered with myelin (white matter). The image was produced by a collaboration of the University of Wisconsin (Christopher Coe, Gabriele Lubach, Andrew Alexander), the University of North Carolina (Martin Styner) and Duke University (Evan Calabrese, G. Allan Johnson).
Photo: Christopher Coe
An array of new microscopy techniques, telescopes, cameras and other imaging technologies are revolutionizing science, producing stunning visuals that offer glimpses into seen and unseen worlds.
Such images are increasingly gaining esthetic recognition as well. To highlight the visual and scientific value of scientific imagery, the fourth annual Cool Science Image Contest is soliciting the best images from students and faculty and staff scientists on the University of Wisconsin–Madison campus.
Sponsored by Promega Corp. and DoIT Digital Publishing and Printing Services, the contest offers the University community an opportunity to show off compelling science images made by any currently enrolled student, or staff or faculty member.
The first contest drew more than 60 entries and last year more than 100 images were submitted by talented individuals; winners and finalists are showcased on The Why Files, a popular science web site that hosts the original Cool Science Image feature.
To enter images, visit the contest home page for guidelines, submission requirements and link to an entry form. The submission deadline is Friday, Feb. 28.
Winners will be announced in mid-March. Each will receive a $100 Downtown Madison gift certificate and winning images will be published on The Why Files. In addition, winners receive a poster-size print of their submitted image. All qualified entries will be displayed in a slide show at the 2014 Wisconsin Science Festival.