Chazen Museum of Art receives gift of 67 Jim Dine artworks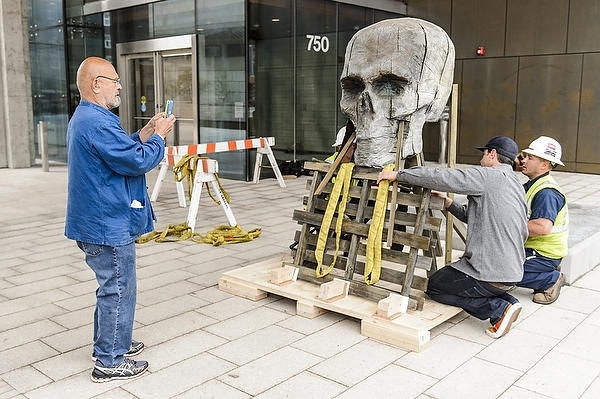 Prolific American artist Jim Dine (left) photographs his bronze sculpture, titled "Ancient Fishing," as it is being installed near the front entrance of the Chazen Museum of Art this week.
Photo: Bryce Richter
An extraordinary gift from Jim Dine, one of country's most significant artists, will be on view at the University of Wisconsin–Madison's Chazen Museum of Art from May 16-Aug. 17.
Dine, who first came to prominence on the New York art scene in the 1960s, has made a gift of 67 works on the iconic theme of the skull produced between 1982 and 2000.
Perhaps best known as a printmaker, Dine also works prolifically in painting, drawing, sculpture, mixed media, ceramics, and photography. Each of these media is represented in the gift.
"Last summer, Jim Dine was in Madison working on an edition [of prints] at Tandem Press," says Russell Panczenko, director of the Chazen. "I invited him to tour the new building, which had opened in October 2011. He was quite taken with the architecture and how the art was displayed. Over dinner, he asked if the museum would consider a gift of his work."
The gift eventually grew to 67 pieces and a celebratory exhibition was scheduled.
"I knew him." Jim Dine Skulls, 1982-2000 opens to the public on Friday, May 16. A celebratory opening reception Thursday, May 15 will include the unveiling of an outdoor sculpture at 5 p.m., a conversation with the artist at 5:30 p.m. and the reception with refreshments and live music 6:30 p.m.-8 p.m.
One of two large-scale sculptures given to the museum by Dine, a six-foot-tall work in bronze called "Ancient Fishing," was installed this week outside the Chazen, where it will be on permanent display.
This 1986 Jim Dine etching, "A Side View in Florida," is part of the gift presented to the Chazen Museum of Art.
In addition to the two larger sculptures, included in the Dine gift are five paintings, eight drawings, 25 prints, two ceramic pieces, and a number of photographs, all of which were produced by the artist. A fine-art poster designed in partnership with Dine will be published in conjunction with the exhibition.
Dine's work is characterized by the invention, repetition, and reinvention of now-familiar themes: hearts, a bathrobe, tools, and the human skull among them.
Through investigation and duplication, these themes become iconic, and such is the case with this thematically cohesive collection of examples of his treatment of the human skull.
Dine has always worked in various media including painting, drawing, sculpture, printmaking, collage, ceramics, photography, performance, books, poetry, and mixed media. Often associated with pop artists, Dine stands apart because he treats his chosen objects in a much more intimate and personal way, exploring them inventively and repeatedly in diverse media.
Dine, who was born in Cincinnati in 1935, studied at the University of Cincinnati and the Boston Museum School, and received his bachelor of fine arts from Ohio University, Athens, where he was also enrolled in the graduate program.
He moved to New York City in 1958, where he had his first group and solo exhibitions. Dine instantly became an active figure in the New York art world, creating and staging many of the first "Happenings" along with artists Claes Oldenburg and Robert Whitman.
Since his first solo exhibition in 1960, Dine's paintings, sculptures, photography, and prints have been the subject of nearly 300 solo exhibitions worldwide.
– By Kirsten Pires