Chancellor visits Oshkosh Corporation, site of UW-industry collaboration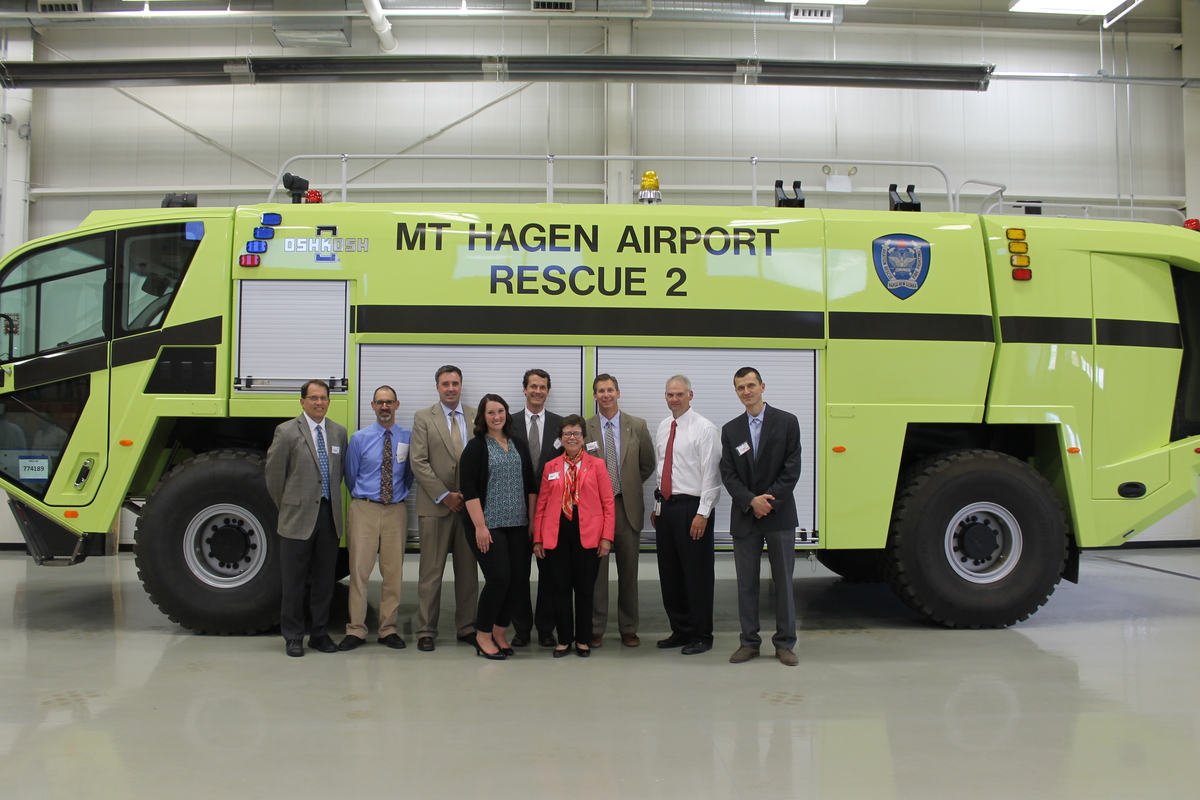 UW-Madison and Oshkosh Corporation officials pose in front of an airport firefighting vehicle manufactured by the company. Chancellor Rebecca Blank visited to strengthen ties between Oshkosh Corporation and the university.
Photos courtesy of Oshkosh Corporation
Sometimes seeing what University of Wisconsin–Madison alumni are working on demands a truck ride over gravel moguls, through fields of rubble and up hills pitched like church steeples.
After seeing firsthand the technologies that Oshkosh Corporation is building in Wisconsin and sending around the world, UW–Madison Chancellor Rebecca Blank stressed the value of collaboration between premier public research institutions and companies such as Oshkosh, which employs nearly 100 UW–Madison alumni.
"These collaborations drive innovation and I will do everything I can to strengthen these ties and bring more research to market," Blank said during a July 22 visit to the company's headquarters.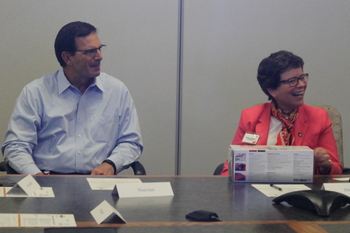 Oshkosh Corporation President Wilson Jones and UW–Madison Chancellor Rebecca Blank.
Not only do many UW–Madison graduates find careers at Oshkosh Corporation, but the College of Engineering has worked closely with the company on a range of projects as varied as Formula One racing to restoring "The Bucky Wagon," a 1932 fire truck featured in the annual homecoming parade, which now has a body from Pierce Manufacturing, an Oshkosh Corporation brand.
The vehicle that took Blank and three engineering professors smoothly over the moguls during their visit could be a game changer for the company. The Department of Defense (DoD) is considering the vehicle, named the Light Combat Tactical All-Terrain Vehicle (L-ATV), for the military's next-generation light protected vehicle program, dubbed the Joint Light Tactical Vehicle (JLTV) program.
Oshkosh is competing with two other companies, Lockheed Martin and AM General , for this multibillion dollar contract. Following months of rigorous testing involving 22 trucks from each company, a decision is expected by this fall.
The military plans to buy more than 50,000 of the JLTVs and use them to replace the Humvees, which are vehicles that have been around for decades and are outdated for the threats of today's battlegrounds, including Improvised Explosive Devices (IEDs). The U.S. Army and Marine Corps together plan to spend billions on approximately 17,000 JLTVs, which are armored, highly mobile, and designed to save their occupants' lives, over an eight-year period.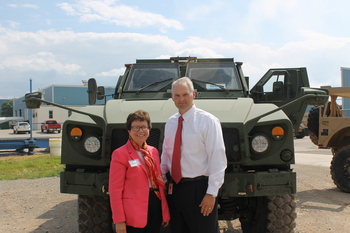 Chancellor Blank and Vice President Thomas Quigley with an Oshkosh Corporation product.
Oshkosh Corporation entered the JLTV competition after successfully filling an urgent needs request from the DoD to manufacture Mine Resistant Ambush Protected All-Terrain Vehicles (M-ATVs) used for operations in Afghanistan. Oshkosh built its M-ATVs with an underside shaped like a boat's hull. This V-shaped hull design, plus the armored crew capsule, protects the occupants by diverting the force of explosions such as IEDs. In addition, the M-ATV's independent suspension system, which was designed by the company, allows the vehicles to be highly mobile in off-road terrains.
As the M-ATVs were deployed throughout Afghanistan, the Oshkosh Corporation team members began receiving heartfelt letters, emails and phone calls from service members and their families to thank Oshkosh for protecting them from IEDs and other threats. The company has built and sold approximately 10,000 M-ATVs to the U.S. and its allies.
Looking ahead, engineering professors Dan Negrut, Jaal Ghandhi and Jake Blanchard are all involved in the collaborations between Oshkosh Corporation and UW–Madison, which now involve year-round recruiting and a project with Negrut's Simulation-Based Engineering Laboratory.
Negrut's lab offers a way to model various conditions and predict how trucks of different designs would react to different terrain. The lab uses one of the nation's largest supercomputers to model how a mass of tiny particles would behave against a force — for example, sand or snow against a tire. One of Negrut's team members, who just completed his postdoctoral work at UW–Madison, has joined Oshkosh full-time.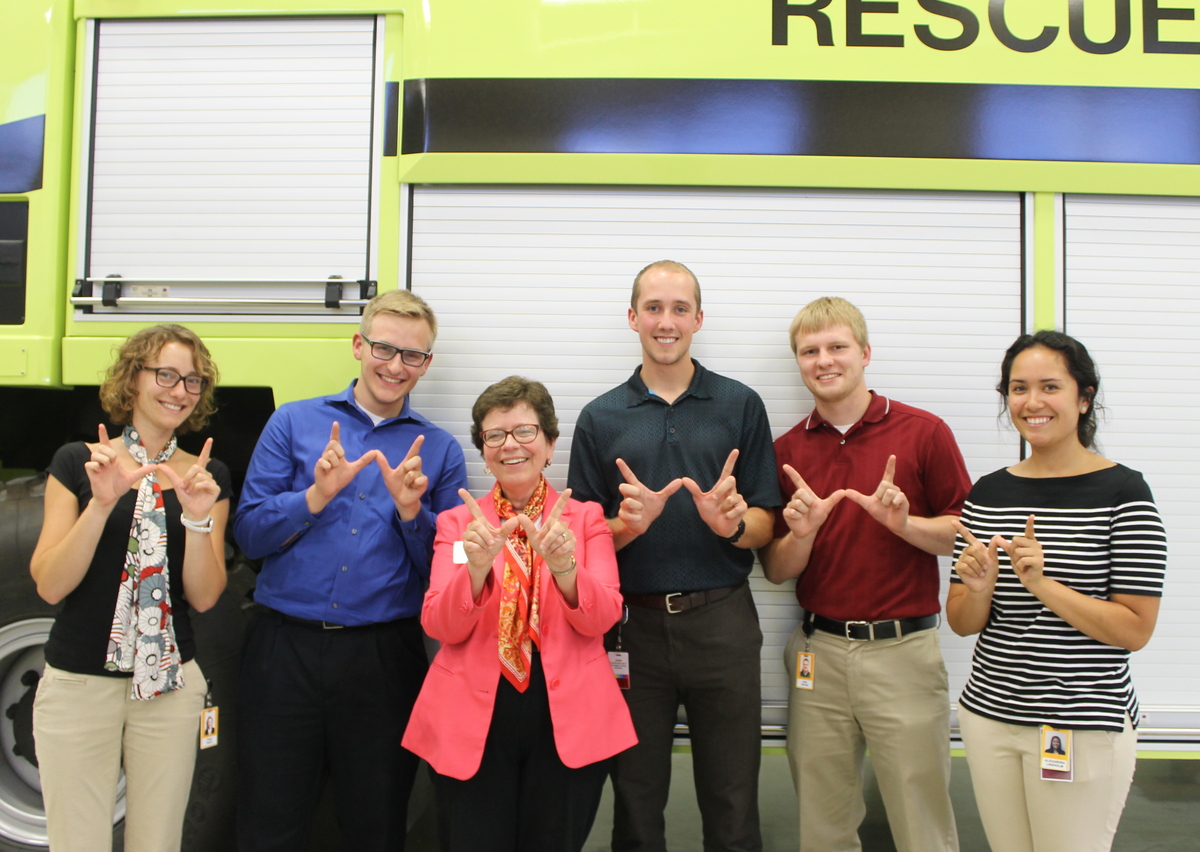 Oshkosh Corporation interns from the UW College of Engineering show their Badger pride. The company employs nearly 100 UW–Madison graduates.
For Negrut on Wednesday, the testing was no longer a computer simulation. He rode in an Oshkosh L-ATV, climbing a hill so steep the only view from the back seat was blue sky above.
His description of the experience: "Fantastic!"
Oshkosh Corporation was founded almost 100 years ago on a single ambition: producing four-wheel drive vehicles. That ambition propelled the company forward for decades. Following a strategy to diversify in 1996, the company has traction in many global markets, which include firefighting and emergency vehicles, refuse and construction trucks, as well as military vehicles, and aerial work platforms and construction telehandler equipment.
The first Oshkosh truck, named "Old Betsy," is kept at the company's Global Technology Center, which sits close to the Test and Development Center about two hours northeast of Madison.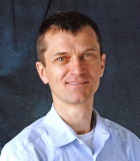 Dan Negrut
For a company with such influence around the world, company leaders acknowledge that Oshkosh Corporation has a relatively low profile in its home state. During the visit, the company's proving grounds were eclipsed by a flashier show: The Experimental Aircraft Association hosts its annual AirVenture fly-in at the Oshkosh airport, and on Wednesday, pilots drew crowds and attention with their acrobatics.
The city of Oshkosh is more often associated with another company founded there: OshKosh B'gosh, which succeeded by turning railroad uniforms into kids' clothes.
As Oshkosh Corporation President Wilson Jones joked, "We don't make the overalls."
But winning the JLTV program could change that perception.
The new L-ATV has already made a clear impression on the College of Engineering professors and Chancellor Blank.
"This is the result of research and hard work," Blank said. "And it's very cool." But most importantly, one day the Oshkosh L-ATV could be put into action and protect our troops as they perform their missions. Nothing is more important than that.