Celebrate National Running Day with Rec Sports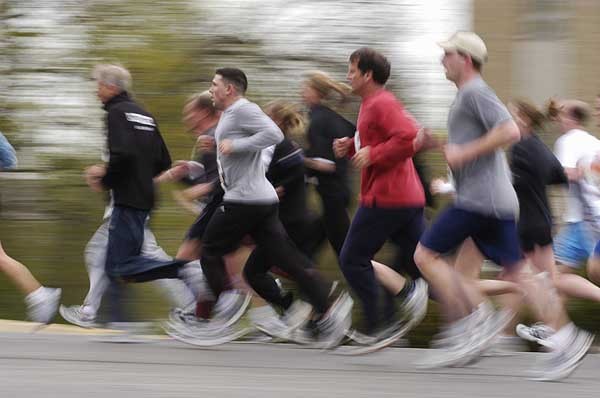 Rec Sports is sponsoring a run/walk through campus and downtown Madison on June 3 for National Running Day. It won't be quite as grueling as the Crazylegs race, pictured here, but still allows runners to share their passion for the sport.
Photo: Jeff Miller
Wednesday, June 3 is National Running Day. The Division of Recreational Sports invites students, faculty, staff and community members to lace up their running shoes and participate. Rec Sports will lead a 30-minute run/walk through campus and downtown Madison for people of all fitness levels.
"We know that running is a huge part of the culture on campus and in the Madison community," Director John Horn says. "This is a fun opportunity to bring the national event to a local level and give people a chance to meet other running enthusiasts."
National Running Day is a coast-to-coast celebration when runners are encouraged to share their passion for the sport, according to runningday.org. Held annually on the first Wednesday in June, the event is partnered with Charity Miles so runners may choose to track their mileage and help raise funds for a selected charity or cause.
Rec Sports staff will lead a noncompetitive one-mile walk and three-mile run through campus and downtown Madison. Both groups will leave at 11:30 a.m. from the SERF, located at 715 W. Dayton St. "We're encouraging people to participate at whatever pace they feel most comfortable and just come out and enjoy the sport with us," Horn says.
All participants will receive a T-shirt while supplies last. Participation is free. Visit the Rec Sports Facebook page (facebook.com/uwrecsports) for more details.