Cartoonist Lynda Barry joins WID and Art Department faculty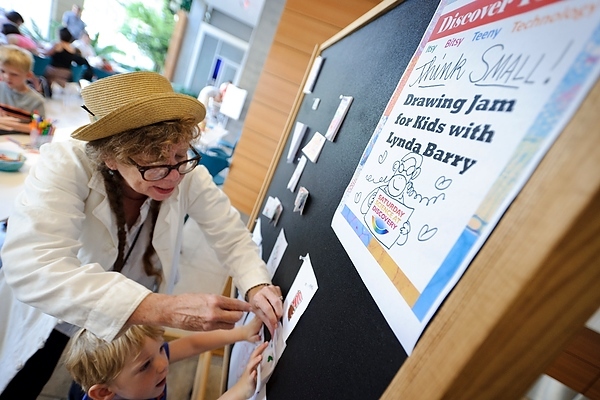 Cartoonist and author Lynda Barry leads a "drawing jam" with children during a Saturday Science outreach event at the Wisconsin Institutes for Discovery. Barry, now an assistant professor of art and a Discovery Fellow, has started an interdisciplinary Image Lab to explore the biological function of the arts.
Photos: Jeff Miller
When award-winning cartoonist and author Lynda Barry distributes her hand-drawn syllabus to UW–Madison students on the first day of class, she intentionally skips introductions. In this environment, a student's academic major, age and even name matter little compared to the topics delved into as a group.
Students, both undergraduate and graduate from diverse disciplines, join Barry to examine larger questions about why we yearn to create things, solve problems and explore meaning in the world through science, visual art and writing. The experience is anything but "being lectured at."
"We just start with drawing and writing to see that we're all in the same place," says Barry, who thinks creating conditions for insight through drawing and writing can fuel creativity in a person's work in his or her discipline. "Because we tend to give up on the arts so early in life, I became really interested in what would happen if we reintroduce the arts without the thought of 'you're going to do this to become a great writer or painter,' but rather that it might help people with the other work in their field."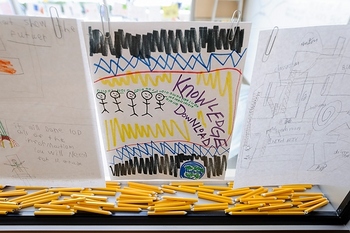 Artwork from earlier "drawing jams" led by Barry is displayed during the Saturday Science outreach event.
Barry's journey in studying the creative process originally brought her to the university in 2012 as an artist in residence at the Arts Institute. But beginning this fall, Barry will work more permanently on campus as an assistant professor of interdisciplinary creativity through the Wisconsin Institute for Discovery (WID) and the UW–Madison Department of Art.
In addition to engaging with people of all ages in classes, workshops and projects, Barry says she looks forward to collaborating with experts across campus — ranging from the sciences to the creative writing program — to further study something she calls the "biological function of the arts." In other words, what makes us long to be able to sing, draw, write, dance or play music even after we've given up on ever being able to do these things well?
This is one of a handful of overarching concepts Barry seeks to understand in a new, flexible WID workspace called the Image Lab, located on the northwest corner of the first floor of the Discovery Building. Barry's lab, which will be open to the public at various times, is dedicated to real-time creative activity that encourages a different take on problem solving.
"She's the best classroom teacher I've ever seen. She is able to help people see their work in totally new ways and gives them a new set of tools to bring to bear on their work.""
Tom Loeser
"The metaphor for me is like a restaurant that serves food based on what's in season, what's fresh and around," she says. "If I find that there's an interesting rehearsal going on for a one-man or two-man show or there's some creative project going on campus that I can invite people to do here, I will. People won't always know what they're going to see when they come to the lab — kind of like the chefs that just go to the market in the morning and write the menu based on what they've found."
In all of the Image Lab's activities, Barry's teaching style in workshops and approach to education are front and center: The focus on mastering a particular subject shifts to giving students the tools they need to fully examine and understand how creativity can enhance critical thinking.
Barry's unique teaching style, described as a mix between boot camp and stand-up comedy, has placed high demand on her courses, which often have a lengthy wait list.
"She's the best classroom teacher I've ever seen," says Tom Loeser, chair of the Department of Art, who sat in on Barry's classes when she was first an artist in residence. "She is able to help people see their work in totally new ways and gives them a new set of tools to bring to bear on their work."
This alternative approach to teaching is exactly more of what the university needs, says WID Director David Krakauer.
"It's a reminder to people that we're engaged in this exploration — that an institute like WID is a creative enterprise," he says. "Everything can start to feel overly familiar, but one of the things Lynda brings to WID and the university is that she's a 'de-familiarizing' laser beam. It's almost like her job is to make things that we think we know uncertain, and that's how we make leaps in understanding and discovery."
—Marianne English