Campus reacts to shooting, underlying issues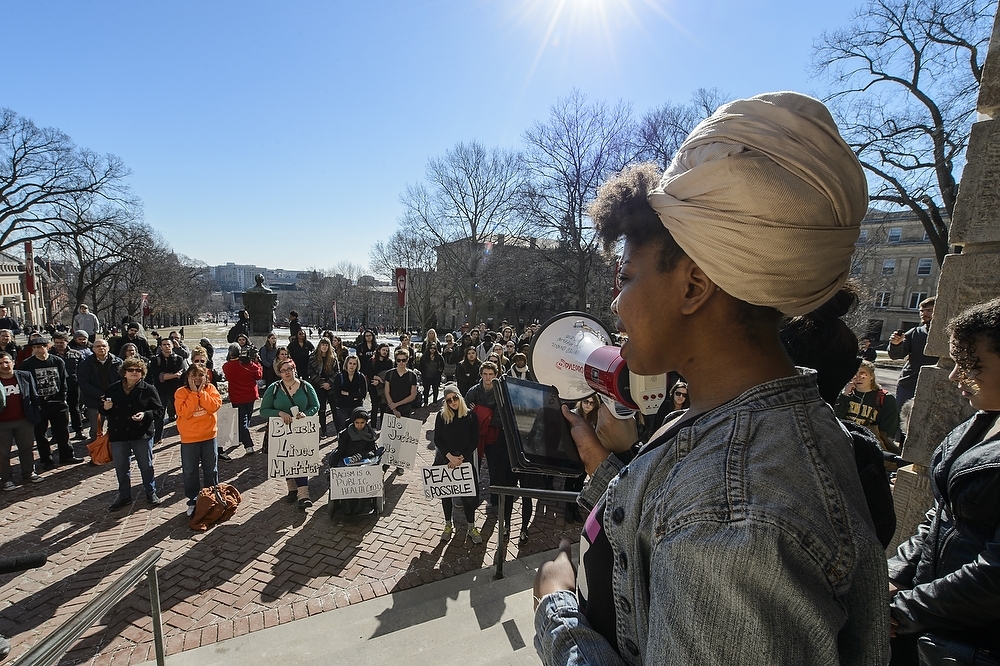 Sophomore Miona Short addresses about 200 people gathered at the Abraham Lincoln statue near Bascom Hall Monday to reflect upon the death of Tony Robinson and join in a march to the Wisconsin State Capitol.
Photo: Bryce Richter
The fatal shooting by Madison police of a black teenager on the city's East Side Friday is leading to calls for renewed action on social justice on the University of Wisconsin–Madison campus.
An outside agency, the state Division of Criminal Investigation, is investigating the shooting of Tony Robinson, 19, as required for all police-involved deaths under a new state law.
Chancellor Rebecca Blank on Saturday called for the campus to react with compassion and without judgment. Without placing blame, she expressed support for Robinson's family as well as for public safety officials.
Robinson was not a UW student but has friends who attend the university.
On Saturday evening, several dozen students and staff gathered to discuss his death and the larger issues underlying the #BlackLivesMatter movement. The event was organized by the Multicultural Student Center and attended by representatives of University Health Services and other support staff.
Participants expressed a flood of emotions: deep sadness about Robinson's death, anger over the persistence of social inequality in America, and a personal loss of self-worth, safety and control.
They said they don't want to judge those on campus who don't feel Robinson's death and policing and social justice issues have anything to do with them. But they also want to understand why some don't think such concerns are relevant.
On Monday morning, about 200 members of the campus community, most of them students, gathered near the Abraham Lincoln statue outside Bascom Hall before 11 a.m. for a march on the State Capitol honoring Robinson.
Two freshmen students, Natasha Thimmesch and Teresa Baymon, organized the march Sunday via social media. Each has a personal connection to Robinson: Baymon, a Madison native, was a lifelong friend; Thimmesch's father is a middle school teacher who taught Robinson.
They said they wanted to respond to his loss in a peaceful and positive way.
"This is mainly about Tony but it's bigger than that," Thimmesch told the crowd. "Stuff like this has been happening for years and it's time to stand up and say it needs to stop."
The UW–Madison students joined more than 1,000 students from across Dane County at the Capitol Rotunda. The crowd comprised mostly high-school and some middle-school students who were staging independent coordinated and supervised walkouts to protest Robinson's death. The students then marched to the City-County Building and staged a sit-in on Martin Luther King Jr. Boulevard, where Madison Mayor Paul Soglin spoke briefly.
On Thursday, the campus will host a previously scheduled debate on proposed renovations to the Dane County Jail that's expected to touch on issues relating to law enforcement and racial equity. Sheriff David Mahoney and Doug Kramer, a professor emeritus in the UW School of Medicine and Public Health, will argue in favor of the renovations; M. Adams of Young, Gifted and Black and Nino Rodriguez of the MOSES Jail Task Force will argue against.
The event is organized by Professors Karma R. Chávez and Sara L. McKinnon of the Department of Communication Arts. It is scheduled for 7 p.m. in Room L160 of the Conrad A. Elvehjem Building.
The Multicultural Student Center is offering three additional events this week that focus on experiences of racism and violence:
Tuesday at 6:30 p.m. in the MSC Classroom in the Red Gym: "Be Wellness Series: Story Sharing for Healing Workshop," designed to help shape a personal challenge into one that moves others to action.
Wednesday at noon in the MSC Lounge: "A Place at the Table," conversation and catered lunch.
Thursday at 3:30 p.m. in the MSC Classroom: "Tips, Tools and Tactics for Shaping Narratives through Spoken-Word," a writing workshop with activist and poet Guante.
For immediate support, contact University Health Services Counseling and Consultation Services at 333 East Campus Mall, 7th floor, from 9 a.m. to 4 p.m. Monday through Friday, or call the 24-hour UHS Crisis Line at 608-265-5600, option 9.
—Greg Bump and Valeria Davis