Business students launch app to 'Fetch' grocery deals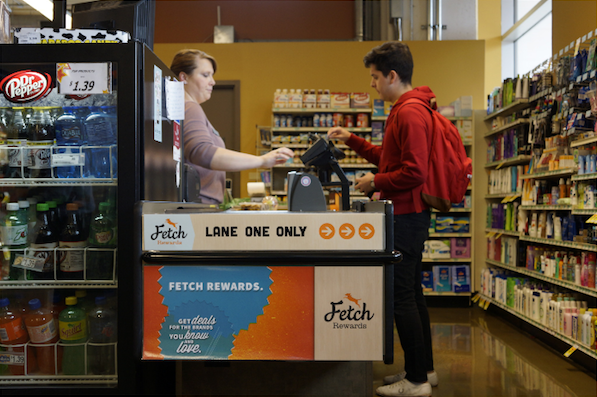 A student shopper uses the new Fetch Rewards lane at Fresh Madison Market. Customers press "checkout" on their phone and it sends the information to the cashier, who has a Fetch Rewards tablet. 
Photos: Lauren Richards 
Wes Schroll was frustrated with his Target coupons. Sure, they were tailored to his purchase history, and the expiration date was far away. Yet, by the time his next trip to Target rolled around, he'd misplaced them again. A lifelong entrepreneur and Wisconsin School of Business student, he knew there had to be a better way to find deals.
"I know a lot of people expect to wait a long time at checkout lines and be bored while they are grocery shopping," Schroll says. "I thought there has to be a better way to make shopping more entertaining and save people money."
The solution? Fetch Rewards — a company Schroll, 20, co-founded with fellow UW–Madison student Dan Litvak, a computer science major. The pair, along with their nine employees and 45 volunteer brand ambassadors, launched a grocery store app Oct. 3.
The app's concept is simple: after downloading, shoppers scan items with their smartphones as they walk through the grocery store. The app keeps track of the total cost of the bill and offers shoppers coupons, deals and free items based on what they've already scanned. Fetch users can also earn rewards points through company sponsors, including MillerCoors, Johnsonville, Kemps and Bernatello's.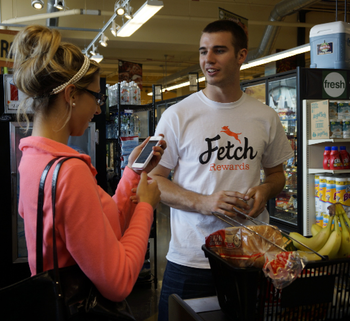 UW-Madison student Alexandra Cirone chats with Fetch Rewards co-founder Wes Schroll as she uses the app to buy groceries.
Customers press "checkout" on their phone and it sends the information to the cashier, who has a Fetch Rewards tablet. While bagging all of the groceries, the cashier goes through the list on the tablet to ensure all of the items in the cart or basket have been scanned on the customer's phone. The cashier can also weigh the items to make sure everything matches up.
"I really liked it," says UW–Madison senior and special education major Alexandra Cirone after using it for the first time. "It was helpful and useful. I use coupons when I get them in mail, but I'm bad about remembering them."
The company is only 13 months old and has won approximately $60,000 from business plan competitions across the country, including taking second at the G. Steven Burrill Business Plan Competition in May. The founders have also secured private funding and are in talks with venture capital firms to acquire more seed money.
Schroll created and pitched his first business idea, a wallet/phone hybrid, to Motorola at age 14 and a few years later worked with a company in the Ukraine to develop a bare-bones tablet for lower-income school districts. John Surdyk, faculty associate and the organizer of the Burrill competition, got to know Schroll after working with him during the lead-up to the competition.
"After years of consulting with so many entrepreneurs, there are those who — whether they have the right opportunity or the right resources to pursue that opportunity — have such an entrepreneurial disposition," Surdyk says. "And Wes struck us as one of those people: persistent, optimistic and had all of those classic hallmarks of an entrepreneur."
"Grocery shopping has really been done the same way for over 50 years, and our fundamental goal has always been to change that."
Wes Schroll
While an entrepreneurial spirit can get you pretty far, Schroll also credits a few outside factors with the company's early success: the mentor relationships he's had, the business plan competitions, and simply being a member of the UW–Madison community. (Schroll and Litvak are both taking a semester off from college to build the venture, with the plan of returning if the company doesn't take off.)
"I think it's unique that we're on the college campus where all of us came from. We all have either graduated from here or learned a lot from here, and we have been able to take that and apply it in a real-world setting," Schroll said. "We're all a bunch of ex-students or current students trying to chase down a dream."
Surdyk has had the opportunity to watch Schroll and Litvak grow throughout the process of launching Fetch Rewards.
"I wouldn't say their journey has been without hiccups, but I'd say they've learned really fast and the competitions accelerate that learning. What they are doing now as entrepreneurs is accelerating it even more," Surdyk said. "I have complete confidence in their ability to adapt or pivot when necessary."
While the app is only available at Fresh Madison Market, Schroll says the company is working to expand it to other grocery stores and cities in the Midwest. Most of Fetch's revenue comes from the sponsoring companies and grocery stores.
"Grocery shopping has really been done the same way for over 50 years, and our fundamental goal has always been to change that," Schroll says.
—Lavilla Capener