BuckySubmit helps with public access compliance at UW–Madison
A new submission service is assisting researchers at the University of Wisconsin–Madison maintain compliance with the federal agencies that fund them. It is also helping researchers save time while providing public access to their manuscripts.
The service is called BuckySubmit and it works like this: A researcher goes to the website hosted by UW–Madison's Ebling Library and follows the links to submit their manuscript once it has been accepted for publication. BuckySubmit staff review the manuscript to ensure it meets the federal funder's requirements and then file it with the appropriate federal agencies.
Beginning with a National Institutes of Health (NIH) policy implemented nearly a decade ago, all 24 federal agencies that provide research funding now require published results be made available to the public through specific research repositories. The requirement is known as "public access" but maintaining compliance can be burdensome on researchers because each agency has its own rules and procedures.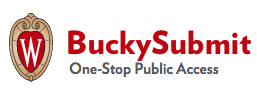 About 2,800 researchers at UW–Madison are affected by the requirement.
"While the point of having rules in place to govern how funding is spent or how human subjects are treated is important from the perspective of protecting people or research investments, the volume of these mandates can often take time away from the research," says Ryan Schryver, public access compliance specialist for Ebling Library.
Beginning with the NIH requirement, recently-retired former director of the Ebling Library for the Health Sciences, Julie Schneider, began building BuckySubmit with Schryver and Ebling Information Architecture Librarian Allan Barclay. The service launched in June 2017. The Office of the Vice Chancellor for Research and Graduate Education (OVCRGE) refers to it as Schneider's "gift to campus."
Today, Schryver oversees BuckySubmit, which represents a collaboration between OVCRGE and the School of Medicine and Public Health.
Years ago, Jean Phillips, director of the Schwerdtfeger Library at the UW–Madison Space Science and Engineering Center (SSEC), began analyzing publications from the center's researchers. She compiled statistics on measures like internal and external collaborations, viewing it as one way to assess whether the institute was meeting its mission.
The National Oceanic and Atmospheric Administration, which funds SSEC's Cooperative Institute for Meteorological Satellite Studies (CIMSS), recognized the value of this type of reporting so much so that these data, along with other metrics, are now ingrained in the CIMSS annual reporting process.
Today, Phillips also helps provide feedback to Schryver on the BuckySubmit architecture and worked with him to create a localized version of the service. She sees an extended benefit to BuckySubmit, beyond just easing the burdens of compliance: The repository could potentially offer a lens through which to study the research being conducted on campus.
Federal funders are interested in tracking publications data to show the reach and impact of taxpayer-funded research, Phillips says. "It is one way to get a handle on it."
Additionally, researchers can use it to study trends and other emerging patterns in their publication data, as she and CIMSS Director and Associate Vice Chancellor for Research and Graduate Education, Steve Ackerman, did in 2009, publishing a paper on how they evaluated CIMSS' performance using its publication records. It took several years of collecting and analyzing publications data for other purposes, Phillips says, but she and Ackerman have discussed doing a follow-up.
The data available through a research repository can help the university learn where articles are being published, how often students are co-authors, about emerging areas of research, about patterns in funding sources, whether institutional goals and educational missions are being met and more.
"You probably wouldn't make critical decisions based on publications data alone, but it might be one valuable piece of information that sits alongside other sources," says Phillips.