Bucky on Parade feature: Julie Hustad
This summer we will feature a weekly Q&A with an artist who created one of the Bucky on Parade statues on UW's campus to understand their artistic process, their inspirations, and why they love Bucky.
Bucky: Bucky come se Picasso
Location: Chazen Museum
What is your history as an artist? I have been painting anything I can get my hands on since I could hold a brush. As a child I painted costumes on the (old) glass "Mrs. Butterworth's" syrup bottles. I have painted on furniture, clothing, walls, floors, indoors and out.
In 2006 I was part of the Cow Parade and created "Cowpiary." I perched my cow on top of a couple of large planters and painted it as if it was a sculpted topiary. My daughter's 4th grade teacher heard about it and with a "penny drive" the DeForest Elementary School was able to purchase my cow from the fundraising auction. It lived in the school library for several years and now resides in the DeForest Public Library.
I did my first mural at our family's church at age 14. For the past 30+ years I have painted murals in homes, churches, libraries and schools. I have sold pieces at art fairs and commissioned pieces, but I really just love taking a poem, a piece of music, or a feeling and trying to create an image of it.
I attended MATC and graduated with an Associates degree in Commercial Art. I used that to begin a 25-plus year career as a graphic designer. I worked in the printing and publishing industries for 25-plus years and have been a freelance graphic designer, illustrator, and muralist for 12 years. The last three years I have started expanding my skills into metal sculpture and welding. I am working on creating my own zoo of metal animals and have completed a turtle, giraffe, lion, alligator, fish and some birds. I use mainly scrap metal that I have found or have been given, as I do love creating from what otherwise would be considered junk and discarded.
I always say, "Graphic design pays the bills. Art keeps me sane."
What inspired you to come up with this take on Bucky? I figured that with such an icon like Bucky, and the obvious shape, there would be many "costumed" or "dressed up" Buckys. I knew that I didn't want to do that or anything real "traditional." I tried to think outside the box and create something that would hopefully help the viewer see something other than just Bucky … to see what Bucky could represent to Madison and Wisconsin on a larger scope. I felt that the concept of Picasso-style cubism/free form/abstract would help accomplish that. You can look at various areas of this Bucky and see what you want to see in it.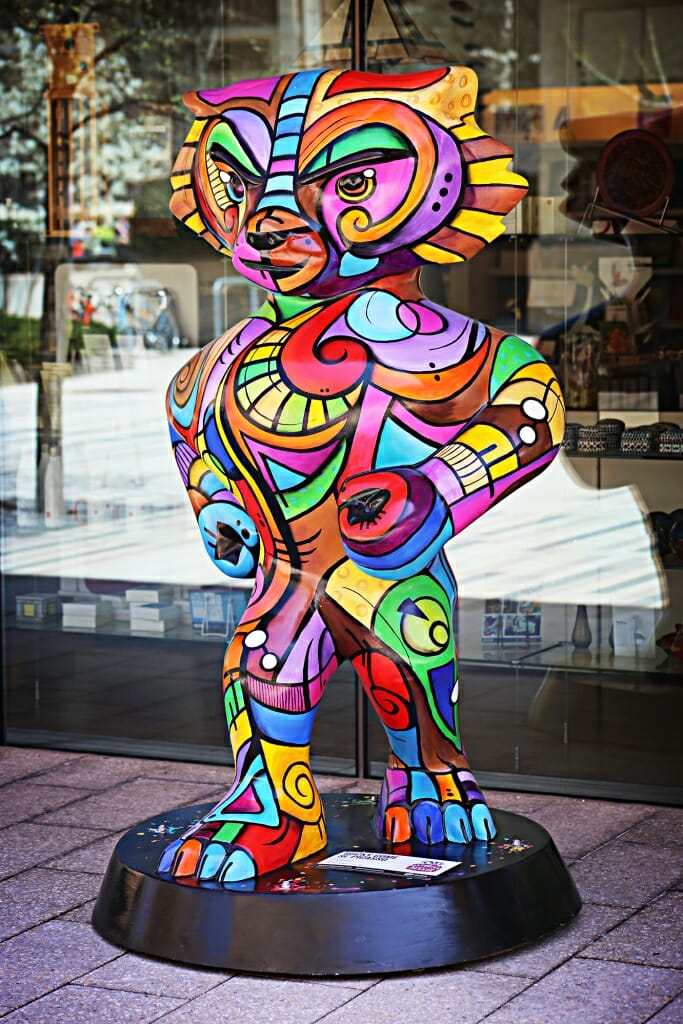 What idea or message do you hope people get out of this piece of art?
I hope that viewers see Madison as a whole, being a creative city full of color, ideas and forward thinking. Picasso the man reinvented himself throughout his career, always trying new things, experimenting and always creative. As Bucky is a representative of Madison, I hope his Picasso look will reveal that we, too, as a city, are always changing and will always be creative as we move forward. I do hope that no matter whose Bucky people find themselves drawn to, that any or all of them will inspire the viewer to feel like they are a part of a wildly creative, forward moving, vibrant and compassionate community.
What was the process of creating your Bucky like? The process included many sketches on copies of the template that was provided to us from Bucky On Parade. A constant thought being how to execute the rendering when it's on a 3D sculpt. What images will wrap around? How much space is there really on the arms and legs? What does the back look like? Much brain time spent on imagining what the actual sculpt will look like and how that will work to achieve the desired outcome
I have one other very large challenge painting these or any other piece in my living room: dog hair. I have a Great Pyrenees. I never got paint on the dog, but there is most certainly some of him in the paint.
Of the other Bucky Badgers created, which ones do you like best? There are so many that are so well done and such great ideas. I love to see the creativity that this type of project brings out in people, even if they are not "artists." One standout for me is "Animals Need Bucky Too." My other favorites are by Rob Severson with whom I went to high school. We reconnected on Facebook and at the Preview Event. He did "Super Buck" and "Bucky Lloyd Wright." Very proud of him – of course I'm a little biased.