Bucky on Parade feature: Jill Iwanski
This summer we will feature a weekly Q&A with an artist who created one of the Bucky on Parade statues on UW–Madison's campus to understand their artistic process, their inspirations, and why they love Bucky.
Bucky: … And On Wisconsin!
Artist: Jill Iwanski
What is your history as an artist? 
I have always enjoyed creating things, which strongly stems from growing up as the daughter of a contractor. Whenever I had some crazy idea as a child, I had my father as a great resource to help make it happen, and my mother gave out wonderfully genuine praise for whatever we concocted. From building closets and cabinets for a cardboard box house to re-purposing free CDs into decorated picture frames, I was raised to think outside the box. I took art classes all through high school, and some of my work was featured and won awards at the Riverfront Youth Art display (Stevens Point).
Despite majoring in German, I was able to take one art course at the University of Wisconsin–Madison, which helped hone in some of my technical skills and approaches to different projects. I always enjoy making personalized pieces for family and friends, and these projects have ranged from a full wall mural when my nephew was born to a commissioned anniversary portrait for a friend to a pet portrait as a wedding gift and everything in between. My work tends toward hyper-realism, but I have also done some design work for various Madison frisbee teams and even designed a Wisconsin brewery shirt that has been sold throughout the state.
What inspired you to come up with this take on Bucky?
During my years at UW, I was a member of the UW Marching Band, so I couldn't submit any ideas for the Parade before submitting this one. My involvement in the Marching Band hugely shaped my time at UW and helped make me who I am today. The band has many traditions, but it's the "Eat a Rock" mentality that stands out when the band is practicing on turf in 90 degree heat or running drills despite it being below freezing and finals week.
What idea or message do you hope people get out of this piece of art?
I hope my Bucky inspires the sense of school pride that I feel when reflecting on my time at UW.
What was the process of creating your Bucky like?
Prior to working on this project, I had never done any work on large scale 3D sculptures, so there was definitely some trial and error. Bucky's hat and plume were definitely the most challenging since there where so many different textures and shapes and it needed to be pretty large. I am now an "expert" in working with Bondo and epoxy, as everything I added to the Bucky form needed to be both solid and sturdy.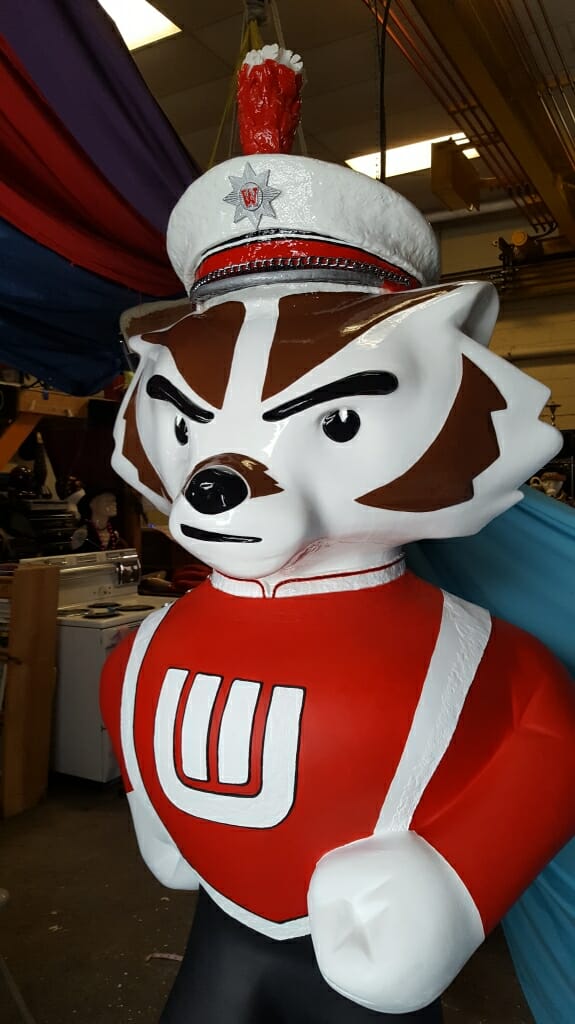 Of the other Bucky Badgers created, which ones do you like best?
The other band and music themed ones, of course! I was terribly impressed by all of the designs, though. It is incredible to see how many talented artists are living in the community.