Bucky on Parade feature: Dan Gardiner
This summer we will feature a weekly Q&A with an artist who created one of the Bucky on Parade statues on UW's campus to understand their artistic process, their inspirations, and why they love Bucky.
Buckys: Pucky (By Gordon Dining and Event Center)/ Bucky Alvarez (By Kellner Hall at Camp Randall)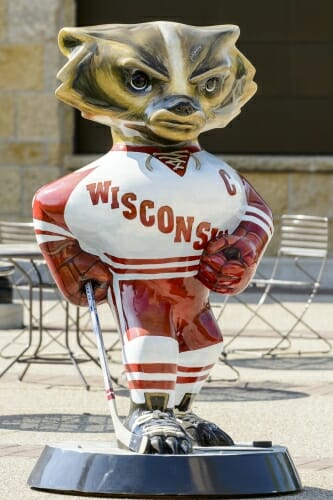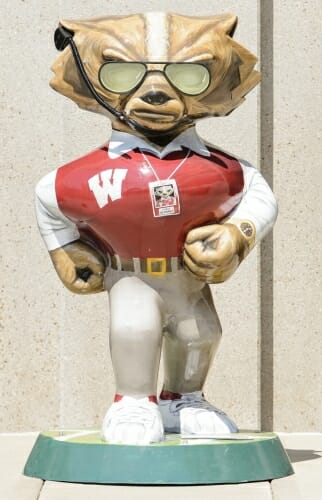 Artist: Dan Gardiner
What is your history as an artist? 
I graduated from the University of Michigan in 1980 and took a job with the IRS data center in Detroit. I quit after a few years and moved to Green Bay to be near my wife. My father-in-law found me a job at a printing concern, where I designed the 1983 Packer yearbook.
I moved on to a small "wall design" firm. They had secured several contracts to paint graphic wall designs in local nursing homes. I remember during my interview the owner tossed me a photo of a lake scene and asked, "How would you ever paint this image on a large wall?" I took a sharpie and a ruler, drew a grid over his photo, and told him that you just had to transfer the grid to the wall. He looked at me like I was Diego Rivera, and this started my "mural-ing career," which still keeps me in the clover 30 years to this day.
At one point, I joined an interior design company in Fond du Lac. I worked with five great painters in large studio, traveled all over the country painting murals. Later, me and another laid-off muralist started our own business, and we did some cool stuff – like painting giant fish on the roof of the UW Hospital.
I moved to Madison 10 years ago to work on a "similar to Bucky" zoo animal project. I went from that job to cart-corralling at Home Depot, U-Haul, Kohl's, Walmart, a janitorial firm, and so on until some art job dropped in my lap. Today I divide my time making torn paper collages, murals, and large paintings – and watching re-runs of "Breaking Bad."
What inspired you to come up with this take on Bucky?
Well, I did five Buckys. "Pucky" was inspired by my many years as a hockey player.
What idea or message do you hope people get out of this piece of art?
All my Buckys are hand painted, without a lot of accessories or gimmicks like 15,000 pennies or alumni autographs, so I hope people enjoy looking at brushwork.
What was the process of creating your Bucky like? 
I would generally work at home on collages during the day, take a nap, then spend all night at Dane County Mural Arts building, cranking out Buckys. I just used Sherwin-Williams exterior house paint, and the fun part was hearing that someone liked the result. But, honestly, it was 99 percent labor and 1 percent inspiration.
Of the other Bucky Badgers created, which ones do you like best?
I worked alongside Phil Salamone and Ashley Sheridan and saw the hard work they put in, so I like their creations best.