Bracketology 101: What McLay reads in the seeds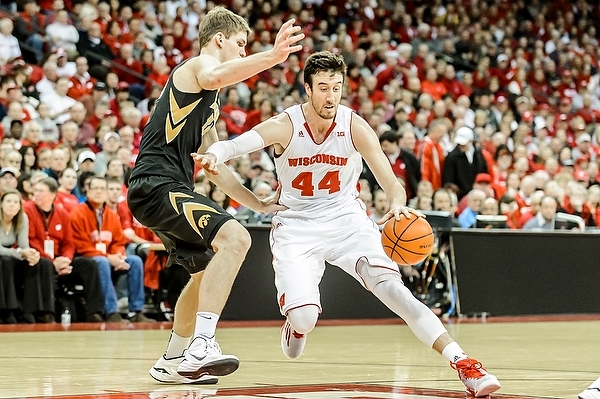 Wisconsin is seeded No. 1 in the NCAA basketball West regional. Above, Frank Kaminski outmaneuvers an Iowa defender during a Badger victory at the Kohl Center Jan. 20.
Photo: Bryce Richter
Will a No. 5 seed lose to a No. 12? Will No. 1 seed Wisconsin make it all the way to the Final Four for the second year in a row?
One could guess the answers to these key questions before March Madness begins in earnest, but there are much better ways to fill out your recreational NCAA bracket, according to UW–Madison's resident bracketologist, Laura McLay, an associate professor of industrial and systems engineering.
"There are many ways to choose a bracket, but using math models and analytics techniques seems to work best," says McLay, an expert on sports analytics. "Plus, it's more fun than just guessing."
Laura McLay
Here are McLay's recommendations:
1. Don't worry about records so much. Strength of schedule is much more important.
2. Instead of records, use sophisticated ranking tools. The seeding committee uses some of these ranking tools to select the seeds, so the seeds themselves reflect strength of schedule and implicitly rank teams. But some ranking methods are better than others. I like the LRMC (Logistic Regression/Markov Chain) method from some of my colleagues at Georgia Tech. The RPI (Rating Percentage Index) is a really bad ranking method.
3a. Look at the seeds. Only once did all four No. 1 seeds make it to the Final Four. It's a tough road. Seeds matter a lot in the rounds of 64 and 32, not so much after that point. There will be upsets.
3b. Some matchups produce more upsets than others. The 7-10 and 5-12 matchups are usually good to keep an eye on.
4. Don't ignore preseason rankings. The preseason rankings are educated guesses about which teams are the best before any games have been played. It may seem silly to consider preseason rankings at the end of the season after all games have been played (when we have much better information) but the preseason rankings seem to reflect some of the intangibles that predict success in the tournament (such as a team's raw talent or athleticism).
5. Ranking methods and seeds will get you in the ballpark, but neither of those strategies considers team-to-team matchups. You can check out crowdsourcing data (who picked whom in a matchup), expert opinion, and things like injury reports to make the final decision.
For even more bracket lore, visit McLay's blog.