Bon appétit: Food cart season is here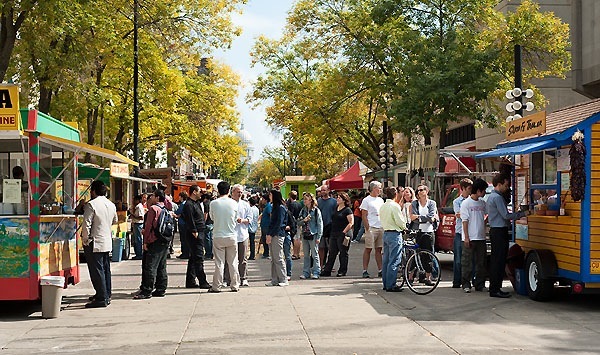 The popular food carts on the State Street Mall open today, and will soon be on the move to make way for construction that will yield a new and improved mall.
Photo: Jeff Miller
The first robin.
Chairs on the Terrace.
And food carts.
They are a few sure signs of spring that we can all look forward to, especially after what was the longest winter in the history of the universe – or maybe just felt like it.
While a few carts brave it through the winter, this week marks the opening of the food cart season, bringing with it the aroma of all sorts of goodness lingering in the air.
But next month, if you don't find your favorite vendor in the same place, don't panic. Sustenance is likely just a short walk away. About 20 vendors will be relocated between May 19 and Oct. 31 due to construction in the Library Mall area.
The new locations are still being finalized, but many will be in the East Campus Mall area near the University Club and several on North Lake Street between State Street and Langdon on the Memorial Library side, says Madison Street Vending Coordinator Warren Hansen.
Construction is scheduled to begin after the semester ends and is planned to conclude before the beginning of the fall semester, says Gary Brown, director of campus planning and landscape architecture.
An architect's rendering, looking west on State Street, shows the area where the East Campus Mall meets the newly constructed State Street Mall. Click for larger image.
There will be all new paving, lighting, new seating areas and a new raised pedestrian crosswalk at North Park Street.
"It's really going to be a new space," Brown says. "A much livelier and contemporary space."
New landscaping and public artwork should also make the area more inviting, Brown says.
"Right now, there isn't a whole lot going on in that area," Brown says. "This is a good chance to change that."
This drawing shows a bird's-eye view of the area at the East Campus Mall and State Street once construction is complete. Click for larger image.
Hansen has been working closely with vendors to help them pick a good alternate location while construction takes place.
"The good news is that the whole space is being rethought," Hansen says of the reconstructed Library Mall area. "I think it will be easier for vendors to get in and out. There will be more space in general."
Hansen has been the street vending coordinator for Madison since 1998 and has seen the popularity of food carts continue to grow, not just in Madison but nationwide.
"They really are everywhere," Hansen says.
But Madison was food carting before it was cool. The city had its first food cart in 1977, Hansen says. By 1990, there were 20 food carts downtown. Now you'll find them spread out in numerous locations.
Starting last year, food carts appeared at University Research Park. They'll be back by popular demand again Tuesdays, Wednesdays and Thursdays starting this week.
Food cart devotees will most likely be willing to take a few more steps to find their favorite cart – and get a bit more exercise.
"After the winter we've just experienced, I think Madisonians are eager to be able to spend as much time outside as they possibly can," Hansen says.
A State Street/Library Mall stakeholder's pre-construction meeting will take place at 10 a.m. April 29 at Memorial Union, Class of 1924 reception room. More information can be found here.