Blank reaches out on first day as chancellor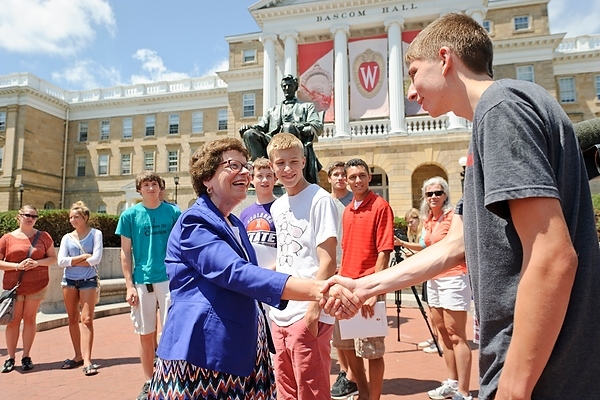 Chancellor Rebecca Blank steps outside Bascom Hall to talk with a group of prospective students and their families as a Visitor & Information Programs (VIP) tour guide leads the group past the Abraham Lincoln statue during a campus tour on July 22, 2013.
Photo: Jeff Miller
The Memorial Union, Library Mall and the Abe Lincoln statue are fixtures of UW­–Madison campus tours.
A personal greeting from the new chancellor is not.
Rebecca Blank's first days as UW–Madison's 29th chancellor will be filled with meetings, hashing out the many pressing issues the leader of a major research and teaching institution must tackle.
But on Monday, she took some time to greet high school seniors and their families on the Visitor & Information Programs tour.
"I wanted to take a minute to say hello to you all on my first day and welcome you to campus," Blank told the group as the guides led them past the Lincoln statue.
She asked each student's name and where they were from, and said she was excited at the possibility of them becoming Badgers.
Daisy Fuentes, a senior at Eric Solorio Academy High School in Chicago, was impressed by the gesture. Fuentes was happy to see someone as busy as the chancellor took the time to interact with potential students.
That was echoed by others on the tour.
"She seems very friendly and outgoing, and excited to be here," says Brenda Redetzke, who was accompanying her son, Nolan, a senior at Marshfield (Wis.) Senior High School.
"It was cool that she took time out of her first day to come out and meet with students," Nolan Redetzke says.
Blank, with her husband, Hanns Kuttner, and their daughter, Emily, took the same tour last week. She went incognito to avoid any attention, wearing dark glasses and a hat to disguise herself.
Kuttner is a senior fellow at the Hudson Institution, a Washington, D.C., think tank, and will stay in the Washington area with Emily this year while she finishes high school.
Blank says Emily is not interested in attending the school where her mother is chancellor, but they wanted to take the tour to get a greater sense of the campus's rich history.
Blank says her first priority over the next six months is to listen to campus leaders, faculty, staff, students and alumni, and to establish healthy relations with the governor and legislators.
Blank will visit each of the UW System's four-year campuses over the coming year, starting with the University of Wisconsin–Milwaukee in August.
"I want to take some time getting to know this state," Blank says. "I see these next few months as a time to build relationships, and by the end of the fall we will be ready to launch a clear plan to improve in some areas where we may already be doing well, but we can do much better."
Prior to becoming chancellor, Blank spent four years serving in top positions of the U.S. Department of Commerce, including service as the agency's deputy secretary and (for more than a year) as acting secretary of commerce.
Blank is not a newcomer to UW–Madison. She was here in fall 1985 as a visiting fellow in the Department of Economics and the Institute for Research on Poverty and has attended many conferences and events on campus.
Blank and her family also visited the Wisconsin Dells last week, taking a boat tour and sampling some fudge.
"It is clearly a very beautiful area of the country, but it was also extremely interesting to see the thriving tourism economy," Blank says.