Blank GE Healthcare visit highlights partnerships in Milwaukee area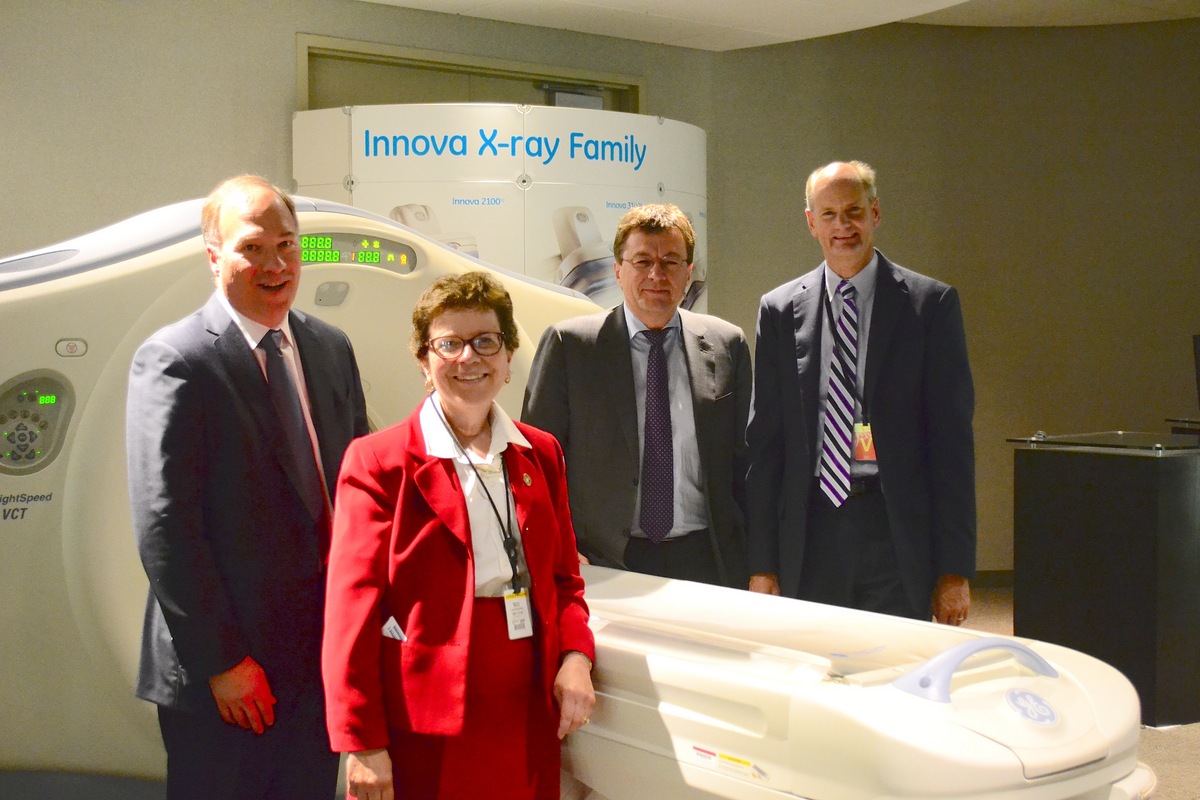 UW-Madison Chancellor Rebecca Blank met with officials of GE Healthcare to highlight the longstanding research partnership between GE and the university. The visit was part of Blank's Sept. 11 tour of the Milwaukee area.
Photos courtesy of GE Healthcare
Chancellor Rebecca Blank is beginning her second year leading the University of Wisconsin–Madison much as she began her first year – by reaching out across the state to talk about the positive impact the state's flagship university has throughout Wisconsin.
"I deeply believe that big, public research universities are key institutions for the U.S. to maintain a competitive edge in the global economy," Blank told a group of 30 UW–Madison alumni during a visit Thursday to GE Healthcare's Wauwatosa headquarters.
"All of you are the best example of the kind of talented, skilled men and women we train for the workplace, and you are our best ambassadors," she said.
The Milwaukee area visit kicks off the second phase of Blank's state outreach efforts. In her first year, she visited each of the UW System's other 12 four-year campuses to meet fellow chancellors, business people, legislators and local media.
A tour guide leads Blank through GE Healthcare's Wauwatosa facility.
Those efforts are continuing in Blank's second year by connecting with members of the business community, community organizations and civic leaders to celebrate existing collaborations with the university, and to identify opportunities where UW­­–Madison can do more.
On Thursday, Blank toured the United Community Center on Milwaukee's south side, spoke to business leaders at a lunch with the Wisconsin Innovation Network, and toured the UW-Milwaukee School of Freshwater Sciences and the Global Water Center. The trip continues Friday with a visit to Sigma-Aldrich, a life science and high technology company.
Blank emphasized that the Madison and Milwaukee regions must do more to collaborate, rather than compete.
The history of collaboration between GE Healthcare and the University of Wisconsin–Madison goes back decades.
The relationship between GE and UW–Madison dates back to at least 1958. The General Electric Foundation provided a generous $1,000 gift to the University's Mechanical Engineering Department as a fellowship award.
GE's relationship with the UW has grown substantially to include over 80 funded research projects. In addition, GE Healthcare employs approximately 800 UW–Madison graduates.
Since that time, GE's relationship with the UW has grown substantially to include over 80 funded research projects. In addition, GE Healthcare employs approximately 800 UW–Madison graduates.
The latest development in the partnership came in 2012. The 10-year research agreement between GE Healthcare, the Wisconsin Alumni Research Foundation and the University of Wisconsin School of Medicine and Public Health includes up to $32.9 million in anticipated research support, including cash funding, diagnostic imaging equipment, and research personnel for a state-of-the-art imaging facility in the Wisconsin Institutes for Medical Research.
The collaboration helps UW–Madison medical researchers tailor imaging technologies to improve patient diagnosis, and provides GE Healthcare with excellent feedback about their products, says Steve Gray, president and CEO of detection and guidance solutions for GE Healthcare.
"The exchange of ideas and the speed with which you can get them into a clinical setting is really valuable to us," Gray said.
Joining Blank was Dr. Tom Grist, chief of the Department of Radiology at the School of Medicine and Public Health and the university's lead in its partnership with GE Healthcare.
Grist described the collaboration "a great example of the Wisconsin Idea in action."