Author Ruth Ozeki brings 'A Tale for the Time Being' to UW-Madison
Ruth Ozeki sees her work as a collaborative effort. She writes novels, but she says it's her readers who finish the job.
"There are as many different versions of 'A Tale for the Time Being' out there in the world as there are readers for the book," the author said in a recent interview with The Daily Cardinal. "And each one is going to be different, because each reader is going to bring his or her own set of experiences."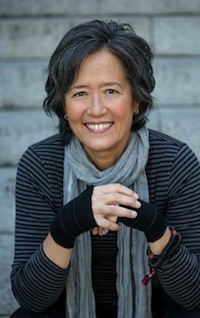 Ruth Ozeki
Ozeki will get the chance to hear from readers at UW–Madison beginning Monday, Oct. 28, when she visits campus to meet with students and give a public talk as the centerpiece of Go Big Read, the university's common-reading program. The event, hosted by Chancellor Rebecca Blank, begins at 7 p.m. in Varsity Hall at Union South.
Ozeki's talk will be followed by a question-and-answer session moderated by Timothy Yu, associate professor of English and director of the Asian American Studies Program. It will be streamed live, captioned and archived for later viewing on the Go Big Read program website.
More than 5,000 new students received copies of "A Tale for the Time Being" during Wisconsin Welcome in August, and more than 60 UW courses are using it this semester. The book was one of six titles shortlisted for this year's Man Booker Prize, a literary prize awarded each year for the best original full-length novel written in the English language.
During her visit to the UW campus, Ozeki will also meet with students from first-year writing courses and seminars, First-Year Interest Groups, residential learning communities, the College of Letters & Science Honors Program and the School of Journalism and Mass Communication.
Ozeki, a Zen Buddhist priest, will also tour the Center for Investigating Healthy Minds and take part in an informal discussion with the center's scientists, staff and graduate students. And on Nov. 1, Ozeki will take part in a roundtable discussion for the opening night of "Tales from Planet Earth," a film festival organized by the Center for Culture, History, and Environment, which is part of the Nelson Institute for Environmental Studies.
Throughout October and November, Madison Public Library is also hosting book discussions, readings and film screenings connected to "A Tale for the Time Being." For more information, visit the Go Big Read events calendar.