Art history students turn shopkeeper's ledger into Smithsonian exhibit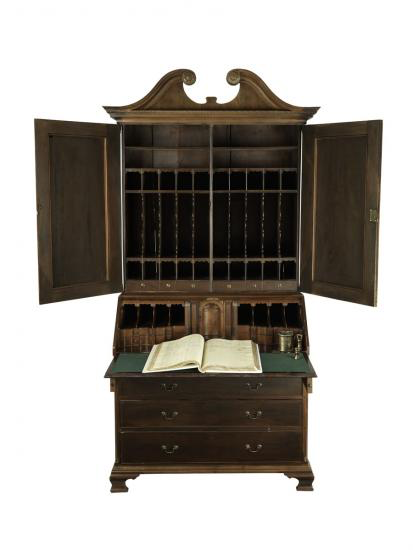 The desk and ledger of colonial tobacco merchant William Ramsay. Courtesy of the National Museum of American History, Smithsonian Institution
In the spring of 2013, sixteen students at the University of Wisconsin–Madison spent a semester delving into the mysteries of a single dusty account book kept by a colonial merchant.
The results of their work didn't emerge for another two years, but when the results lead to a permanent exhibit at the Smithsonian Institution, the wait seems worthwhile.
The students and their professor, Ann Smart Martin, are celebrating the July 1 opening of the American Enterprise exhibition at the National Museum of American History in Washington, D.C.
Martin, the Stanley and Polly Stone (Chipstone) Professor of Art History and director of the Material Culture Program, attended a gala sneak preview last week. The display created by her students in Art History 601 took its place between objects such as George Washington's tea chest and artifacts from the TV show "Mad Men."
RELATED: Explore the items researched and selected by the UW–Madison team for the exhibit. 
"Seeing it all together, telling the nation's long story of enterprise, innovation and business in the midst of this extraordinary space filled with important and evocative objects, took my breath away," says Martin. "To ground it all, a merchant's account book recorded debt, credit and the things people bought 250 years ago. That story was tugged out and pieced together by my University of Wisconsin students. Unbelievable."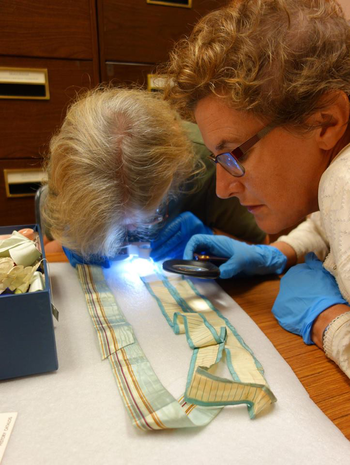 UW-Madison professor Ann Smart Martin (right) examines samples of 18th century ribbons alongside Smithsonian curator Nancy Davis. Courtesy of Ann Smart Martin
In 2008, Martin produced a pioneering book, Buying into the World of Goods, Early Consumers in Backcountry Virginia, using a merchant's ledger to expand on the material culture and behavior of 18th century Virginia.
Smithsonian curator Nancy Davis expressed an interest in using Martin's methods to analyze a similar ledger used by merchant William Ramsay from 1753-1756. Already part of the Smithsonian's archives, the ledger had been in conservation for several decades and had never been analyzed.And it couldn't be moved.
Martin suggested challenging her students to do the analysis themselves. Thanks to Kohler Art Library reference librarian Linda Duychak, the team could access a microfilm version of the ledger from 850 miles away.
"I always make the joke that account books are the Rodney Dangerfield of objects: they get no respect," says Martin. "That was probably true for a long time. It's all about how you make them speak."
Ramsay helped found Alexandria, Virginia, then a prominent port on the Potomac River. His accounts included many consumer goods bought and sold to recognizable figures such as George Washington, then in his early 20s.
Ramsay's spidery handwriting and period-specific abbreviations could be difficult to decipher. Debtors made payments in British pounds, shillings and pence (240 pence to a pound). Amidst the common objects, some items went by more antiquated names unfamiliar to modern eyes.
"I particularly remember 'yards of thunder and lightning' as a perplexing item," says Maddie Hagerman, then a senior hoping for a career in museum work. "It turned out it was called that because it was a relatively water-resistant fabric."
Martin had to be patient with the analysis, revising semester plans when new material emerged or when the museum requested changes. These struggles made breakthroughs all the more exciting, as students teased out the stories behind the objects.
Following the construction of a database, students developed a list of 30 items from the ledger that could go into an exhibit illuminating life in Alexandria. At that point, Martin and graduate students Monica Welke and Shagun Raina delved through the drawers and cabinets of the Smithsonian's existing collection in person, hoping to find objects that could represent those items.
One of the most common objects — a ribbon — proved most difficult to locate.
"Something so common, inexpensive, and ephemeral was less likely saved and put in a museum," says Martin. "Nancy Davis and I went through boxes of ribbons at the Smithsonian; I phoned curators and collectors around the country on a hunt."
In addition to the elusive ribbon, the pieces selected for the final display included a decorative buckle, a ceramic mug, a pair of shoes, a children's magazine, a silver candle snuffer, a pair of gloves and a printed handkerchief from India, arrayed alongside Ramsay's desk, bookcase and — of course — the ledger that started it all.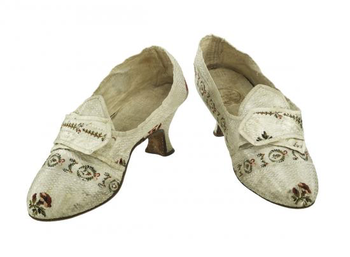 A pair of silk shoes from the 18th century. Courtesy of the National Museum of American History, Smithsonian Institution
The research behind each object offers opportunities to trace the items and people who passed through Ramsay's store. Each student pursued individual research, but also worked in teams to write copy, use new digital technologies and create interpretive ideas.
"I was surprised by how much work and research goes into exhibitions," says Hagerman. "At the time, I'd only worked in smaller museums and had never been involved in creating a large-scale exhibition."
Because of Alexandria's rapid expansion, goods of all kinds made their way in and out of the shop. Customers purchased building materials such as tools and hardware — even marble for chimneys — alongside smaller or more decorative items such as whalebone petticoats (for women) and wigs (for men).
More telling was the broad swath of store patrons. A slave named Harry paid for a handkerchief using crops he had grown. Women purchased items even though they were not allowed to hold credit.
Since the class ended in May 2013, Martin and two graduate students spent another two years working on the interactive digital account of the display, along with researching more about the changing system of debt. A Graduate School research grant helped fund continuing work.
Today, most of the 16 students have left UW–Madison. Hagerman is working on a graduate program in artifact conservation from University College London, beginning a year-long conservation internship at the British Museum.
Martin is thrilled by that outcome — and all of the work done by her student collaborators.
"This kind of work is humanities in action that would help in any career," she says.