Archeologists return to mysterious Aztalan site in Jefferson County
Research groups from three Midwestern universities are digging yet again at Aztalan, a state park near Lake Mills, Wis., hoping to unravel the history of a walled outpost that was once thought to be related to the Aztec culture in Mexico.
Despite the tantalizing shape of its primary mound, Aztalan was actually a protected outpost for the Mississippian culture — the people who built the impressive mound complex at Cahokia, about 300 miles to the southwest, near St. Louis.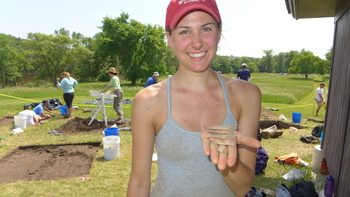 Caroline Paulus, a 2013 UW–Madison graduate, holds deer ribs unearthed at the Aztalan archeological site. Based on the number of animal bones found, this part of Aztalan may have been a feasting site.
Photo: David Tenenbaum
p>As 17 students scraped and sifted the soil under a blazing June sun, Aztalan was sparing with its secrets. From plots two meters square, the students shaved off a few centimeters at a time, then transferred the soil to a shaking table, where others would screen it for bone, shell, metal or ceramic — the artifacts left by people who lived here between A.D. 1050 and about 1250, and then suddenly vanished.
That sudden disappearance is one reason why Aztalan has been fascinating people in the Badger State since the middle of the 19th century, says Sissel Schroeder, a UW–Madison professor of anthropology. Schroeder, who helped lead this summer's dig, says the fascination has remained even after it was clear that the flat-topped, two-staged earthen mound had nothing to do with the stone Aztec pyramids.
The Mississippians were prodigious earth-workers. At Aztalan, they left several mounds and numerous excavations that reached into the glacial gravel. They apparently had enemies, judging by the remains of a tall palisade built of tamarack trees surrounding 23 acres of the site, bordering the Crawfish River.
Nobody can be sure why the estimated 400 to 500 residents lived here, says Lynne Goldstein, a professor of anthropology at Michigan State University who first explored Aztalan in 1979, but they may have been traders who shipped their corn and bean crops to Cahokia on a network of rivers.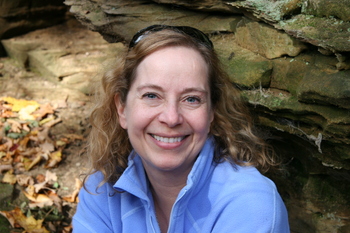 Sissel Schroeder
This summer's field school had two scientific goals, Schroeder says: first, to explore the gravel knoll, a prominent site below the main pyramid; and second, to understand a subsector of the palisade that was thought to be an inner sanctum within the larger compound, but could have been an entryway.
The five-week field school, which ended June 29, also had educational goals, as immersion training for students, Schroeder says. The third director of the field school is Donald Gaff, a professor of anthropology at Northern Iowa University.
This year, the crew lived in a gaggle of tents located near the park boundary. "We don't always have the best living conditions, working conditions," Schroeder admits.
Strenuous but sometimes tedious outdoor work is the only way to learn hands-on archeology, Schroeder says. In vetting students for the course, she asks about work and camping experience. "I try to get a sense of their ability to withstand the challenge of working under a hot blazing sun for eight hours, showering in cold water, and then eating a dinner you had to cook over coals. I want to see some degree of maturity, to know they are able to deal with adversity."
"This is physically demanding work, and it takes a couple of weeks to get used to it. Once you are not aching all the time, you can pick up the pace."
Sissel Schroeder
Sustaining motivation is a key to field work, says Schroeder, who notes that Goldstein, her master's degree advisor at the University of Wisconsin-Milwaukee, "was very good at that. The secret is discipline, making sure they stay on schedule and know what their jobs are, and setting goals that might be a little bit beyond what they can achieve. This is physically demanding work, and it takes a couple of weeks to get used to it. Once you are not aching all the time, you can pick up the pace and start meeting those goals."
Schroeder says she knows that field school is doing its job "if I see a smile, if they get interested and start to come up with their own ideas about how the materials they are excavating got there. They are really hooked at that point."
Jake Pfaffenroth, a UW–Madison anthropology graduate student who is working as a supervisor, has already had that "Aha!" moment. "I've always been interested in history, and I realized that archeology is about things that people actually did. Growing up in Grafton, Wis., I did not know how much archeology there was all over the state. What really drew me to archeology was this: It's about the past of the place I grew up in."