American Family makes 10-year pledge to support UW partnerships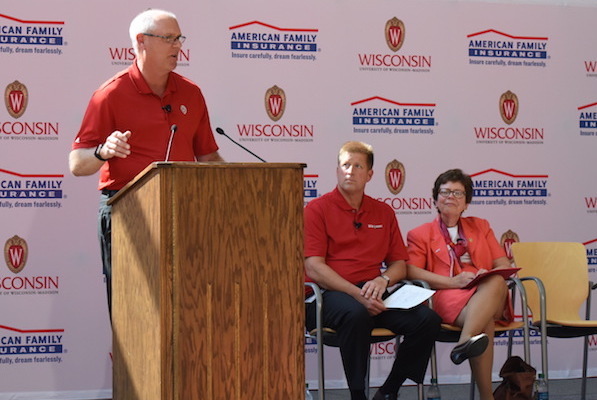 Jack Salzwedel (at podium), American Family's president and chief executive officer, announces the company's pledge to UW–Madison as the insurer's chief financial officer, Dan Kelly, and Chancellor Rebecca Blank look on.
Photo courtesy of American Family Insurance
The University of Wisconsin–Madison and American Family Insurance will expand their longtime partnership in support of academic programs, research, athletics and charitable activities, with the insurer pledging $40 million to the UW over the next 10 years.
The expanded partnership was announced at a 3 p.m. news conference today at American Family headquarters in Madison.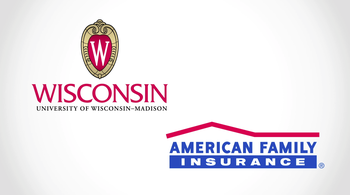 American Family and UW–Madison have a connection that dates back to the company's founder, Herman Wittwer, a 1911 graduate of the university. The company has a tradition of supporting the state's flagship university, Chancellor Rebecca Blank said.
"American Family and UW have built a remarkable legacy that includes high-profile projects like the American Family Children's Hospital and dozens of shared ventures. American Family employees contribute time and talent to UW as student mentors and recruiters," Blank said. "The 10-year agreement we announce today formalizes our existing partnership and adds new elements that provide value to the university and help further our research, academic and athletic programs."
"We are incredibly proud of this partnership. This agreement strengthens our support of a world-class university that educates our customers' children and influences people's lives beyond the classroom," said Jack Salzwedel, the company's president and chief executive officer.
Related: Read American Family's announcement
The agreement continues funding for a distinguished chair of risk management and insurance at the Wisconsin School of Business and creates new business development programs, such as the Internet of Things Lab and business-related research projects with a focus on entrepreneurship and data analytics. The average annual expenditure of $4 million during the agreement essentially doubles the amount American Family contributes to the university now for academics, research and athletics.
Students will benefit directly through American Family's support of the Career Initiative — a new program in the College of Letters & Science that encourages sophomores to think seriously about their long-term job plans. The partnership will also fund student projects, such as consulting projects in the Marketing MBA program, and other innovative learning opportunities and labs that will allow students to utilize the newest technologies.
In addition, American Family has agreed to match college and university donations made by its employees and insurance agents.
The new agreement increases American Family's support of UW athletics through marketing efforts that include an American Family gate at Camp Randall Stadium, signage at athletic venues, and exclusive status as the "Official Insurance Sponsor of UW Athletics."
"I am very appreciative of American Family's generosity and commitment not only to our athletic department, but to the greater university as well," said UW­–Madison Athletic Director Barry Alvarez. "At the end of the day, our objective on and off the fields of play is to create a great collegiate experience for our students. Partnerships like this one go a long way toward helping us."