Amazing plans for 'Amazing Race' winner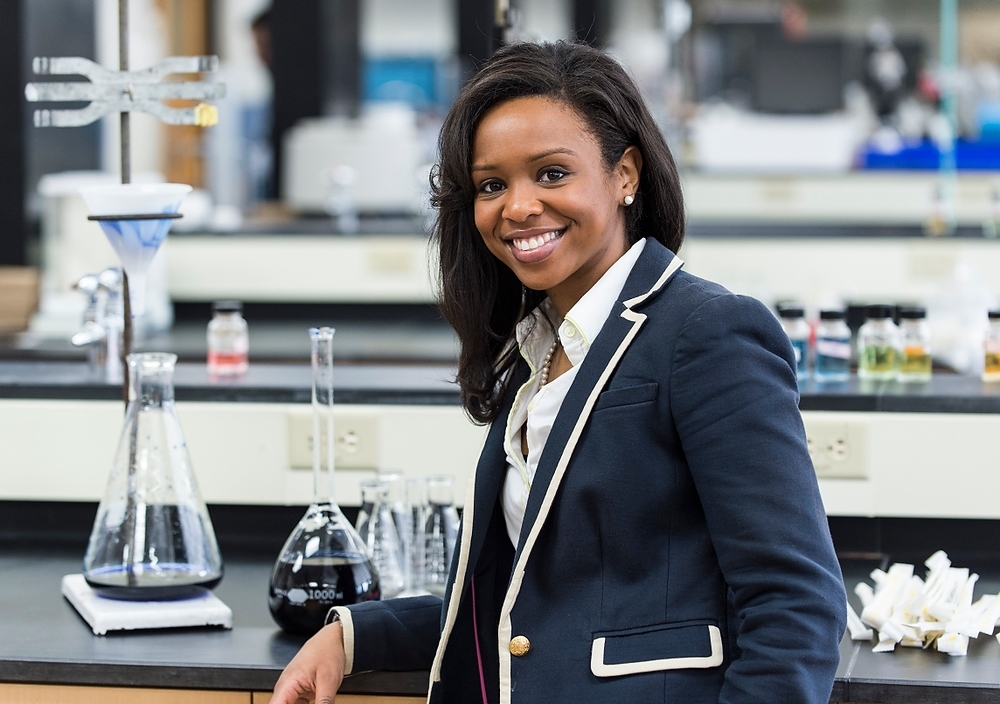 Food science graduate student Maya Warren is pictured in a research lab in Babcock Hall.  When Warren completes her doctoral degree in August 2015, she aspires to launch a food consulting business and a TV show showcasing frozen desserts from around the world.
Photos: Jeff Miller
You may know Maya Warren for her $1 million victory, shared with fellow food science grad student Amy DeJong, in the latest edition of the CBS reality show "The Amazing Race." You likely do not know that, after she receives her Ph.D. from the University of Wisconsin–Madison in August, she intends to homogenize her TV experience with her knowledge of ice cream, outgoing nature, and self-confidence to develop a show showcasing frozen desserts around the world.
"Even before the race, I had this idea to do a television show on ice cream and frozen dessert," she says. "I've always been a person who is interested in doing something for the love, not the money."
Does ice cream seem lightweight? Perhaps, but the "Amazing Race" contestants who slighted her team as the "Candy Girls" got their comeuppance with the duo's come-from-behind victory in December's final episode.
Warren serves up a test batch of ice cream.
Ice cream is the perfect communication vehicle, Warren says. "Talking to 5-year-olds, or 80-year-olds, it makes their eyes light up. The science is tangible. I can break it down so people can understand."
Her comparative advantage, aside from that easy, enthusiastic manner, rests squarely on her education at UW–Madison: the science of food, the subtle interaction between flavor, texture, and (in the case of ice cream) temperature and melting properties.
For her dissertation, Warren is exploring fat agglomeration — how fat molecules cluster together. Her work could help ice-cream makers produce low-fat ice cream with better "mouth feel" and less gum and binder.
"Most people who do food shows are chefs, not scientists," she says. "The love for food is growing, so for me it's a cool opportunity."
Warren also intends to stay active in the manufacturing side of frozen desserts, as she has been doing for Babcock Hall's Frozen Dessert Center.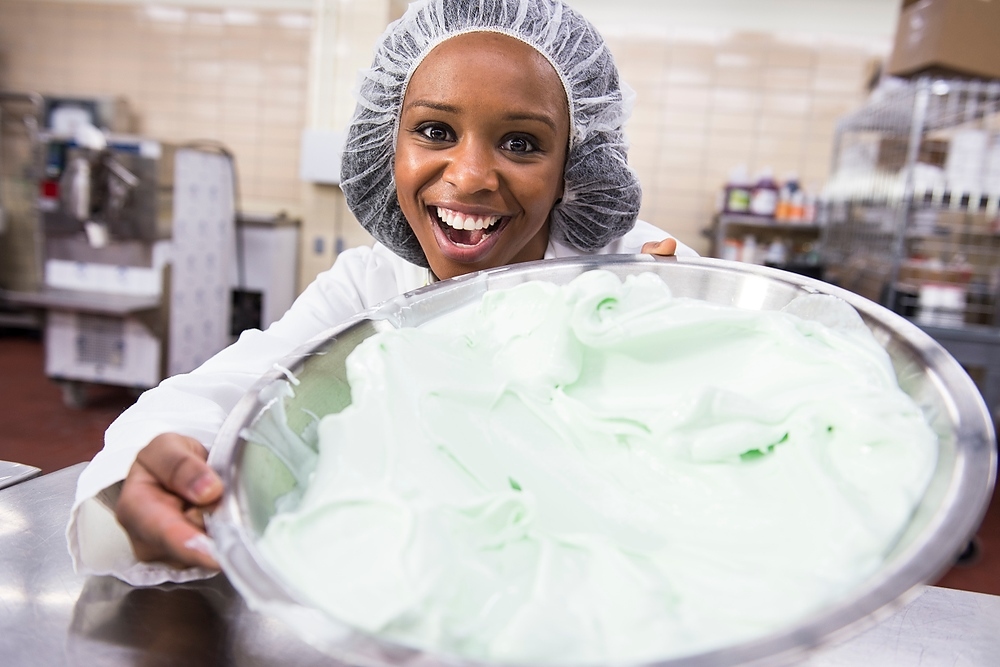 "Most people who do food shows are chefs, not scientists," Warren says. "The love for food is growing, so for me it's a cool opportunity."
"My major professor, Rich Hartel, and I study microstructure. Scott Rankin (a professor of food science) has small-scale manufacturing equipment and in-depth knowledge of the sensory aspects of frozen desserts, and Bill Klein, who manages Babcock's dairy plant, does larger scale manufacturing," she says. The center provides services to manufacturers to troubleshoot or create new products.
Warren grew up near St. Louis, and played soccer and basketball and ran track in school. A good student, she majored in chemistry at Carleton College in Northfield, Minnesota. A summer internship at a food company turned her toward food science, and she came to UW–Madison to work on ice cream with Hartel.
Warren says her father, a chef; her mother, a minister; and her godparents, who helped raise her, were "super supportive. They always told me the sky isn't the limit. There is so much more I can do. But when I said I would not be a medical doctor …" she says, trailing off. "They are so proud of all I have been able to accomplish. I am a go-getter, I've got to have fun, make everything a learning moment, and really be me. Family has instilled that in me."
Warren says she and her road partner DeJong "were just there to have fun. We learned that a smile or a hug can speak volumes in a country where we could not speak the language."
Amy DeJong and Maya Warren won TV's 'Amazing Race' last year.
Photo: CBS
In a format that encourages rivalry, "we never put another team down," Warren says. "Amy even gave another contestant her extra shoes, and they beat us that day."
"Maya is a very motivated person who really likes to think outside the box," says DeJong. "She has a lot of passions and is willing to put in the work she needs to achieve what she wants to achieve. She likes to share her passions with other people."
DeJong says the duo decided to apply for the show without much consideration. "She started to talk about it, and I said it sounds like fun, and before we knew it, we were auditioning."
The "Candy Girls" did, however, bring a secret weapon to the race, Warren says. "After the grueling process of getting a Ph.D., we know what it is like to be under mental strain. We know how to stay calm and succeed."
Navigation was a key challenge, Warren says. "We got lost a lot, in Copenhagen, Morocco … On the last leg, we were driving through L.A., and knew we needed to stop and get directions. We were diligent about that. We would leave a building, and instead of getting into the car, would stop for directions. We saw the other teams just drive away, but we learned from the mistakes we made."
In the race, as in life itself, "smartness does play a role," Warren says.