After the game ends, UW-Madison helps athletes return to the classroom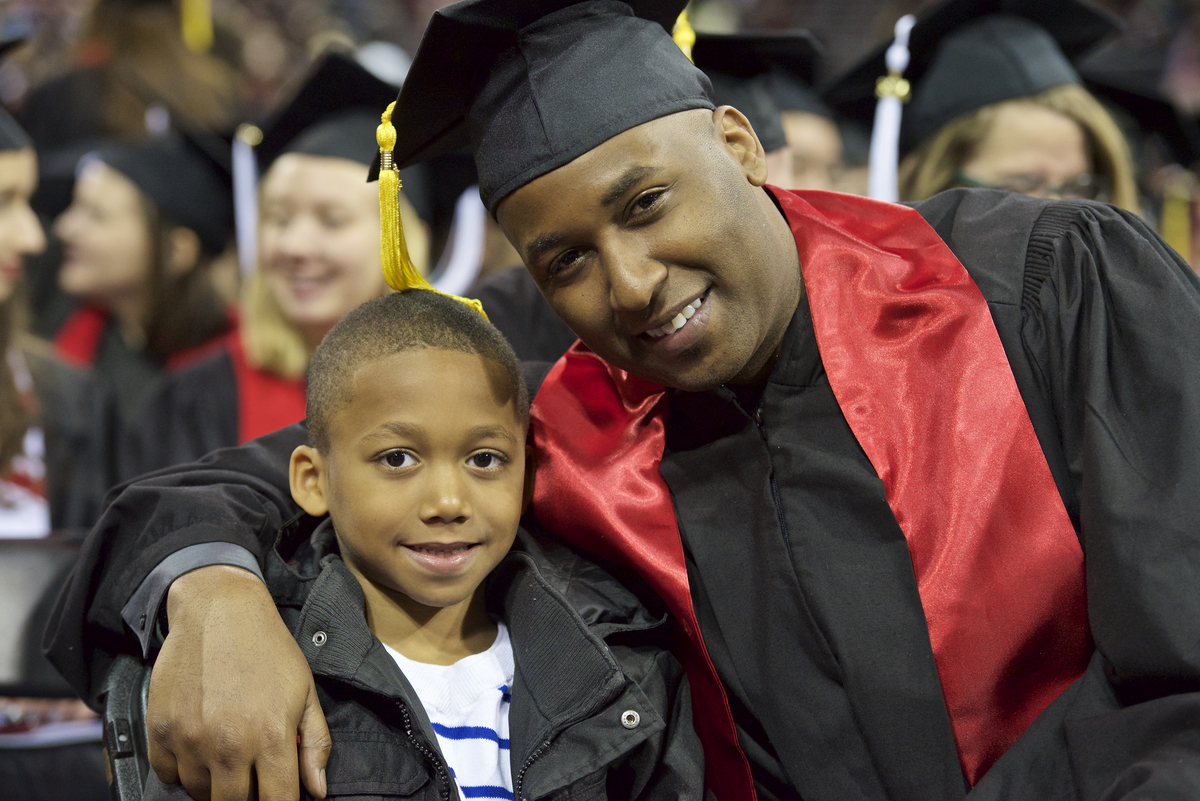 Former UW football player LaMar Campbell with his son, Jayden, at Winter Commencement Dec. 21. Campbell is among the student-athletes who left the university without a degree and returned later to complete one.
Photo: Rick Marolt
The last time LaMar "Soup" Campbell had sat in a University of Wisconsin–Madison classroom, Bill Clinton was president. Melvin Gordon had just turned 5 years old.
Twenty years after he first set foot on campus, Campbell's journey came full circle. On Dec. 21, the former football player crossed the stage at UW–Madison's winter commencement ceremony, with his 7-year-old son Jayden cheering him on from the Kohl Center floor.
Athletic scholarships help many student-athletes attend UW–Madison. Years after their last Camp Randall kickoff or Kohl Center puck drop, they can benefit from the same support that helped them balance classes, training and competition.
Barry Alvarez
"I'm very proud of not only Soup, but all of our student-athletes who return to earn their degrees," says UW–Madison athletic director Barry Alvarez, Campbell's former coach. "It's a tremendous accomplishment and it's something they will always be able to point to and take pride in."
UW-Madison's student-athletes graduate at a rate higher than student-athletes nationwide. Using the graduation success rate (GSR) measure, as specified by the NCAA, 84 percent graduated in UW–Madison's 2007 cohort, versus 82 percent in all Division I schools. In every sport offered, Badgers graduate at substantially higher rates than the national student-athlete average for those respective sports.
A three-year starter for the Badgers, Campbell left several credits short of a history degree when he signed with the NFL's Detroit Lions in 1998. He stayed with the team until 2004, then moved on to other things: a stint in the Lions' front office, working in real estate, helping athletes transition to the non-sports world. These days, Campbell lives in Atlanta and hosts a radio show called "Life After the Game."
"Life happens," says Campbell, now 38. "I had a chance to go to the NFL and follow a dream. Then you start a business, and life is good, and then family comes, and you have a son … it's just hard to get away, especially when you live in Atlanta."
Returning student-athletes face challenges similar to those of other returning adults, such as military veterans or students who have faced life-altering events. All must apply for return admission, check transcripts and fill in the gaps.
Campbell during his UW playing days.
Photo: UW Athletics Communications
Doug Tiedt, associate athletic director for student services, says a small but constant stream of former student-athletes return each year. No matter when students leave the university, Tiedt and his colleagues work to make sure that each can earn a degree — even if the path isn't always linear.
"Professional sports offer an opportunity for some of these students to support themselves and their families; we encourage that," says Tiedt. "Our goal is that when you leave the UW, you do so in good academic standing. When you come back, some of the faces may have changed, but the system in place hasn't."
Tuition, fees and books are still covered. Returning students also have access to the tutoring, advising and career development services available to current athletes.
Most athletes return after retiring because it's easier to carve out time then. Professional basketball and hockey seasons, for example, run seven to eight months of the year, spanning both semesters. Residency requirements often preclude distance education; some classes — such as senior capstone seminars — are only offered at certain times.
UW-Madison's "family atmosphere" drew Campbell back to Madison over the years. But the timing never worked, especially since he had to finish his last credits in person. Last January, he called Alan Zussman, a longtime academic services advisor who had worked with Campbell during his Badger days.
"Wisconsin stands out as far as helping their student-athletes finish degrees. We do it very special here: we're leaving a family, and it'll always be family."
LaMar Campbell
Campbell's final semester wasn't easy: months of commuting from Atlanta while caring for his son and pursuing a full 12-credit course load. He had to face a common fear for many returning students: the math course he fully admits he "bombed and ran away from" during his freshman year.
He made the most of the experience, hosting ESPN Wisconsin College GameDay on ESPN Radio before each kickoff. The whole athletic department helped him get through the semester, even Bucky Badger — alongside Spirit Squad coordinator Josette Jaucian, Campbell's longtime friend — who spent time with Jayden as Campbell took his last final.
"Jayden was my green light," says Campbell. "I asked if he'd be OK with me traveling back and forth to Madison for four months. I made it a priority to come back; I preach finishing what he starts."
By far the oldest graduate in the room, Campbell addressed fellow student-athletes at a reception just before commencement. His name now joins the 8,000 others on a wall of the Fetzer Center for Student-Athlete Excellence: every Badger athlete since 1903 who earned a varsity letter and completed a degree.
"When Soup encourages other student-athletes to never give up, his life experience bears that out," says Tiedt. "There are many, many stories like his. They happen all the time."
Campbell has a message for former Badgers without a degree: don't be afraid to pick up the phone.
"In NFL locker rooms, working with my company at other NCAA schools and helping retired players, Wisconsin stands out as far as helping their student-athletes finish degrees," says Campbell. "We do it very special here: we're leaving a family, and it'll always be family."