Advisor who remembers what it was like helps new students SOAR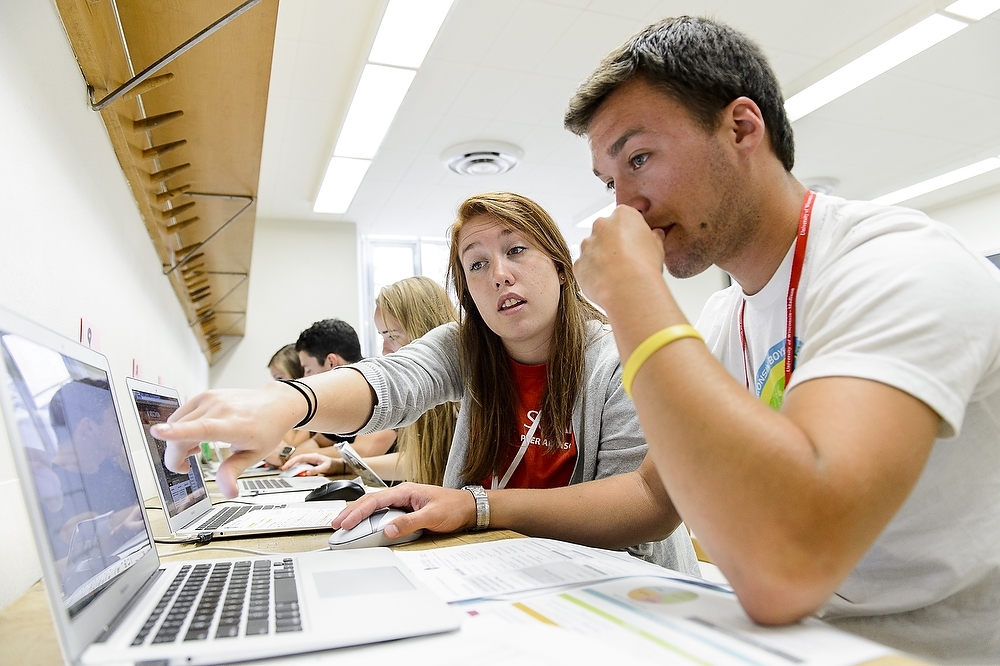 Zoe Hurley, peer advisor for the Student Orientation, Advising, and Registration program (SOAR), works with incoming student Brandon Hamm to create a class schedule during an advising session in Van Vleck Hall.
Photos: Bryce Richter
Nearly 5,000 first-year and transfer students will arrive on campus this summer. For some, Zoe Hurley's face will be one of the first they see.
Hurley, a senior majoring in communication arts, is a peer advisor for the Student Orientation, Advising, and Registration program, better known as SOAR. She's entering her second summer with the program and with the Cross-College Advising Service, or CCAS, where she also works during the school year.
Her mission: to help new students think through their academic interests, understand requirements, explore class options, and — by the end of the program's second day — create their first college schedule.
Hurley knows how important the first advising experience is for new students: her SOAR experience shaped her academic pursuits throughout her time at UW–Madison.
Her typical SOAR schedule goes something like this: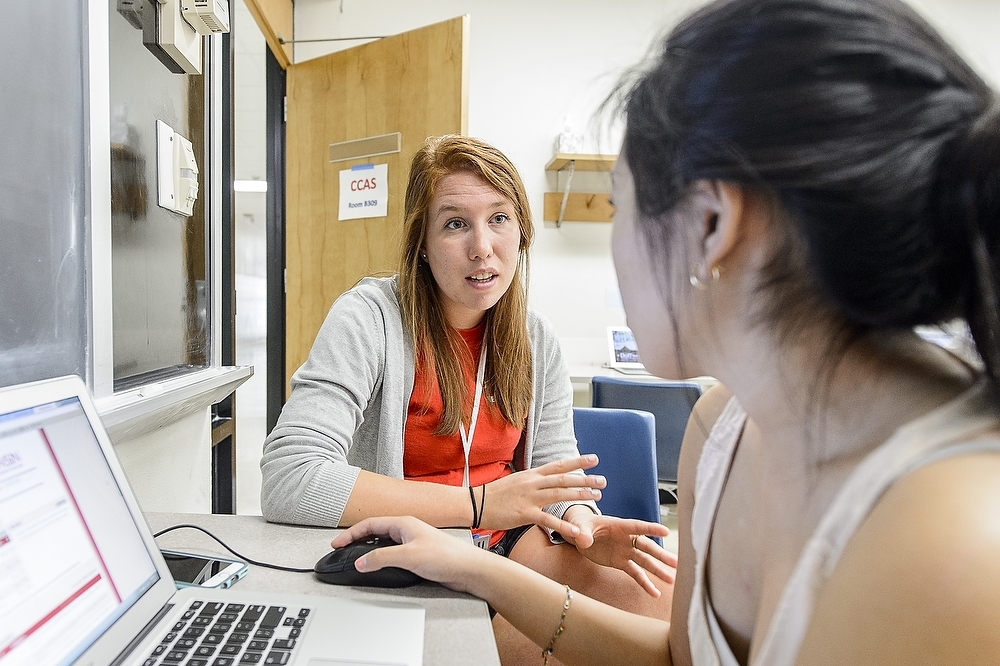 "I came in as an undecided student, and I had a really great experience with CCAS," Hurley says. "It's fun working with students. It's fun to be part of their Wisconsin Experience."
Monday
2:15 p.m. Hurley and her co-workers, all clad in red SOAR T-shirts, begin the process of "claiming" students. They fill out CCAS advising cards and compile the incoming students' academic information. CCAS advises more incoming students at SOAR than any other college or group, handling all students who haven't yet decided on a school or a major.
"I came in as an undecided student, and I had a really great experience with CCAS," Hurley says. "As I went through the process our students go through, I realized I was really interested in education and the higher ed realm. It's fun working with students. It's fun to be part of their Wisconsin Experience."
3:00 Students begin to file into classrooms in the basement of Van Vleck Hall. Hurley welcomes each with a smile, and they take their seats in a circle of desks in the center of the room.
3:15 Hurley and Diana Maki, the associate director of CCAS, introduce themselves and ask the new students where they're from, where they're living next year, and what their favorite guilty-pleasure TV show is. A debate ensues: "The Bachelor" vs. "The Bachelorette." Hurley chimes in with another candidate: "Dance Moms."
3:30 After everyone's gotten acquainted, Hurley and Maki send the students over to computers to begin exploring UW–Madison's Course Guide, a website with over a dozen different filters for finding classes.
Hurley is patient with the students — she understands how overwhelming the process can be. She makes sure that everyone knows what their required classes are and where they can find them before she begins working with each student one-on-one.
A tour guide leads incoming first-year undergraduates and their parents across Bascom Hill during a SOAR session.
Photo: Jeff Miller
3:35 Hurley checks in with a student from Bethesda, Maryland. He's interested in psychology and music. After she gauges his feelings about math and English, Hurley recommends that he follow a bachelor of science track. She helps him add a course that satisfies the Communications A requirement, as well as Psychology 202.
3:45 Hurley moves on to a student from Middleton, who dreams of someday becoming a doctor. Because UW–Madison has no specified pre-med major, she asks Hurley what options would best suit her. Hurley lists several possible majors and the student narrows them down based on what she enjoyed in high school — biology and physics, but not chemistry.
4:05 The next student, who's from Oconomowoc, starts firing questions before Hurley even sits down. She's interested in legal studies, business, international relations and maybe strategic communications, as well. But before she can begin taking classes in whatever major she chooses, Hurley reminds her that she'll have to decide which class she'll take to satisfy her Communications A requirement. The student asks Hurley if she can add more courses than she'll take, and Hurley tells her to add as many as she can. "It's always best to have options," she says.
4:25 Hurley's last student, from Fort Lauderdale, Florida, expresses a passion for business and fashion, which she hopes to somehow combine. Hurley gives her a pre-business information sheet and tells her about the retailing major in the School of Human Ecology. Like the other students in her group, she's not too keen on taking college-level math, but Hurley assures her that there are plenty of campus resources to help her out, including the Greater University Tutoring Service (GUTS).
4:45 Hurley arranges consulting appointments for two students, one of whom wants to retake a placement test. The students wrap up for the day. After they shuffle out, Hurley and Maki discuss their students' class choices. They agree that everyone is on the right track.
The advisors' next challenge: make sure that every incoming student leaves SOAR with both a schedule and the ability to navigate the registration process, which they'll have to go through for the next four years.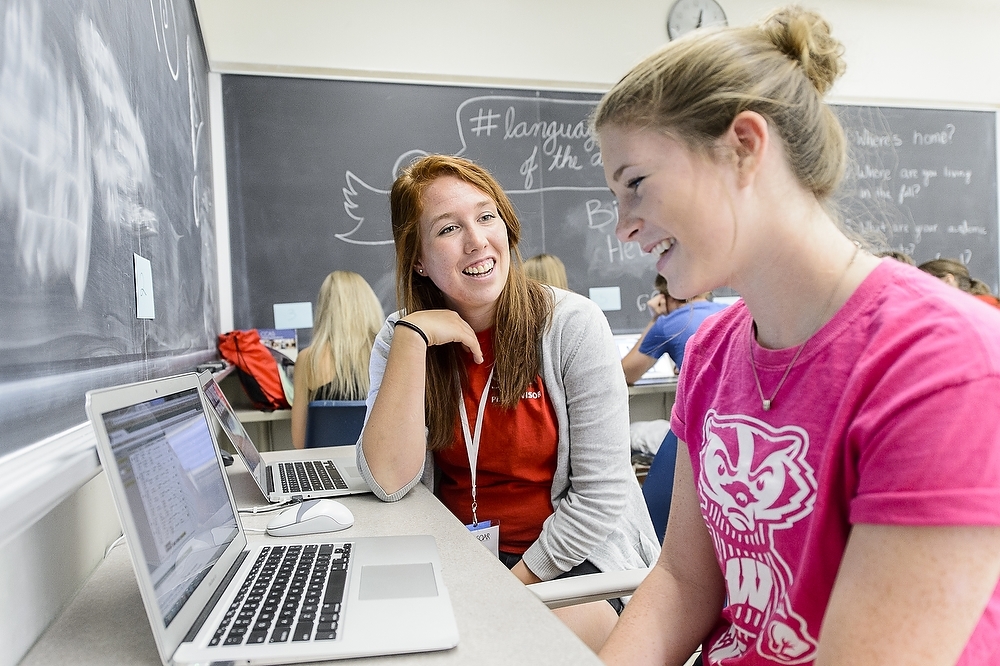 "I love making connections with students and being that first face," Hurley says. "I get to help foster a community within our first few interactions. It's cool to be part of that."
Tuesday
8:35 a.m. The students file back into Van Vleck after a night of SOAR activities. One arrives with her father and asks if he can join her while she creates her first schedule. Maki speaks with Dad in the hallway, explaining that a defining pillar of SOAR is letting students test their independence.
Inside the classroom, Hurley shows the students how to arrange the classes they've found into different schedules.
9:10 As students comb through their schedule options, one discovers that some classes are held late at night — one in particular from 5 to 8:30 p.m. "Is that normal?" she asks. Hurley nods.
9:15 A student finishes her schedule, but Hurley worries that she may not be able to enroll in one class she's chosen. Hurley tells her to find back-up options just in case.
9:45 The students click the green button that officially enrolls them in their first courses. The process of narrowing down schedules and classes spans over two days, but enrollment takes seconds. One student admires her schedule: "My earliest class is at 9:30." Another responds: "Half my day is done by then!"
Hurley prints off each student's schedule as they pack up for the day.
"I love making connections with students and being that first face," Hurley says after the students leave. "I get to help foster a community within our first few interactions. It's cool to be part of that."