Accuracy in radiation firm with ties to UW marks 25 years in Middleton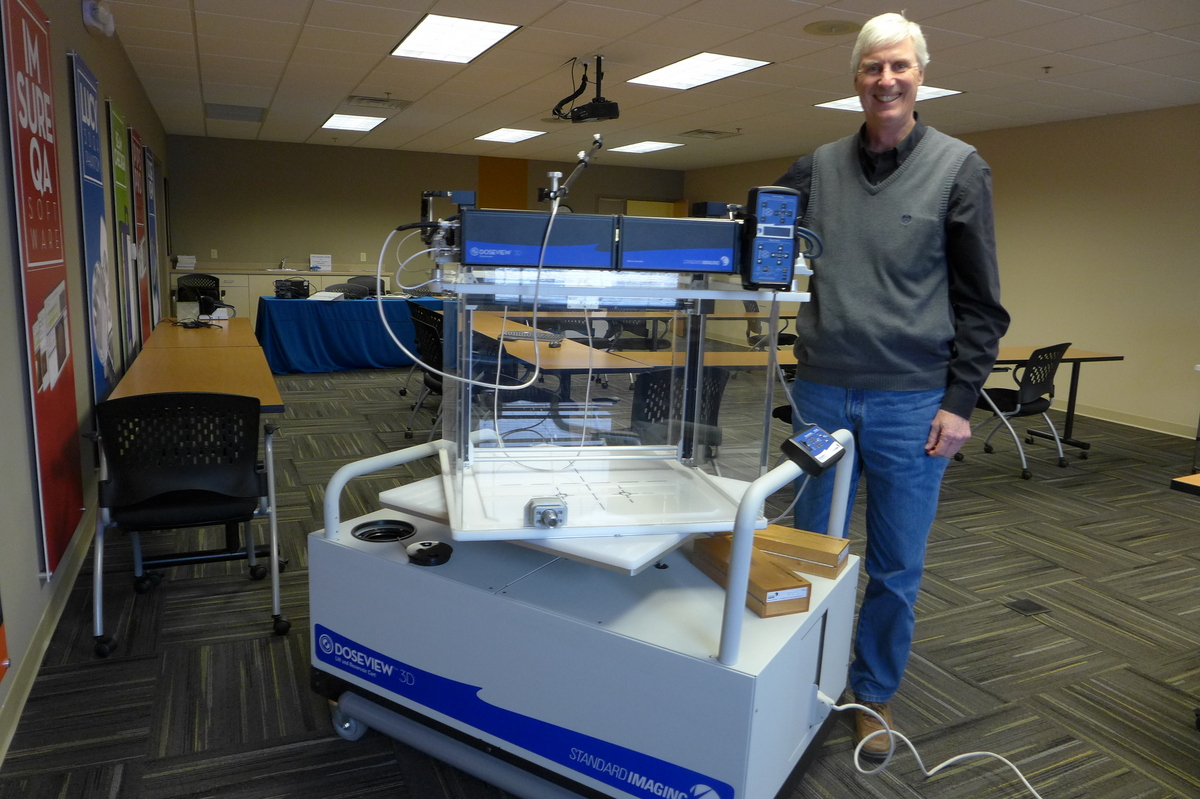 Ed Neumueller — president of Standard Imaging, a UW–Madison spinoff in Middleton, Wisconsin — stands next to an instrument that measures the dose from radiation machines used to treat cancer.
Photo: David Tenenbaum
Ever since the promise and perils of medical X-rays became clear a century ago, the need to accurately control the dose of radiation has been obvious.
Perhaps no one recognized this need better than John Cameron, the outspoken, innovative and passionate founder of the medical physics department at the University of Wisconsin–Madison.
Cameron was not paranoid about X-rays and other ionizing radiation, but in the 1950s and '60s, he became deeply involved in radiation accuracy and safety. In 1974, he established Radiation Measurements Inc. in Middleton, Wisconsin, to build the quality assurance instruments that he and his students were designing.
John Cameron
Photo: University Archives
RMI's test tools were irradiated by imaging machines (X-ray machines and later, CT and MRI scanners) to evaluate imaging quality and to measure doses.
In 1989, Ed Neumueller, who had been RMI's general manager, and a couple of other former RMI employees founded Standard Imaging in Middleton to build quality assurance products for radiation delivery machines used in cancer treatment.
At that time, cancer doctors were starting to use brachytherapy — the temporary placement of small, high-dose radiation sources inside a patient. Brachytherapy provided Standard Imaging's original market, because the dose of medical radiation needed to be accurate.
Now, as the company marks its 25th anniversary, Neumueller says, "the first product we made is still selling, and brachytherapy has also been adapted for treating skin cancer; it's quick and effective."
The growing complexity of cancer treatment continues to drive the business. Radiology — viewing internal structures — used to be separate from therapy, but now they frequently go together, says Neumueller, who attended UW–Madison. "Most of the current treatment machines have imaging capability on board, so we now develop imaging phantoms with automatic software analysis as well." Phantoms are structures that substitute for human tissue when testing medical imaging machines.
Medical physicists direct quality assurance, treatment planning and prescription delivery in radiation therapy clinics or hospitals. "We try to provide as many tools as possible to that client base," Neumueller says. "This may involve radiation measurement equipment, various phantoms, or software for a quality assurance check on dose calculation prior to the actual treatment."
Engineers or physicists — largely trained at UW–Madison — comprise about one-third of (Standard Imaging's) 65-person workforce.
The products must be accurate down to tenths of a percent and their design and production requires Food and Drug Administration approval, Neumueller says. "We are regulated any way you look; the Nuclear Regulatory Commission, FBI background checks, European Union certification. Virtually every other country we sell into now has its own set of regulations. Regulatory bodies from all over are requiring us to pay for and to pass an audit before giving us a certification that approves us to sell into their country."
Standard Imaging serves medical physicists in every country that has a radiation therapy center, Neumueller adds.
Product development remains a challenge. "We manufacture here in Middleton, and we are always engineering something new," Neumueller says. "Having people with expertise in our market, in medical radiation applications, and in regulation, those are niche skills."
Engineers or physicists — largely trained at UW–Madison — comprise about one-third of the 65-person workforce.
In these 25 years, Neumueller says, "the complexity of radiation therapy has increased manyfold. Lots of processes were manual when we began. Now everything is computer controlled, precise to the sub-millimeter level. Every time a new company or product shows up, the first thing customers ask is, 'How do I perform QA on this?' We have to chase those developments as they occur. That's the nature of the business."