Alumnus finds passion for patient advocacy after accident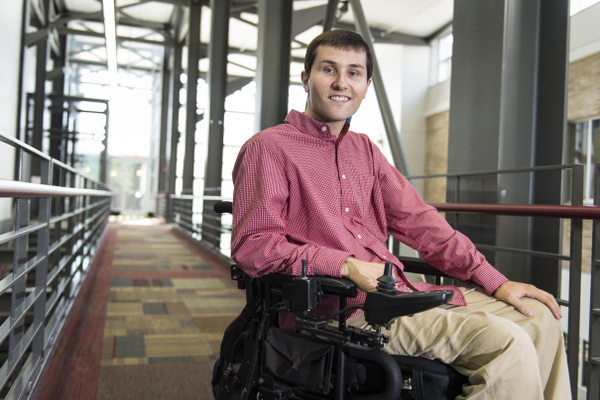 Jeff Mahlum, who recently completed a certificate program as a student health care advocate, learned how daunting the health care system can be following a diving accident that left him paralyzed from the chest down.
Photo: Jeff Miller
When Jeff Mahlum suffered a spinal cord injury during a diving accident in 2011 that left him paralyzed from the chest down, he had the unfortunate opportunity to learn how confusing and daunting the health care system can be.
Mahlum decided there must be a better resource out there for patients to get help navigating the system. Having graduated with a major in biology from the UW in 2013, Mahlum decided to use the gap year between undergraduate and medical school to learn how he could further understand the needs of his future patients. Mahlum, who's now enrolled at the UW School of Medicine and Public Health, discovered patient advocacy and the UW program that would give him the tools to better help his future patients: the Center for Patient Partnerships, or CPP.
"(My injury) opened my eyes to the importance of advocating for patients and empowering patients to make the best decisions for their health," says Mahlum. "That also played a factor into wanting to learn more about the field of patient advocacy and how could I use those skills to be an advocate in my future career as a doctor."
"(My injury) opened my eyes to the importance of advocating for patients and empowering patients to make the best decisions for their health."
Jeff Mahlum
CPP is a dual patient advocacy service and educational program housed in the UW Law School. The center provides completely free advocacy services to anyone with a serious or life-threatening illness, educates graduate students and professionals in health advocacy through a certificate program, and advises lawmakers on making better health care policies nationwide.
Mahlum emphasizes that the relationship between advocate and client is one of support, even if that support may be just listening to their story.
"I once had a two-hour conversation with a patient with a fairly rare form of cancer," say Mahlum. "It was a really good learning experience for me to hear about all of these different things outside of her health diagnosis that she was going through. Just learning how to support someone with so many problems like that, to be an active listener, is one of the most important things I've learned."
Cindi Gatton, a former student of CPP and Mahlum's supervisor, explains that while the advocates can help the patient-clients find more information about their diagnosis, research new experimental treatments, and help them with handling their diagnosis day to day, the advocates are not there to give advice or legal help.
"A patient advocate is providing navigational services rather than clinical services or legal advice," says Gatton. "Part of what the CPP program teaches us is the interaction, the interplay in the system. There are clinical components, there are financial components, there are work-related and legal components. It's very, very complicated, and having someone that knows enough to be able to point where you have to go is really important."
CPP brochures detailing services for medical support and rights fill a display rack.
Photo: Jeff Miller
The educational component of CPP allows graduate students and working professionals — typically in the fields of law, medicine, pharmacy and nursing — to complete a certificate (either online, in person or a combination thereof) in patient advocacy at their own pace.
Mahlum says the program really sets itself apart from other educational experiences he has had because of how much interaction he had with patients and the different approach to patient care the program uses.
"You learn a lot of unique things that you maybe don't learn in your undergraduate experience that can really benefit you in your future career," says Mahlum.
The one- to two-year program consists of courses focusing on understanding the needs of patients, how to encourage patient empowerment, and using advocacy as a tool for social justice. Students also complete a capstone course in which they explore an aspect of advocacy of their choice in greater depth.
When deciding what to research for his capstone project, Mahlum used his own experience with disability to drive his research.
"I wanted to look at health care access for patients with disabilities, and the challenges they face in getting adequate care."
His project examined health care across Wisconsin for patients with disabilities, and what kind of barriers these patients face. What he found was that patients with disabilities may face a variety of obstacles, both structural and cultural, to receiving the same quality of care as a patient without a disability, and that more work needs to be done to advocate for patients with disabilities.
"It was a great experience to go out and do something I was so passionate about," says Mahlum.
"You learn the value of just being there for your patients and listening to them and supporting them through what they're going through."
Jeff Mahlum
Kelly Douglas, CPP's development director, explains that while CPP has roots as solely an advocacy service, the center leaders understood that for every person they were helping, hundreds of others were going through their diagnosis alone and without guidance. In order to help more people, the center incorporated an educational component to prepare new generations of lawmakers and medical professionals in the field of advocacy.
"When students incorporate these skills into their future health care or law practice, they retain this theme of advocacy with patients at the core and are able to see the patient's perspective in approaching the health care system," Douglas says. "That's really important."
Mahlum says the program has been invaluable in learning to better understand what his future patients will be going through and teaching them to be their own advocates.
"You learn the value of just being there for your patients and listening to them and supporting them through what they're going through," explains Mahlum. "I will definitely carry with me, as both a medical student and a doctor, understanding what my patients are going through and how it may be much more complicated than just what I see in the exam room. If I'm able to do that, I think I can be a much more effective doctor."