Accreditors ask, 'How are UW Police doing?'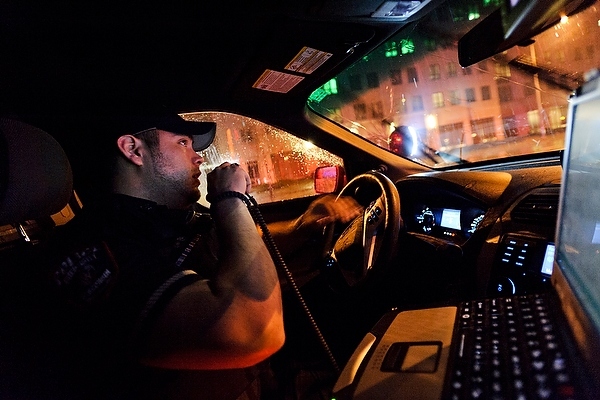 UW Police officer Juan Avila drives on patrol through the UW campus during a rainy evening in April 2013.
Photo: Jeff Miller
The UW-Madison Police Department is scheduled for an on-site assessment as part of a program to achieve accreditation by verifying it meets professional standards.
Administered by the Commission on Accreditation for Law Enforcement Agencies (CALEA), the accreditation program requires agencies to comply with state-of-the-art standards in four basic areas: policies and procedures, administration, operation, and support services.
As part of the on-site assessment, agency employees and members of the community are invited to offer comments at a public information session on Tuesday, Feb. 18 at 3 p.m. The session will be held at Union South. Refer to the electronic information boards (TITU) for the exact room location.
Agency employees and the public are also invited to offer comments by calling 608-890-1377 on Tuesday, Feb. 18 between 12:30 and 2:30 p.m.
Telephone comments as well as appearances at the public information session are limited to 10 minutes and must address the agency's ability to comply with CALEA's standards. A copy of the standards is available at UWPD, 1429 Monroe Street. The local contact is Lt. Clark Brunner, who can be reached at 608-263-1828.
Anyone wishing to submit written comments may send them to: CALEA, 13575 Heathcote Boulevard Suite 320, Gainesville VA 22030-2215.